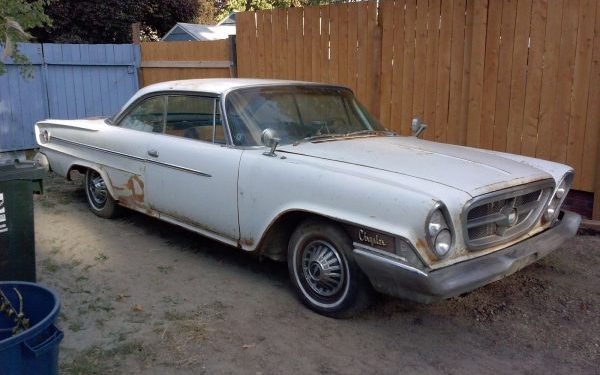 The Chrysler 300 was a very unique automobile.  The model began in 1955, and was a combination of a luxury coupe body and a hopped up Hemi engine.  They became the weapon of choice for many NASCAR teams, and they were an instant hit with the well to do who still suffered from having lead feet.  They were often called the banker's hot rod, because of their amazing speed for their size and opulence, and you weren't going to buy one on a sanitation engineer's salary.  The good news for us is that there are still a number of Chrysler 300s from the sixties available today, and the price has become a lot more affordable.  Take for example this 1962 Chrysler 300 found on eBay out of Tacoma, Washington.  The starting bid is just $3,900 for this running and driving example of one of the best years of the 300 model.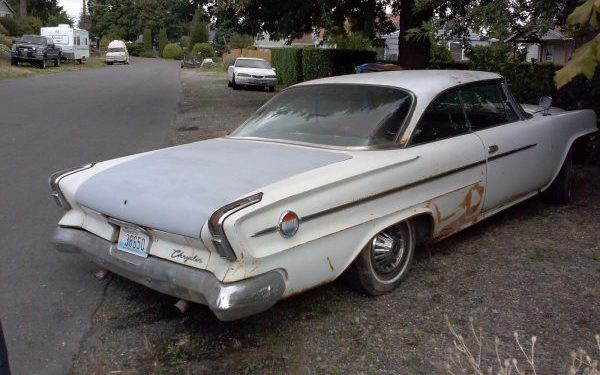 These cars were some of the last styled by Virgil Exner's design team at Chrysler.  Before Exner took charge of the design department, the engineering department was in charge of all styling.  The result was that their boxy designs looked quite stodgy in comparison to other cars on the road.  Exner designed Mopars are best known for large, flowing profiles and for their unique tail fins.  The first cars he could claim that he had full design influence over were the 1955 Chrysler 300 and Imperial.  His later "Forward Look" designs were very long, very wide, chromed out, and he obviously loved massive tailfins.  Some people thought the fins got too gaudy and high, and they shrank fairly quickly in the beginning of the 1960s.  1962 was the first year without fins, and was one of the last years of Exner's designs as he was forced out at Chrysler that same year.  This Chrysler 300 is fairly unique in being a finless Exner design, but the profile comes across as much cleaner and more purpose built.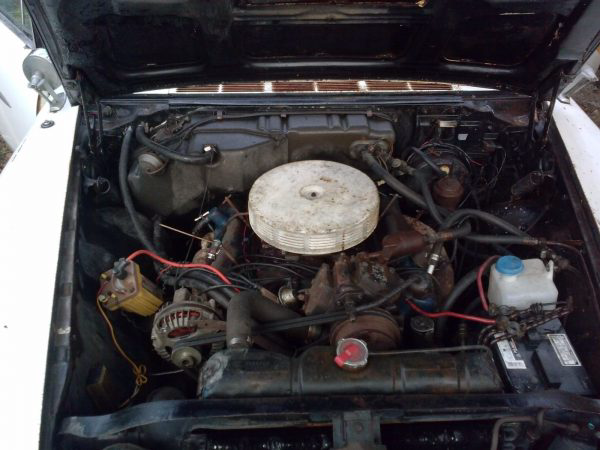 Under the hood, Chrysler 300 H models sported a 413 cubic inch V-8.  I assume this is an H model, as the lesser series 300s packed 383 cubic inch engines.  Unfortunately, the owner does not specify so.  These could also be equipped with a cross ram manifold with two four barrel carburetors, but this one appears to have a single carb manifold.  There are some non stock components visible, such as that yellow coil and the valve cover wing nuts, so maybe the owner has a cross ram manifold for it.  We can only hope.  On the good side, the air conditioning system seems intact, and the belts are still connected.  I doubt it is still functioning, but I'll bet the A/C is repairable.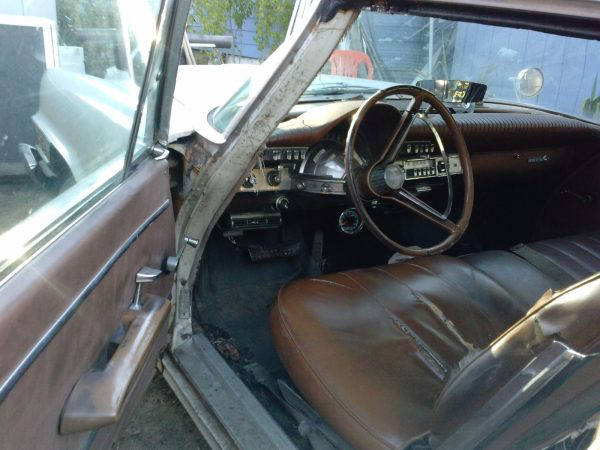 The interior's condition is not that bad.  It will obviously need carpet and upholstery at some point, but they seem to be useable as it sits.  A set of seat covers and some good floor mats would be a cheap option to get it back on the road.  Under the dash, there appear to be an aftermarket tachometer.  When you factor in the high horsepower engine and the fact that this year's Chrysler 300 weighed 300 pounds less than the 1961s, who could blame a guy for proving to others that this luxury cruiser was more than they bargained for!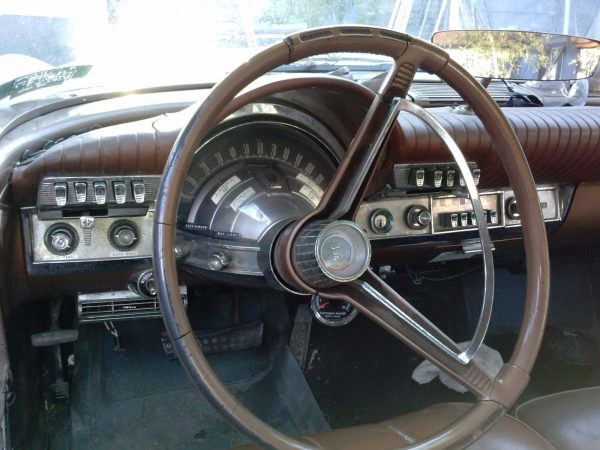 The space ship style dash appears to be in pretty good condition, except for a crack in the padding.  The unique steering wheel also has a few cracks, but these are not too hard to restore.  The neat thing about these is the push button transmission to the left of the speedometer.  Another unique feature is the dash mounted rear view mirror.  When was the last time you saw one of these?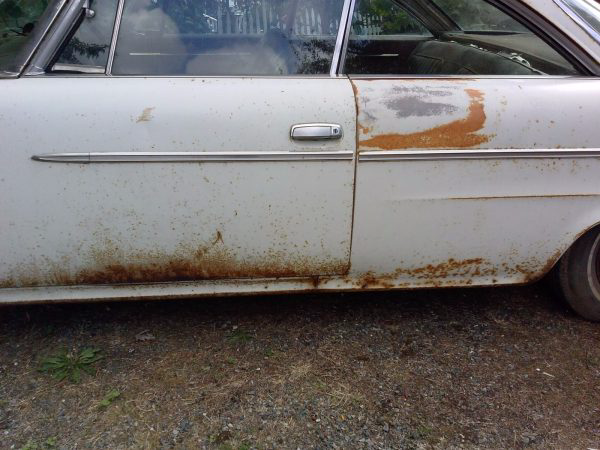 Perhaps the best feature of this car is the lack of major rust problems.  There is surface rust all over, but there seem to be no glaring, deal breaking spots to contend with.  You have to accept the fact that sixties cars all rust, and late fifties and early sixties Chryslers can be some of the worst (the championship seems to be tied between 1957-1959 Plymouths and all years of Porsche 356s).  This car appears to be solid, but I would still like to put it on a lift before handing over any cash.
All told, these are really good, solid, fast cars with a good reputation.  If I was a collector with a wife and a couple of kids that were eager to be part of the hobby, this would be a car to consider.  It could be put back on the road for a reasonable sum, and upgraded as your bank account allows.  A paint job alone would do wonders.  The interior is large enough to be comfortable for the whole family, the trunk would hold a lot of luggage for overnight trips, and it would be a great high speed cruiser.  The best part is that you no longer have to be a banker to afford one.