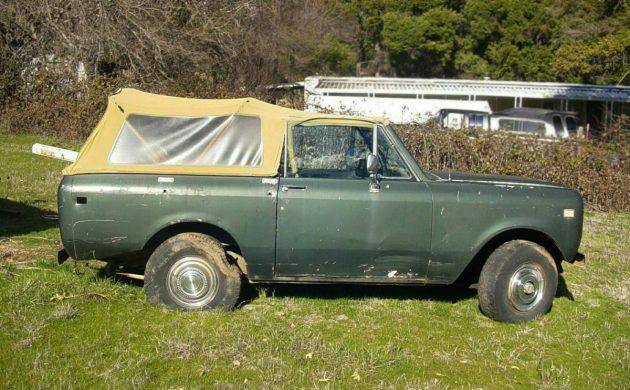 There aren't many vehicle owners who can say that their truck has had bear damage. Maybe dog damage from locking fido inside and then chewing ensues. Most of us are afraid of rodent damage on our vehicles but this 1976 International Scout II has sustained some bear damage. This tough truck can be found here on eBay in Klamath River, California. There is an unmet opening bid of $1,700 and a buy it now price of $2,299.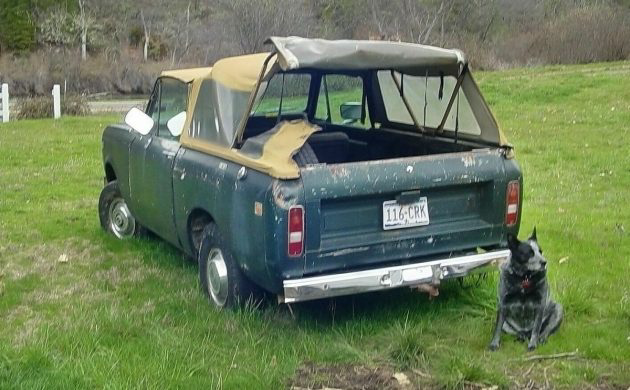 I'm assuming that their dog isn't named Bear – it looks so friendly – but that the soft top was partially eaten by an actual bear, a bear-bear. As in the animal that you dreaded every time you stayed in a tent as a kid. Replacements are available, of course, but who wouldn't want to explain that every time you got gas? I would probably keep it, it's a great story. I really like the option of putting that top down at will so I'd want a soft top for sure.
The interior is a little rugged, as is the entire vehicle. The seller isn't hiding anything, they spell it out as having a cracked windshield and the seat isn't original and it has some bondo in areas and some rust in the floorboards. This is most definitely a project Scout II, not a driver as is. The Scouts seemed to get better and better as they got newer all the way up until what many consider the best one of all, the 1980 model. So, buying a later model such as this, even though it needs work, probably wouldn't be the worst idea in the world.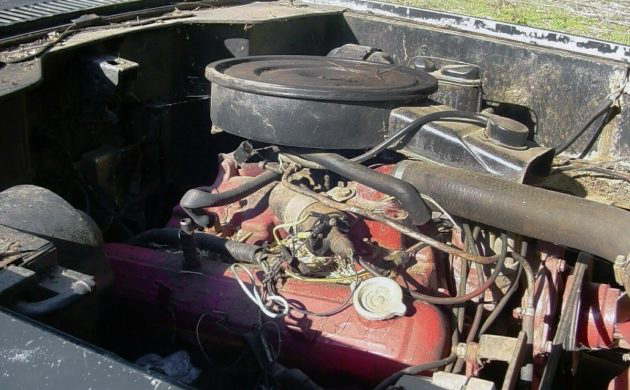 The engine is International's 196 slant-four – half of a 392 V8 – which would have had 86 hp. The seller says that it runs but hasn't been started in four years. It has a new clutch plate and good brakes but the rear seal leaks on the engine. Hagerty is at $7,500 for a #4 fair condition Scout II so there's a lot of room to fix this one up, and at $16,000 for a #3 good condition example, even more room. There will be a lot of work to do on this Scout, is it doable or would it be unbearable? (cough)
Have something to sell? List it here on Barn Finds!