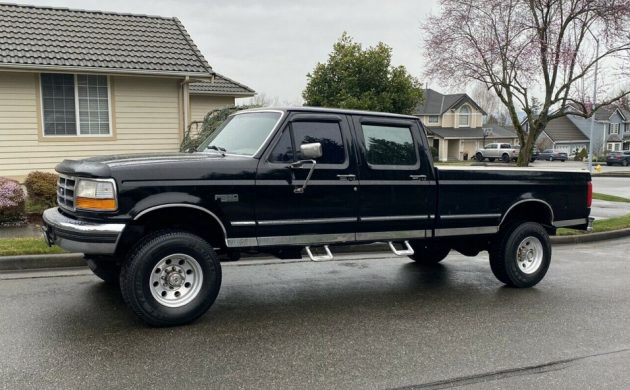 Some pickups are created more equal than others, and this 1997 Ford F-350 XLT is the equal of most that you will find on today's roads. It is a rugged and purposeful-looking vehicle with room for the whole family. It comes highly equipped, and with a massive V8 under the hood, it should be capable of hauling the heaviest loads. The seller has listed the XLT for sale here on eBay on behalf of the owner. It is located in Tacoma, Washington, and the bidding has reached $8,600 in a No Reserve auction.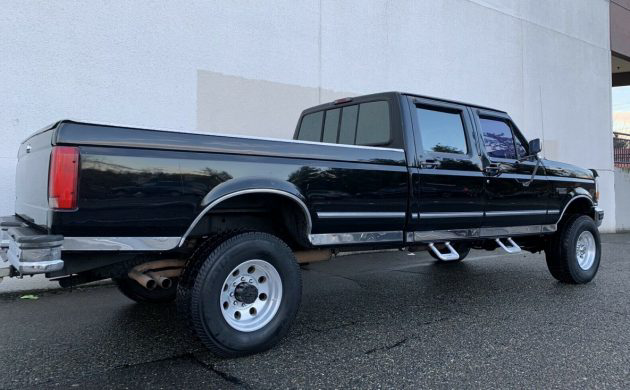 There's a lot to take in with this XLT, so let's start with the paint. Finished in Black, this Ford has a sense of purpose and presence. It is a vehicle that will turn heads because its condition appears to be first-rate. The paint has a wonderful depth of shine, and this doesn't reveal and ripples of dents in the panels. There are no chips or marks worth noting, and the splashes of chrome help add a striking contrast to those acres of black. The trim is in good condition, with no evidence of damage or problems. The owner has fitted a plastic bedliner, and this should keep the steel and paint beneath in excellent condition. The F-350 rolls on a set of alloy wheels, and while these show no signs of physical damage, it looks like they might benefit from a polish. One practical feature is the alloy side steps. For those of us who are vertically challenged, they would make climbing aboard this giant slightly less of a chore. The glass is in good condition, and it appears to have been fitted with aftermarket tinting. There's a heavy-duty hitch on the back, and when you see what's under the hood, you will conclude that this Ford should be able to haul some hefty loads.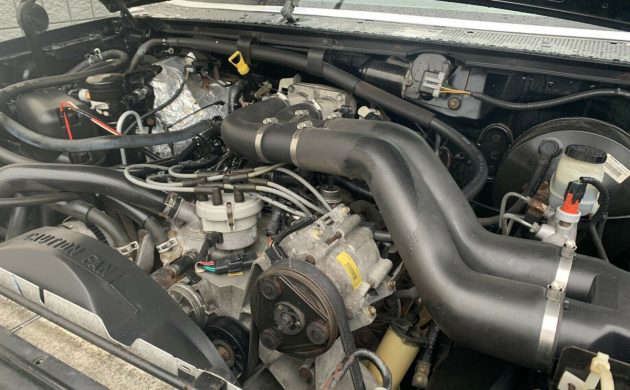 The owner pushed out the boat when he ordered the F-350 because he chose to order it with the mighty 460ci V8, an automatic transmission, power steering, and power brakes. That V8 should be pumping out 245hp and a massive 410 ft/lbs of torque. Drive a stake into the ground, hook on the tow hitch, and those sorts of figures should nearly allow you to change the rotational direction of the world! Well, sort of. The reality is that the potent V8 should make this an accomplished tow vehicle. When you throw in dual-range 4-wheel-drive, its F-350 should be able to take its occupants deep into the wilds. The seller says that the Ford has 128,000 miles on the clock and that it runs and drives well. There is no evidence of fluid leaks or other problems, and the general cleanliness of the engine bay is hugely encouraging.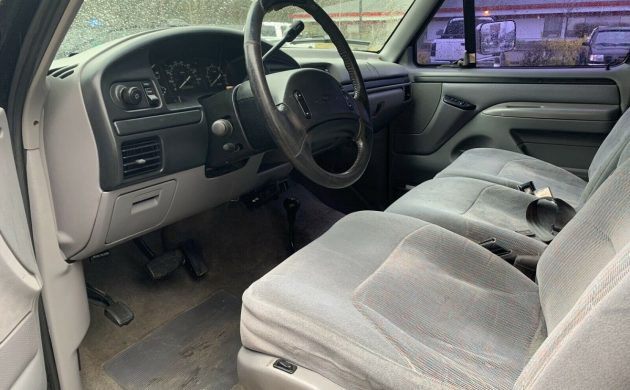 It isn't until we get a look inside the F-350 that we find where the vehicle is starting to show its age. There's no question that it is serviceable and has no immediate needs, but it would need some tweaking to be pristine once again. The carpet is faded and stained, and I think that it has probably deteriorated beyond the point of needing a clean. The wheel also has significant wear, and if the buyer isn't keen on spending the money on a replacement, they should probably fit a wrap to stop further deterioration. The upholstery on the seats has become slightly discolored and stretched, but there are no rips or tears. Otherwise, it doesn't look bad in there. Life on the road promises to be a pleasant experience. The original owner ordered the Pickup with air conditioning, power windows, power locks, a power driver's seat, cruise control, a tilt wheel, and an AM/FM radio and cassette player.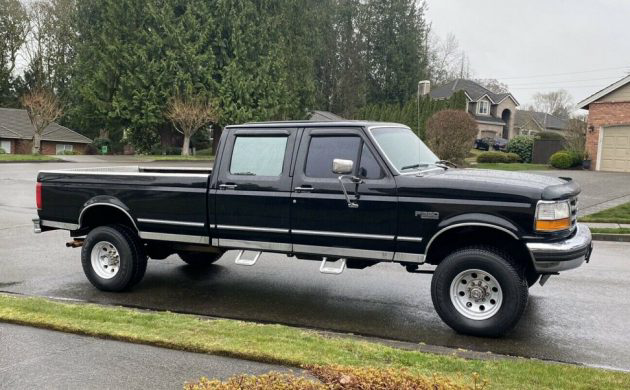 This 1997 Ford F-350 XLT isn't perfect, but it is a tidy 4×4 that should have plenty of life left in it. It should make a fantastic tow vehicle, and the equipment levels mean that any journey should be made in relative comfort. I would expect it to sell for somewhere around the $20,000 mark, although with values rising steeply over the past year, that figure could go higher. That doesn't make it the cheapest secondhand pickup on today's market, but that needs to be put into perspective. If you have the funds available, you could walk into your local Ford dealer and drive away in a shiny new version of the F-350. It would come nicely equipped, but it would also lighten your wallet by at least $50,000. That's a lot more than you would expect to pay for this classic, and that newbie will depreciate by somewhere in the region of 10% during the first year of ownership. If recent trends are any indication, this F-350 will not depreciate but will increase in value. Hmm, buy the new one and watch that extra money trickle away, or buy this one and potentially watch the value increase? That seems like a bit of a no-brainer to me.