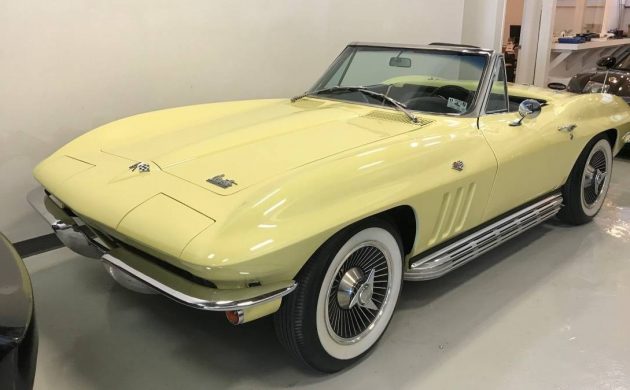 It's beautiful, but it's going to be met with brevity, as unfortunately, that's the essence of this listing. Barn Findy? Hardly, this is a beautifully preserved and well cared for 1966 Chevrolet Corvette Roadster. Its Sunfire Yellow exterior appears as new but then there's only two images so we'll have to make a leap of faith regarding the details. While the aluminum wheels with their spinners and the side exhaust pipes are staples of this vintage Corvette, the wide whitewall tires are an attention getter, maybe and maybe not for all the right reasons. Whatever the case, this 1966 Corvette is located in Vancouver, British Columbia, Canada and is available here on craigslist for $108,000. Thanks to Ron for this tip!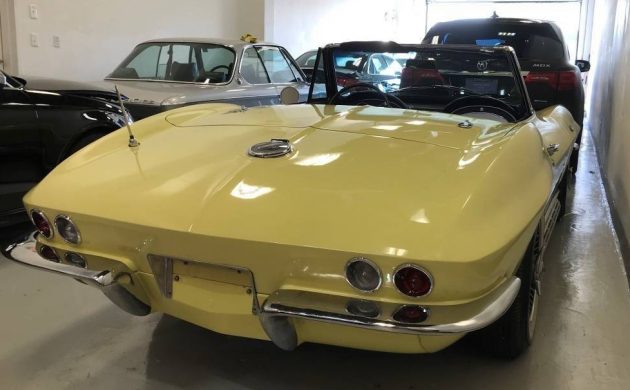 Right out of the gate we are told that this C2 is powered by what is known as RPO L79 which is a 327 CI, 350 HP V8 engine. There is no accompanying image unfortunately and that's a shame as it is one of Chevrolet's greatest hits. It is similar in temperament and internals to the 365 HP RPO L74 but it lacks the periodic mechanical lifter adjustment requirement of the L74 and is compatible with A/C. This 'Vette has run up 90K miles and the seller claims that the motor has been rebuilt. He gives no indication, however, of how this Chevy runs and drives. Two transmissions were available with this engine in 1966, both four-speed manual units, one a standard, wide ratio configuration and the other a close ratio arrangement. The seller makes no mention of the specific unit employed in this example. Rear axle ratios allowed spanned a range from a highway friendly 3.36:1 up to a steep, step-on-it 4.11:1 ratio.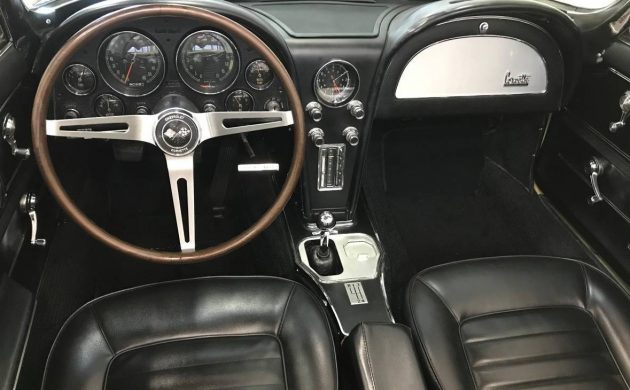 The interior is like the exterior, it too looks new. The seller advises that it is leather, which was an option in '66, and none of what's visible reveals any sign of wear, age deterioration, weather degradation or any of the other foibles that adversely affect a 54 year old, open car interior. We'll assume that this Corvette has a fold-up canvas top but who knows, does it? What color? What condition? A removeable hardtop too? More questions than answers.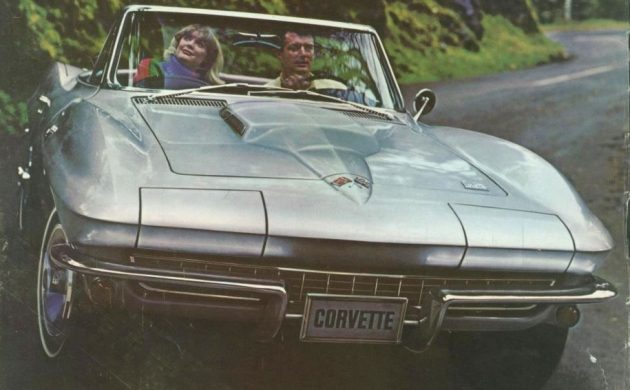 This listing is a head-scratcher. This is a high-dollar, very collectible automobile being promoted via a medium that is generally not the province of six-figure automobiles. Beyond that, the paucity of detail is outstanding, again for a car of this market value one would expect many more images and some pretty focused detail as opposed to throw-away lines about numbers matching and coming with "huge records". This Corvette is stupendous looking, no argument there (except for the white-walls), but the glibness of the listing would probably preclude me from making an inquiry if I were interested, it just doesn't sit right. How about you, is there enough sizzle with this minimalist listing to catch your interest and make you want to dig for more or would you be inclined to pass?