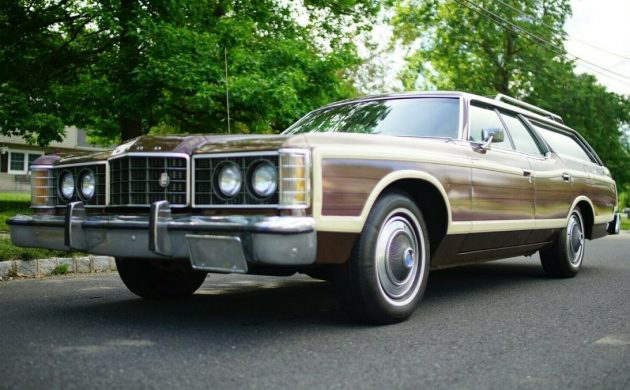 OK, back to cars! Specifically, station wagons. Last week it was Chevrolet, yesterday Dodge and today, a Ford. And not just any Ford, but a big, brown bruiser of a faux wood-grained, 1973 Country Squire with a claimed 57K miles of experience. This baby was built back when a station wagon was a station wagon and not some silly little CUV that looks like a piglet on stilts. Big? You bet, so big it would probably require wharfage fees. Let's take a look at this long leviathan, it's located in Little Silver, New Jersey, and is available here on eBay for a current bid of $12,100, reserve not yet met.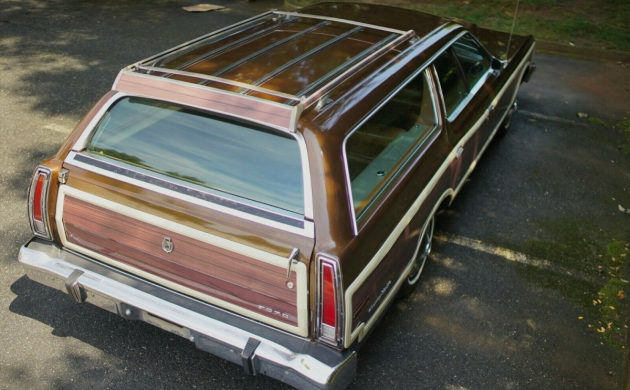 Station wagons continue their march up the popularity ladder, many consider them to be the perfect antidote to a world gone mad with CUVs/SUVs. And they possess many of the same qualities, engines, transmissions, suspensions, etc. that their passenger car versions claim. By the early '70s station wagons, like their passenger siblings, grew in mass and shrunk in power, however, – the Country Squire, included. As stated earlier, this is a BIG car and not particularly robust in the power department but those items, alone, don't necessarily detract from this Ford's desirability.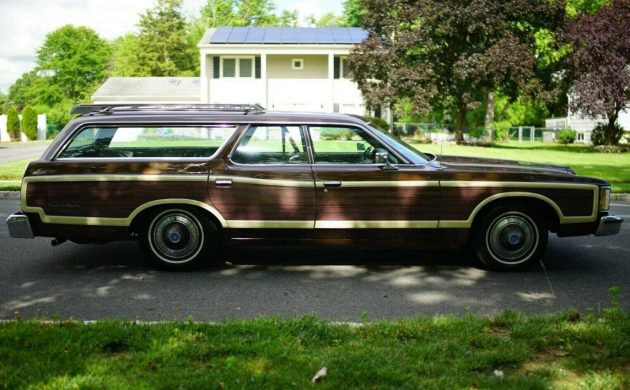 To say the least, this Country Squire is in great condition, even slathered in oh-so '70s brown. It has a deep finish, nice chrome and no sign of torn, faded or nicked "wood" paneling. The seller refers to the exterior as "Dark Ginger Metallic" complimented with a "Light Ginger" vinyl interior; that's a lot of ginger going on but I'm seeing mostly brown. This Ford was a one-owner car that has been garaged its entire life; not certain if New Jersey has been its long term domicile but this Country Squire has clearly avoided the potential ravages of northeastern winters. It is further stated as being rust-free.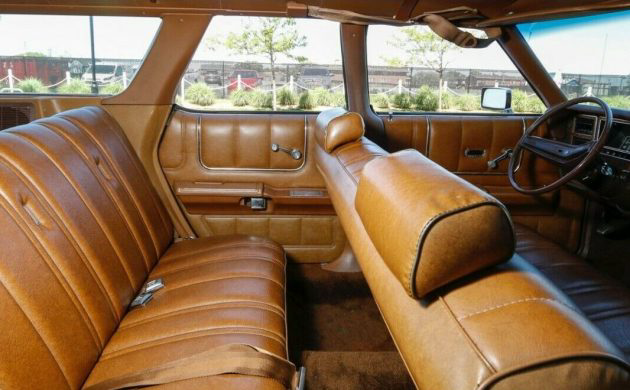 The interior does match the exterior, in character anyway. It is in great condition, no sign of wear, rips, tears, stains or scuffs. As I recall, the vinyl material used by Ford in this era was pretty tough stuff. Ditto the cargo compartment – the part of a station wagon that usually receives all of the knocks and contusions, it is damage free. This example is, depending on your perspective, either an eight or a ten passenger wagon. Ford referred to it in their sales brochure as an "eight" passenger model with only two useable seating locations in the way-back but I can recall, from days long ago, parents claiming they could shoehorn four small ones into those two rear-facing seats – maybe if they were missing a limb or two. Two things noted, one is crank windows, not so out of place, even in '73, and yes, the original Philco radio is still installed.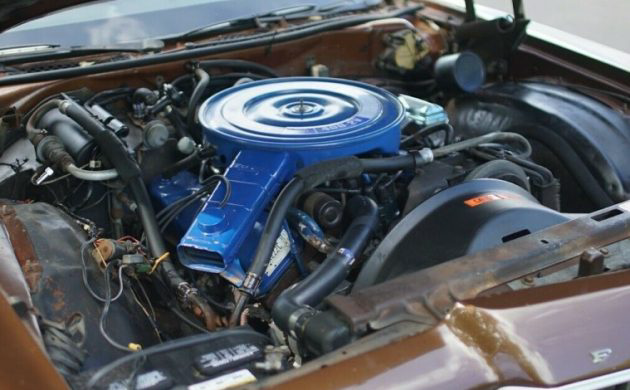 Under the hood is a bit of a dud in the form of a 400 CI, V8, wheezing its way to 167 net HP. Of course, Ford wasn't alone in this endeavor as they had similar company with Mopar's 400 "B" block V8 and Chevrolet's over-bored, underpowered, 150 net HP small block of the same displacement. The good news? The big Ford engine is torquey enough to move this fully loaded wagon adequately though covering only about 11 miles per gallon of fuel inhaled and taking 13.3 seconds to reach 60 MPH. But that's the way things rolled in those days. The seller doesn't state specifically how this Ford wagon runs but does claim that it has had a "Complete tune-up with all new plugs, wires cap and rotor. Remanufactured carburator (sic) All new fluids, filters hoses belts. New battery Altenator new brake master cylinder, valve cover gaskets". He further mentions that the A/C is cold and the car has always been "meticulously maintained". It looks it!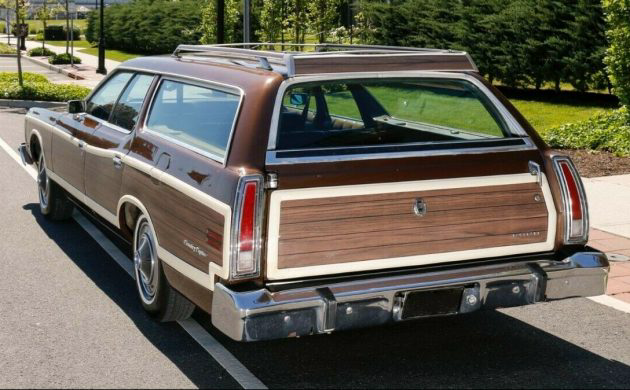 While lacking hot-rod potential or candidacy for a surf-wagon conversion, this Country Squire presents itself as what it was, when designed, and what it is now, a large comfortable family-hauler. It's hard to estimate the reserve but the bidding is starting to get into a pricy realm, nevertheless, that's the cost to relive the earth-toned '70s. Worth it?