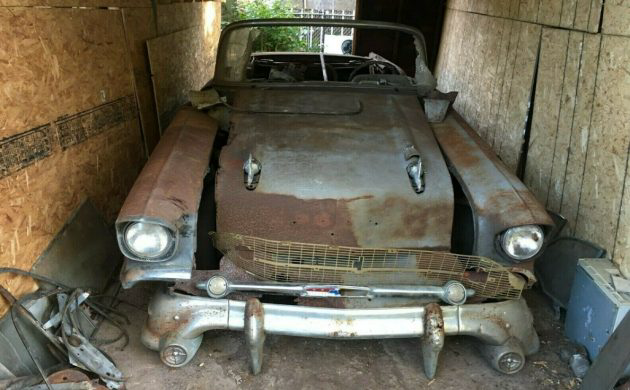 There's no escaping the fact that restoring this 1957 Chevrolet Bel Air Convertible is going to be a major undertaking. However, it is a classic that is structurally sound, and it represents a blank canvas for its next owner. It has generated some decent levels of interest since it hit the market. The Bel Air is located in Rutherford, New Jersey, and has been listed for sale here on eBay. The reserve has been met now that the bidding has reached $10,000.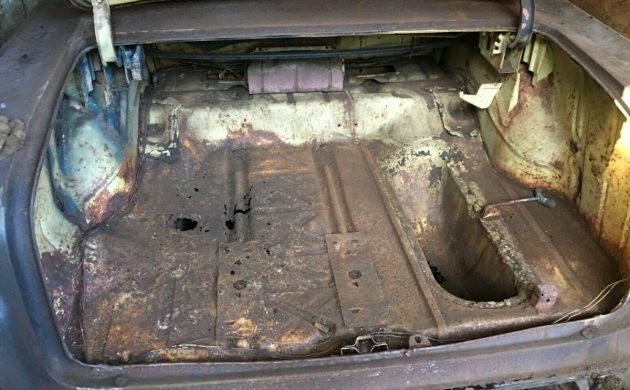 A previous owner commenced the restoration process on the Bel Air, but it appears that he only progressed as far as dismantling the vehicle to its current state. It has been sitting in this garage for the past 20-years. There is some work for the buyer to tackle if it is to grace our roads once again. It rolled off the production line finished in Canyon Coral, although you wouldn't know that today. As you can see in this photo, there is some rust to be addressed. As well as the trunk pan, the Chevy will require all new floors, along with inner and outer rockers, and rear quarter panels. The good news is that the frame seems to be sound, and only wears a coating of surface corrosion. There are some trim pieces included with the car, but plenty of these will require restoration. The owner says that there are some parts for the convertible top present, as well as some of the glass. The windshield will need to be replaced, along with a couple of pieces of the side glass.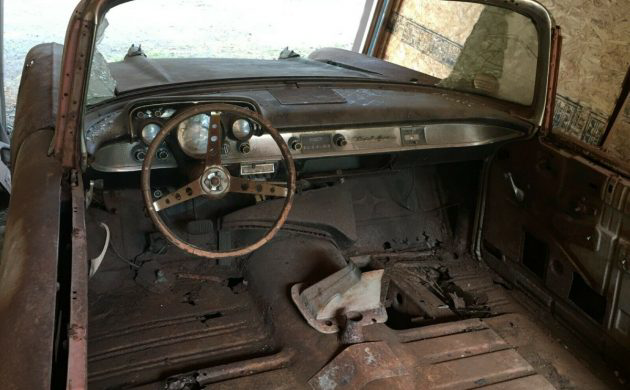 You have to close your eyes and use your imagination when it comes to the interior trim because there isn't a lot left today. There are no seats, so replacements will need to be sourced. The original combination was Ivory and Silver, which must have looked stunning. With the vehicle being a blank canvas, that will allow the buyer to trim the interior to their personal taste if they like. If originality is the ultimate goal, then a trim kit can be found for approximately $2,200. This will provide all of the trim pieces in the correct colors and patterns, and should have things looking great once again. The dash will also require restoration, although it does appear as though it is complete.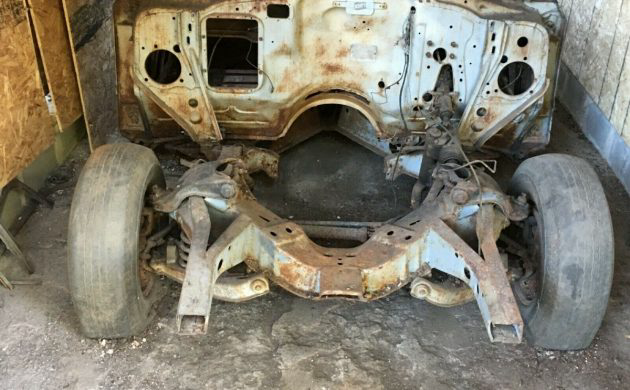 There is some bad news with the Bel Air because it is a roller. The engine and transmission are long gone. However, I did spot a radiator, a crankshaft, and some gaskets with the car. It isn't clear what originally occupied the engine bay, but we do know that whatever engine was there was hooked to a manual transmission. Once again, this is an aspect of the car that is open to that personal touch. It would be possible to determine the original drivetrain configuration and then work towards sourcing the correct components. The buyer might also choose to slot in something more potent or even tackle this as a restomod project. If you are seriously considering this car, then the world is your oyster.
The bidding on this '57 Bel Air Convertible has already reached $10,000, and it's easy to see why. The Bel Air Convertible is one of the most desirable classics that you will find in the market today, but this isn't a recent phenomenon. Their performance in the marketplace has been one of the most consistent for decades now. This is a trend that doesn't appear to be set to change any time soon. If this car was fully restored and was a numbers-matching classic, then it could easily command a six-figure value. Even a faithful restoration with period-correct components could realize a price of $60,000 or more. A custom or restomod could still threaten these values, and with the ready availability of parts, it would be a tempting path to follow. If I'm honest, I don't actually care what approach the next owner follows, as long as they return this classic to the road. Twenty years is too long for this beauty to have been left sitting. It deserves a second chance at life.