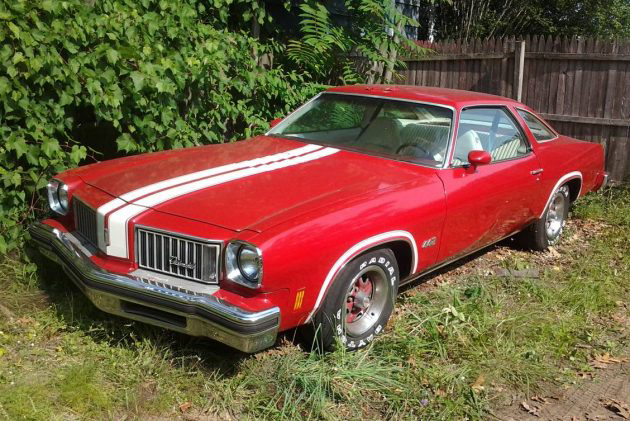 One of the malaise-iest signifiers of the "Malaise Era," which generally spans from the shock of the 1973 oil crisis to the early '80s, is that many of the legendary nameplates of the '60s and early '70s didn't die, but lingered as hollow imitations of what they had once been. An example is this Oldsmobile 4-4-2 from 1975, by which time the fabled badge had been reduced to an appearance and suspension package that could be applied to any Cutlass or Cutlass S coupe. This one appears to be an S, and, in keeping with the appearance package theme, wears clean cosmetics on top of a less-than-solid foundation. Reader Clarke B sent us the listing, on craigslist in Muskegon, Michigan, which has an asking price of $4,500.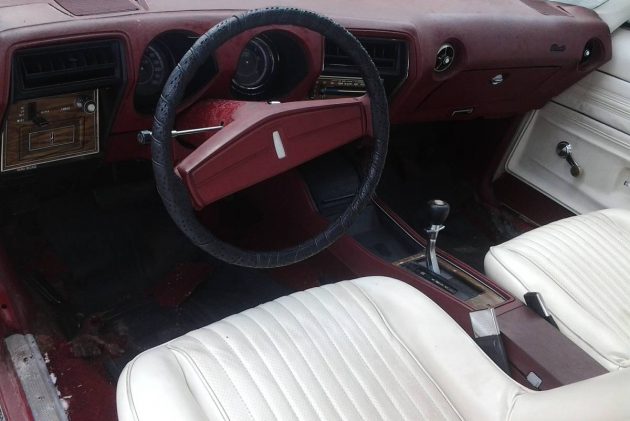 When it debuted in 1964, the 4-4-2 moniker indicated that Olds' hot new mid-sizer featured a four-barrel carburetor, a four-speed manual transmission, and a dual exhaust. By 1975, the only available manual transmission was a three-speed and it could only be paired with the newly introduced six-cylinder engine (a 4-4-2 first), and the arrival of catalytic converters spelled the end of functional dual exhausts. This nicely equipped, S-model 4-4-2 steps up to the 350-cubic inch Rocket V8, which was paired exclusively with a Turbo-Hydramatic; a 455 Rocket was also still available, but was similarly automatic-only. Note the swiveling front buckets for easy entry and exit through the Colonnade-body Cutlass's massive, five-foot-long doors.
Unfortunately, under the cherry red paint and shiny white vinyl lurks rust, both in the floors and, more worryingly, in the frame. The car is, however, described as running and drivable, but more detail about its mechanical condition would be welcome. The Colonnade A-bodies are big, but were specifically designed to be good handlers, so with some rust remediation this could be a nice driver if all other systems are go—if not quite in the same vein as a 4-4-2 from a half-decade earlier.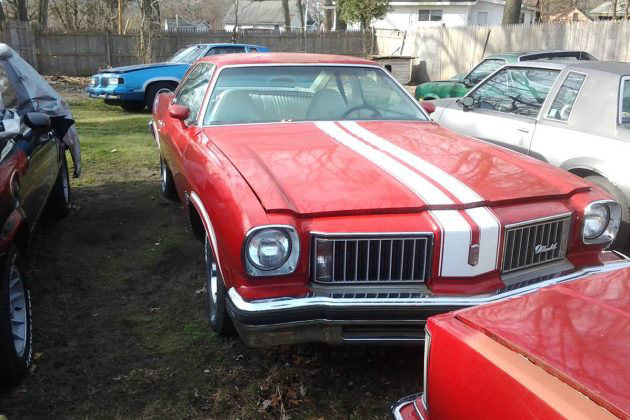 If you're handy with a blowtorch but don't have $4,500 to drop, the seller notes that trades for "other buick chevy olds or pontiac 2 door car that interest me" [sic] will be entertained. Clearly an A- and G-body aficionado, the 4-4-2- is shown keeping company with several Regals, Monte Carlos, El Caminos, and other Cutlasses, which makes me wonder—what has this one marked for elimination from the herd?