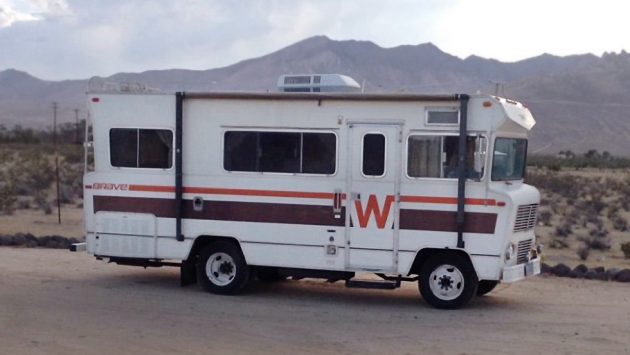 Spring fever is hitting hard here in the Midwest, although having temperatures in the 50s and 60s in February was highly unusual and the snow went away a few weeks earlier than usual. Even though I drive 40,000+ miles a year all over the US, I dream about having something like this to travel the country in. This 1975 Winnebago Brave D-21 is listed on eBay with no reserve and a current bid of around $1,000. This boxy beauty is located in Inyokern, California. Thanks to Ed V for sending this one in!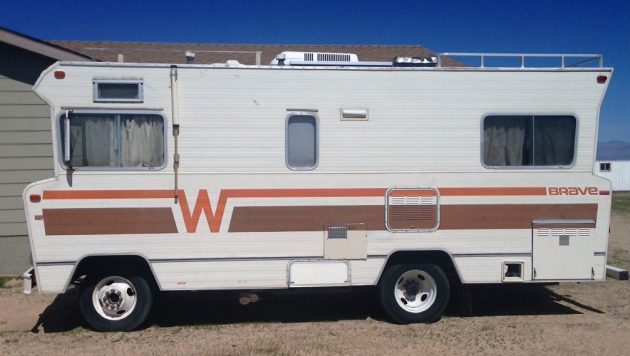 This Brave looks like it has had its"rally yellow" wide stripe painted brown for some reason. I guess the reason would have been that someone liked that color better. This is, I believe, a D-21 model with the side bathroom and being 21-feet long. Or, 21-feet 4-inches long, to be exact. This is the era when Winnebago was introducing new designs, such as the Brave II. I prefer the classic Winnebago shape, but that's just me.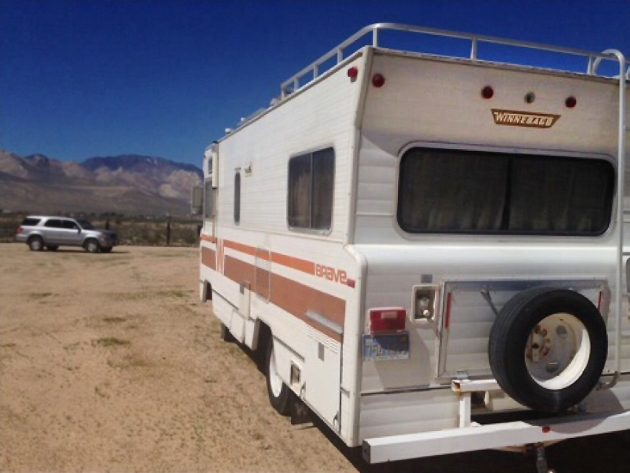 Talk about a perfect platform for taking photos! The seller says that this one has no rust and they bought it from their "neighbor some time ago and it spent its life on his pistachio farm in the California high desert. He did not work on it due to his health and it has not been on the road for about 10 years." These can be both fairly simple and nightmarishly complicated to work on because they combine all of the systems on a vehicle with almost of the systems in your house, all in a rolling box not much longer than a Lincoln.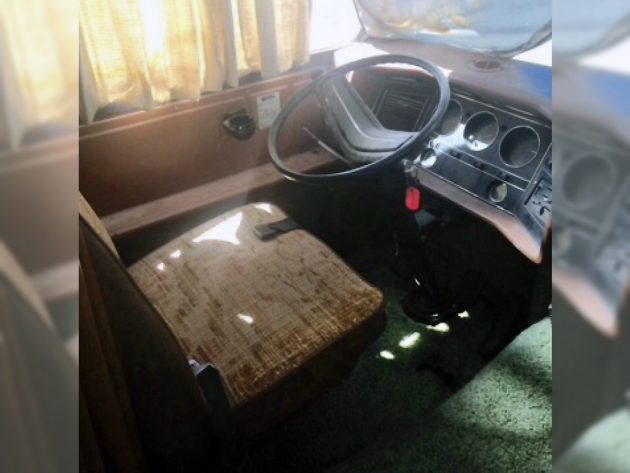 In a nod to Craigslist ads the world over, the photos on this one are not that clear or plentiful, even though it's an eBay auction instead of a CL ad. There are only two photos of the entire interior, if you don't count a close-up of the White-Westinghouse stereo and CB Radio, which is obviously much more important than showing photos of the bedroom area, dining area, storage, mechanical systems, or bathroom would have been. There is a generator, which is a nice addition for those stays away from civilization when you just have to catch up on the latest hijinks of those wacky Kardashians and you don't have any power for your flatscreen tv.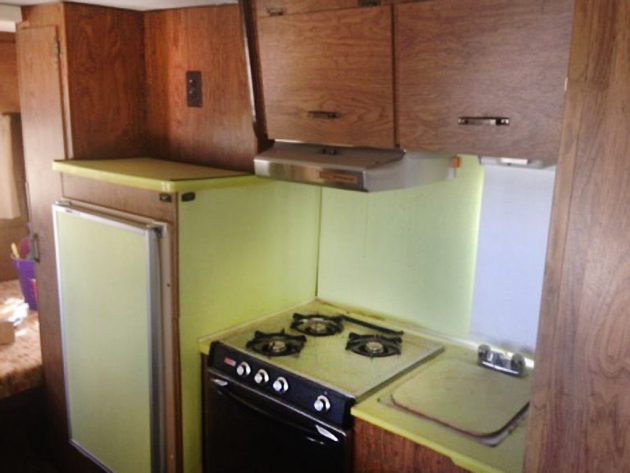 Here is a photo of the kitchen. Being 42-years old, the comforts in this Brave will be light years from the quality and luxury that a new motorhome would have, but there's a certain quaintness about these old RVs. Or, there is for those of us who did a lot of hard-sided camping in this era. There are no engine photos, but this one has the optional Dodge 440 cubic-inch V8, which unfortunately isn't currently running. It does turn over and this rig was last on the road in 2010, traveling a mere 57,000 miles since new.  Have any of you owned a Winnebago motorhome from the 1970s? Do you think this one is worth saving? It sure looks good to me.