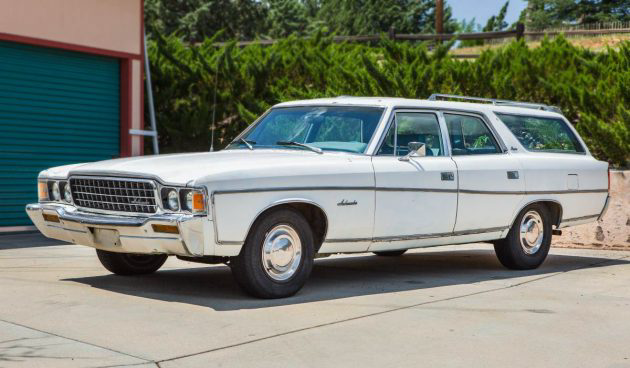 Back in the late-1970s, my best friend's parents got a new Ford LTD II "Brougham" and he called it a "Bro-Ham", not realizing that it wasn't really pronounced that way. I still refer to Broughams as bro-hams to this day. It's a good thing that none of you have ever latched on to something like that and carried it through the decades (or, have you?). This bro-ham is actually a 1973 AMC Ambassador Brougham Wagon and it's on Craigslist with an asking price of $3,500. It's located in beautiful Prescott Valley, Arizona. Speaking of that, the seller says that the AC doesn't work, but at least it's a white car so it won't soak up as much sun as a black car would. Thanks to Pat L for sending in this find!
You can see that there's some bodywork to do, even being in bone-dry Arizona. I know, I know, parts of Arizona get rain and snow like the rest of us do! And, even in the dry parts of the state, other things on vehicles suffer, like rubber and plastic parts, so it's not always wine and roses in the desert southwest when it comes to vehicles lasting forever. The seller says that it needs bodywork and paint. It looks good in this one photo but the rockers look a little suspect. Yes, you guessed it, there are only two photos in the ad, despite Craigslist offering up to a dozen or so free images, for free, that means no charge (free!) for more than two photos (free!). Ahh.. that felt good, ok, back to the car. I know that I'm preaching to the choir, again. It's always better to give too much information in an online vehicle listing than not enough information, but the latter is more often the case, unfortunately.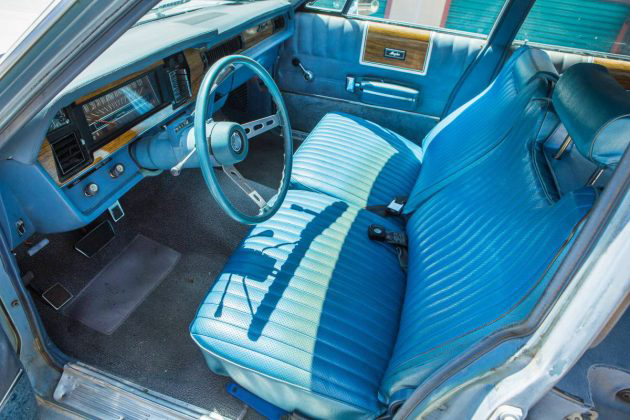 So, about that one interior photo – here it is! She looks good, no? I love those built-in/hidden head rests. And, of course, that great, bright, beautiful light blue color. The condition of things, other than the dirty and/or faded carpet, looks great here. Although, the seller says that it has new carpet, hmm.. that sure doesn't look new to me. I don't see a crack in the top of the dash, can that be? I would sure ask the seller for a boatload of additional photos if I were serious about this car. But, from what is shown, things look pretty good, maybe even worth a $3,500 gamble? I mean, if a person were an AMC Ambassador wagon fanatic and just had to have it now. This car has a 360 cubic-inch V8 with a four-barrel carb and it drives great, according to the seller. The front seats "lay down", so this isn't a car that you'll let your teenager drive. It's an 8-passenger car, but of course there are no other photos of the interior showing anything but this one of the front seat. In any case, what do you think of this one? Is there enough info here to make a decision?