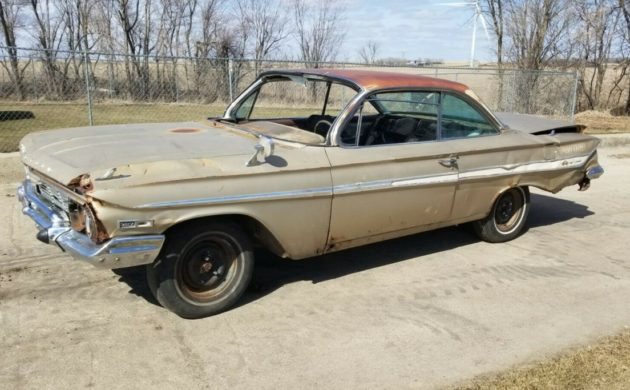 There's no denying it, I like '60s vintage Impalas. I have owned several and its easy to see how GM garnered so much market share back in the early '60s, with plenty of help from the Impala, that the Justice Department considered separating Chevy from the fold. Those days are long gone and CUV's seem to be the current flavor now but it's always nice to take a look back at what was. The Impala really started to come into its own in '61. Gone was the chrome excess of the '58 and the take-flight fins of the '59 and '60. That being the case, this '61 Impala two-door hardtop, located in Barnesville, Minnesota is worth a gander. It is available here on eBay for $3,600, twenty-four bids tendered so far.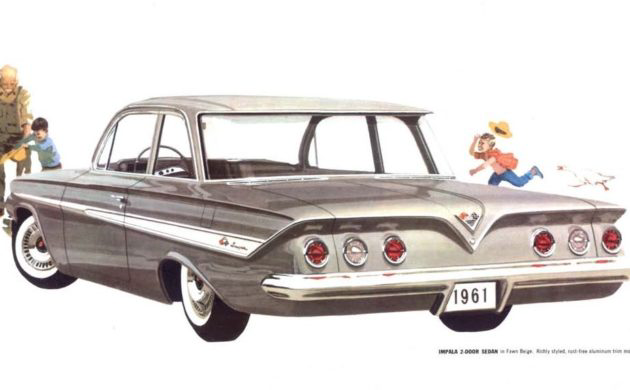 This '61 example is often referred to as a "bubble-top" due to its thin roof pillars and outsized front a rear glass. A few of the more notable aspects regarding the '61 model include the first year for the SuperSport (SS) option, mid-year switch from the 348 CI "W" head engine to the new 409 and, until hardtops were phased out for safety reasons, '61 was the only model year where both a two-door hardtop and a two-door sedan version of the Impala were offered.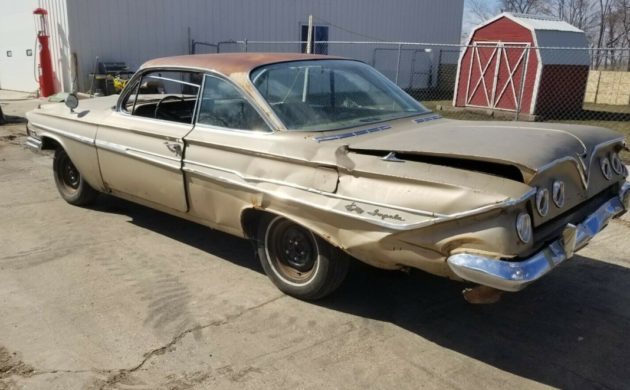 To say that this '61 Chevy is rough around the edges would be an understatement. It appears to be still wearing its original Almond Beige "Magic Mirror" finish though the sun has worked its usual voodoo on the roof. The seller has some sort of story about the rear of the car being lifted at one time when it was "froze" to the ground but this Impala just looks like it has been wacked hard in the rear, taking out all six of its distinctive Impala taillights. There is rust in the lower fenders and probably in other places too, the body damage confuses the look. Note, in the lead image, the '68 Impala side marker lights tacked on to the front fenders, a way to "personalize" this Impala perhaps?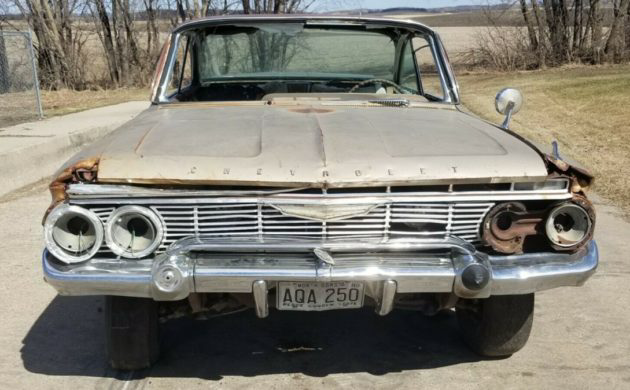 The front end has been kissed too with missing fender extensions, damaged or missing headlight buckets, a mangled hood leading edge, bent left fender and a broken grille. The hood is also showing the telltale sign of a carburetor fire somewhere in its past. But other than that…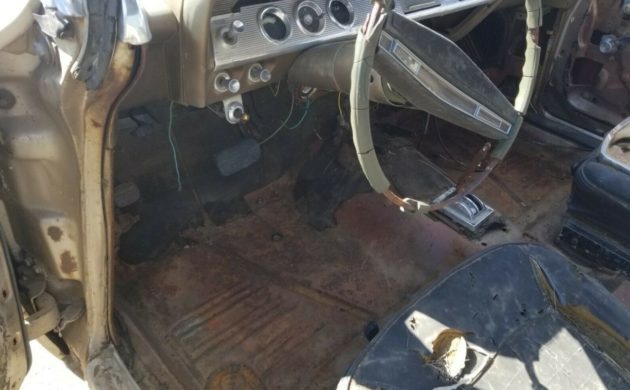 The interior is one of the best examples of, "What the h&!! happened in here?" that I have come across in a while. I'm trying to figure out the floor in the driver's footwell, it appears, besides the obvious rust, that it has been patched in some helter-skelter way. It's either that or some of the torn sound deadening underlay is still in place. There are destroyed bucket seats from some unknown origin that have been added and the floor shift appears to be from a first-gen Mustang. What's left of the steering wheel is unrecognizable, it's not from a '61 Chevy, and the backseat appears to have had something akin to a radiation blast occur. It's doubtful that any of the dash instrumentation and switches are operable but at least in the case of the windshield wipers, it doesn't matter – there's no windshield. But other than that…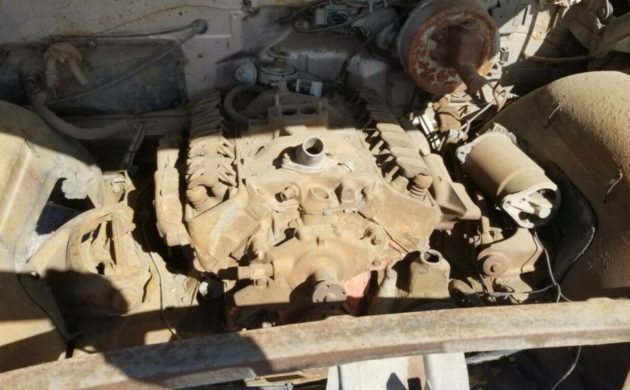 Under the hood is an iron lump. The aforementioned front marker light badge reads "327" and maybe that's what this small-block is, a 327 CI V8 of some unknown provenance; hard to know for sure without spying the alpha code or the block casting number. The 327 CI V8 was still one year away, a 283 V8 being the mainstay in '61. And while this block has desirable "camelback" heads that contain large(er) valves and is in keeping with the 327 spirit of things, the engine is topped with an incongruous two-barrel carburetor intake manifold. None of this matters, it's doubtful that this engine has operated on its own on many moons. This is an automatic transmission-equipped car which probably means a Powerglide, two-speed automatic unit. The hope-to-be-forgotten Turboglide automatic was still around in '61, it's last outing, but they were very seldomly seen by this point. It would not be a stretch to assume that everything under the hood is unusable but other than that…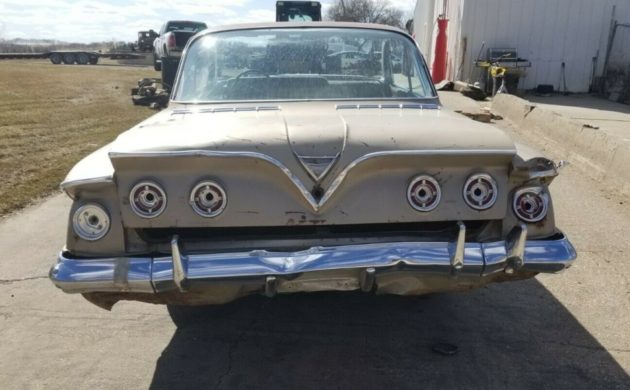 I'm searching for a reason for this Impala's continued existence. I haven't come up with one. Nevertheless, you always want to see an old car, especially one with some collectible cred saved. Is a '61 Impala a desirable car? No doubt about it but this example has probably turned too far a corner to be considered viable and there really aren't many useable parts if that were to become its ultimate fate. Beyond that, it has no title and the not all of the wheels roll, but other than that…I'm not sure what the bidders who comprise the 24 bids see here, but maybe I'm missing something. What do you think? "Resuscitable" or "Nothing to see here, move along!"