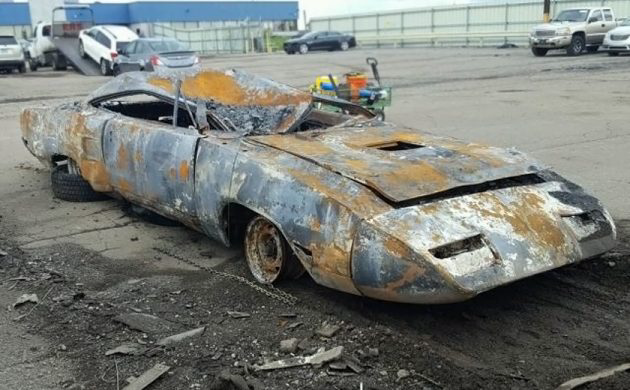 UPDATE  – This burnt bird sold for $25,500. Wow!
FROM 1/14/19 – Kids, this is one more reason why you shouldn't smoke. This is the definition of crying shame, how this 1970 Plymouth Road Runner Superbird ended up in this condition is unknown. Those of you with a lot of money and.. well, just a lot of money can find it here on Copart with a current auction bid price of $8,800. Coincidentally, that's $8,800 more than I would pay for this car. It's located in Detroit, Michigan. Thanks to Desmond G. for sending in the tip on this burnt bird!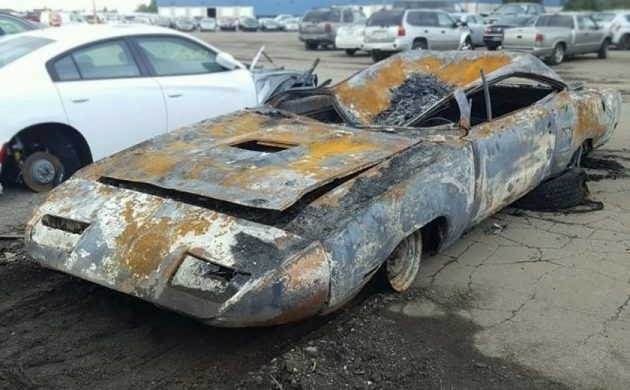 Jay Leno, the Sultan of Brunei, and maybe a couple of other people I could see as having a knowledgable team and the money in place to restore this car back to its former Blue Fire Metallic glory. Wait, let's think about that for a second, this car was actually Blue Fire Metallic in color. Now it's just fire metallic. I sure hope that nobody was hurt in this fire, that would be a tragedy not worthy of joking about. But, if it was just the car, any car, then it's fair game. Heck, most of the stuff that I post here gets joked about and they aren't burnt to a crisp.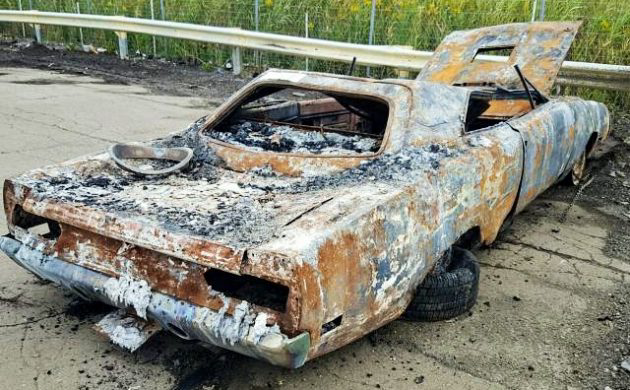 We don't know the ownership or the history of this car but in trying to decode the fender tag a bit, this Superbird was Blue Fire Metallic, it had a 440 V8 with a single 4-barrel and a 4-speed, and no onboard fire-suppression system. I made that last part up. Copart has the color listed as "BURN", but the VIN lists it as EB5, the aforementioned Blue Fire Metallic. One of you will know this next part – in the photo of the tag shown here, the second row of numbers are:  114  083  and I can't quite make out the last number, is that 678? If so, what does that correlate to as far as transmissions go? I find a reference for 676 which is a 426 Hemi with a 4-speed but I can't find anything for 678. I could just be reading it incorrectly as an 8 when it's a 6? But, if that's the case, this tag reads as this car having both a 440 and a 426 Hemi? That makes no sense.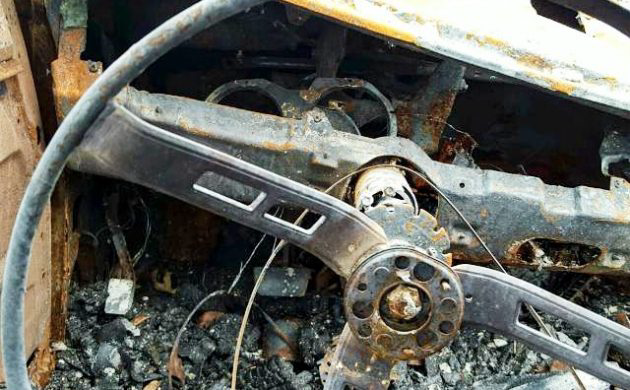 Whatever the fender tag says, I can't imagine that this car will ever be on the road again operating under its own power. What do you think? Is this a case where someone is buying that VIN? The Copart facility lists an estimated value of $59,000. I guess if a person were doing a $500,000 restoration on a million-dollar car it would always be nice to have another parts car in the wings (no pun intended), but man, this thing is roached (no pun intended, again). I believe that this car had a black interior with bench seats, but the website that I found for decoding the fender tag has a couple of areas where their numbers don't match up with this car. Like the interior color which on the fender tag seems to read H6X9 or HGX9 and the closest one to that is H2X9 for a black bench seat interior. Again, do any of you know how to decode that interior number, or make out the tag better than I apparently can?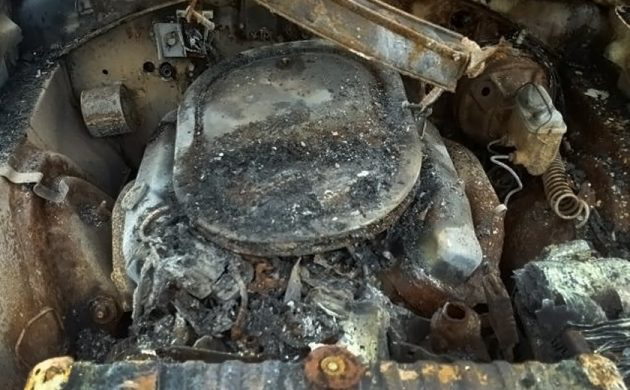 Back to the tag questions. That sure looks like a six-pack air cleaner to me! The tag clearly reads "114" which is supposedly a 375-hp 440 V8 with a single 4-barrel carb and a 4-speed. Again, one of you will know instantly what this engine is by looking at it. Enough with the tag! I know that a lot of you have restored cars in dire condition, but is something like this scorched Superbird even a possibility to bring back to life again?
Have something to sell? List it here on Barn Finds!