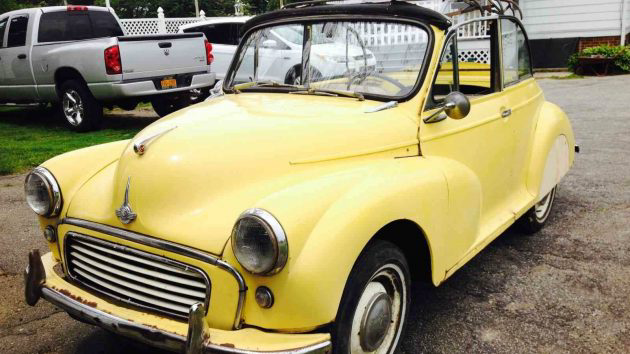 It's not often you find a seller with as reasonable expectations as the one that is selling this cute little 1958 Morris Minor 1000 convertible here on eBay. The opening bid is only $350 and there's no reserve. Considering the price of a set of metal accessory rear wheel spats is only a little short of that, if this one stays anywhere close to that figure someone's going to get a bargain (just kidding, the ones on this car look like they are made of plywood). The small convertible is located in Southold, New York.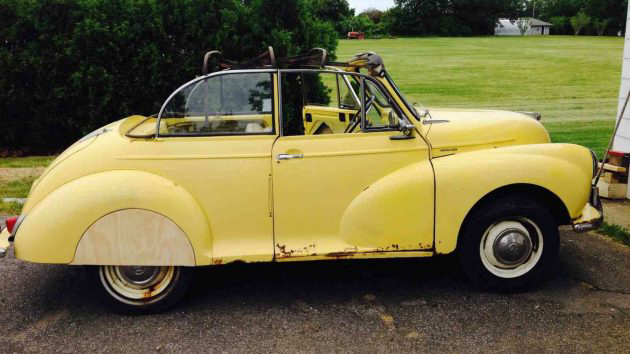 I actually don't remember seeing a Minor with spats before, although I did find some from Australian suppliers for older Minors and it intrigues me enough that if I ever end up with a Minor I might just have to fabricate some. It really does change the look of the car. However, we are looking at a project here, although I'm not sure it's quite as bad as the seller makes it out to be. They speak of too much rust under the car for them to handle; I wish they had included a picture of the underside so that we could judge this a little better.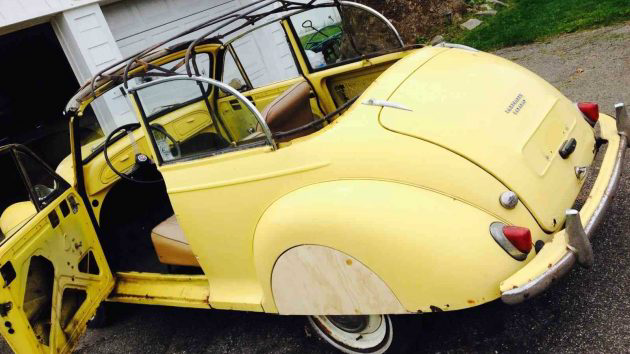 What I do see is that some important and difficult to find parts like the top frame are there, as well as a nice looking steering wheel (could it really be uncracked?) and that all the glass is there and intact as well.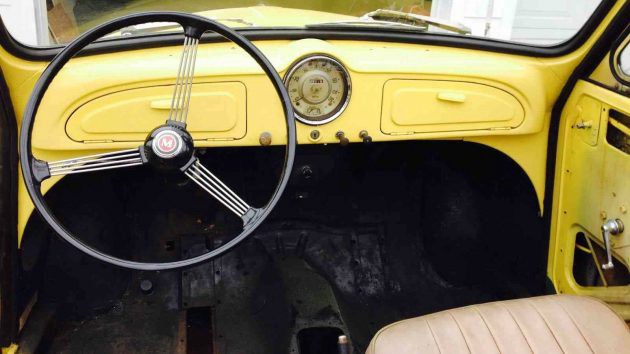 The seller also tells us that the door panels are not with the car; Newton Commercial in the UK as well as many other suppliers make anything you might need for the interior of a Minor. Of course, if you weren't concerned with originality, plain door panels (cards, for our UK readers) could be mocked up quite easily.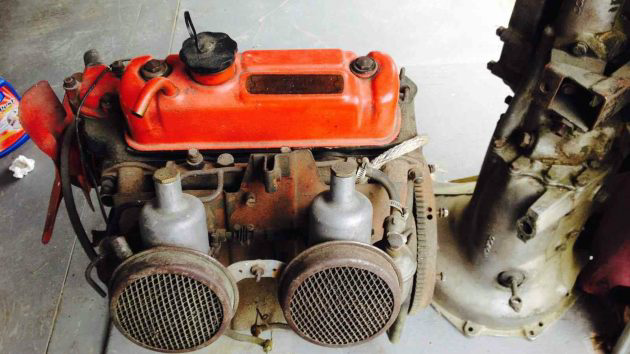 To be honest, at that price I was surprised an engine came with this car at all, but it's a Bugeye Sprite engine and smooth case transmission. The original engine and transmission have been disassembled but are also included as well. Since this car is going to be unoriginal when returned to the road anyway, I think I'd look for a 1275 and ribcase transmission from a later MG Midget and sell these on to a needy Bugeye owner. So what do you think? Anyone have experience with rust repair on a Minor convertible? Because I'd like to know in time to bid on this auction!