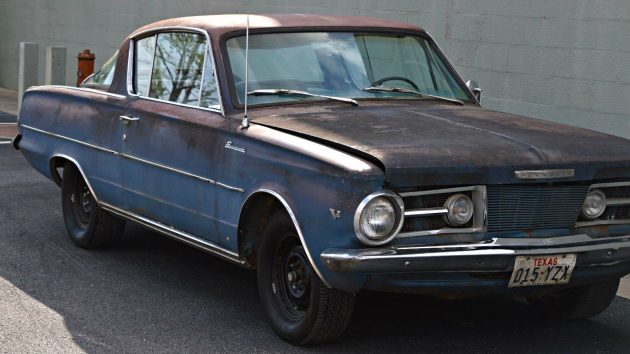 Clearly appearing to have spent its life in the big state of Texas, this Barracuda is a sweet deal just waiting to be reeled in! Equipped with a 273 V8 and air conditioning, this driving and stopping project seems too hard to pass up for the opening bid of $2,895.00! Check out this dry fish here on eBay out of Dallas, Texas.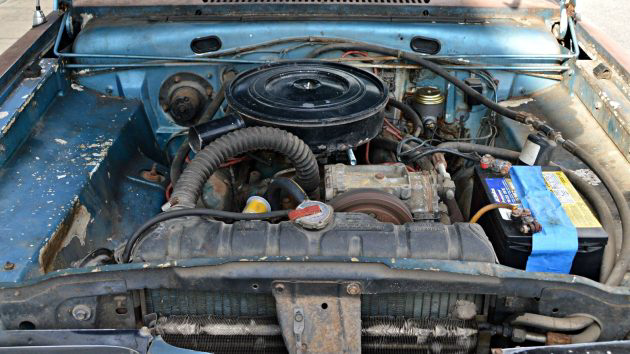 With obvious signs and age and debris from sitting, this 273 V8 has a rebuilt carb, a new gas tank, and a fresh sending unit. The automatic transmission is functional, but it would seem that it has only been tested in low speed operation versus highway speed. The air conditioning appears to be complete and in place, and the seller has confirmed that the compressor is functional.  I am certain the brakes were gooey after years at rest, but a new brake master cylinder was fitted, as was fresh lines and wheel cylinders.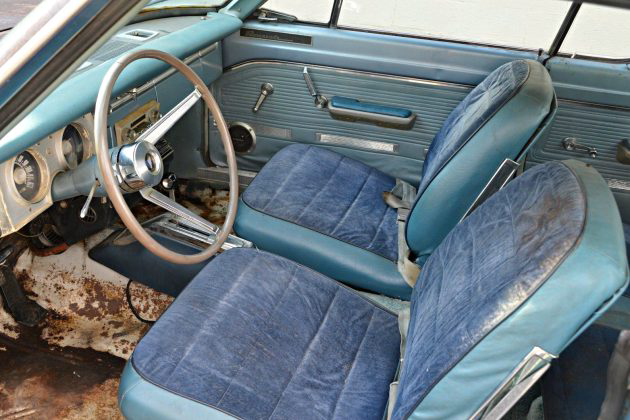 I am surprised by the interior as I was expecting much worse from an old Texas car. The carpet looks to have been peeled back to reveal the floors, and the upholstery and door cards overall are quite reasonable. Modern speakers have been fitted to the doors, so I do cringe a bit at cutting the factory door panel for better tunes, not that I am against good music while cruising. There are obvious signs of surface rust on the floors, but as a whole the floors appear very solid with no evidence of rot.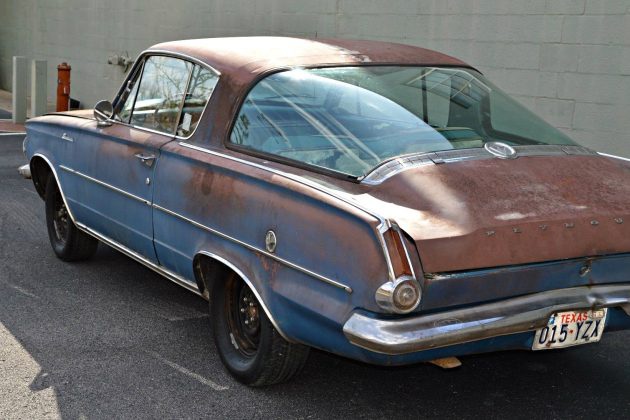 While some may disagree, I do find the exterior of this old Fish quite charming. These early Barracuda's aren't all that common, and I dare say that most of the ones I have seen are restored. The body is quite straight, but the back end looks to have been bumped in its past. The rear bumper is dinged, and the trunk line gaps look a bit off to me. Perhaps the lower valence where the key cylinder is located has been bent in a bit? While there is obvious surface rust present on this Plymouth, there appears to be no rot whatsoever; which I find exciting. The only notable rust appears to be in the trunk space, which I think indicats that the rear hatch fits a bit wonky possibly from being bumped in its past. I think the panel gaps allowed moisture into the trunk space to cause the current rust issue. Or it could simply be coincidence? For the cheap asking price, I think this Barracuda could be a fun and affordable project to enjoy and improve upon little by little. Would you reel in this cheap Fish?