Sleek and luxurious, with plenty of style, this 1968 Chrysler Imperial convertible was not a cheap car when it was new, and 1968 was the last year for the convertible Imperial. Although after 48 years, this Imperial looks fairly solid, and the best part you ask? Well, this Chrysler runs and drives needing some tlc, but the best part is the price. Offered at $2,900, this would be a great winter project to flaunt next spring. Find it here on craigslist out of Marysville, Washington. Thanks to reader Jay B for the submission!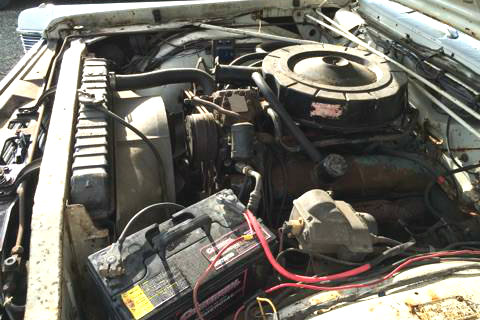 The big 440 cubic inch V8 is a runner, but like the rest of the car needs a solid looking over before returning to street duty. So we would assume it is in need of a tune up, fresh gas, and perhaps a worked over carb. Although, running is a good start for this cheap Chrysler project. For those of you that want modern features in a classic car, this Chrysler may be what you are looking for. With luxurious features such as air conditioning, cruise control, power windows, and power locks this Imperial is the perfect cruiser with plenty of space, and a power drop top.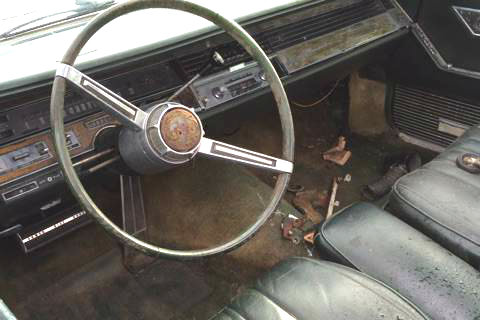 Covered in a dark green color, the interior is by no means perfect, but is certainly manageable. The seats front and back look pretty good, with some obvious wear on the driver side seat, and some wear on the arm rest area. The dash doesn't look too bad but we would love better pics of the interior to get a better idea of what we are looking at. The steering wheel looks to suffer from some minor cracking, but for a cruiser, it is not all that apparent. We think the worst looking item of the interior is the carpet as it has faded out a bit to a greenish-brown type of color. A good cleaning and a re-dye may save the carpet though.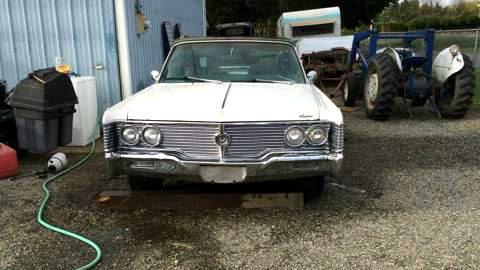 The exterior flaunts all of the cool 1968 specific features for the Imperial. Examining the exterior reveals a pretty a decent paint job, but there are some minor rust issues developing in this two door street boat.  Right off the bat there is some rust developing on the driver front fender, but it appears to be surface rust. There are also some rust bubbles developing on the rear quarters of this convertible, but it is in the beginning stages where it does not take away immensely from the cars appearance. The rockers look good, and overall this looks like a solid 48 year old convertible. Although the top is present, and operates, it is looking a little long in the tooth. The future buyer should plan on doing a top on this Imperial. Ready to be revived, this drop top would make a great fair weather cruiser. Would you bring home this classy drop top?
Have something to sell? List it here on Barn Finds!