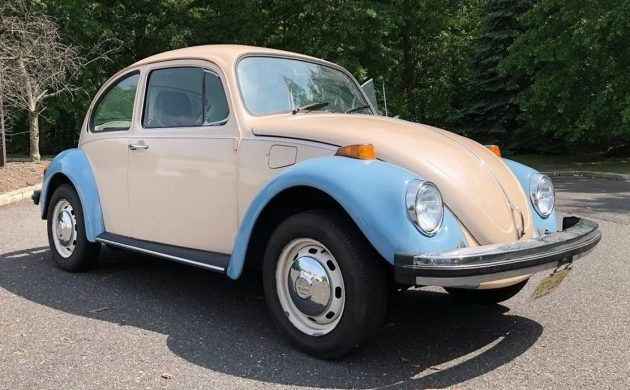 This is an unusual EV conversion in that it's a 1974 Volkswagen Beetle and it has a late model Chevy Volt battery pack. It can be found here on Craigslist in West Long Branch, New Jersey. The seller is asking $15,500 for this plug bug. Thanks to Pat L. for sending in this electrifying tip!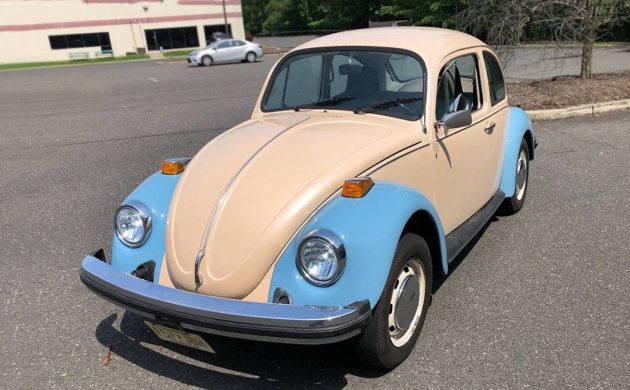 It's too bad that they didn't squeeze the Chevy Volt's 1.5L four-cylinder engine in here to make it an unlimited range vehicle like the Volt is, but it's pretty cool anyway as just a battery-powered vehicle. It's a New Mexico car and there is "absolutely no rust". The seller also says that "The batteries came out of a late model chevy volt. This was an upgrade over the batteries that were installed when originally converted. Top speed observed is 70 MPH – I never felt the need to push it faster as it uses more electricity to do so. I've gone up to 50 miles on a charge. With the chevy volt battery it should do 80 miles." The two-tone paint scheme is a little different, I would probably paint those fenders tan even though I'd rather have the body color be the same blue as the fenders are, says the guy who got a light blue 1974 Schwinn Varsity as a kid and still rides it.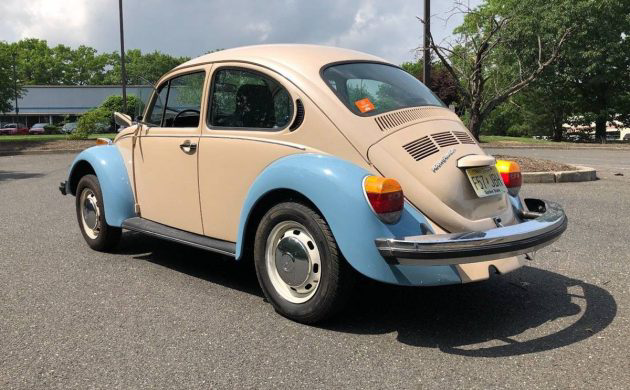 The seller says that "All four corners of the chassis are upgraded. New shocks, and disc brake conversion all around." A Chevy Volt battery pack weighs around 400 pounds but once you subtract the VW engine it's like carrying around your lazy uncle in the back seat at all times so there may not be a lot of noticeable difference in handling. The front trunk/boot houses some of the electronic goodies that are needed to power this beast. This car has had "a no expense spared Electric conversion done to it. It was a showcase vehicle for a solar company. This isn't a hack job home mechanic conversion. This was a professional conversion."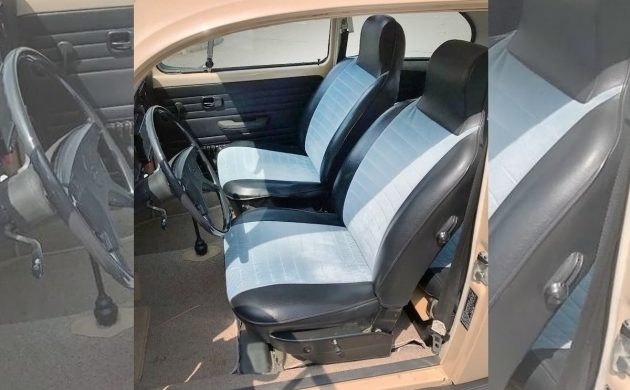 The interior is interesting and I guess I understand the tan and blue theme, like a New Mexico landscape and blue sky or something, whatever they were going for. The back seat covers need to be stretched a bit but it's nice to have the full seating capacity instead of having it loaded with big 12 volt batteries back there. "All of the gauges, lights, and switches work. Everything is run off of a 7″ touchscreen monitor. It includes CD, bluetooth, and battery and motor gauges." They also say that the "car retains the original 4 speed manual transmission and clutch. It drives like a normal car. Except there is no noise, no oil leaks, no exhaust smell, no maintenance, and best of all you can charge it from a standard outlet at your home or office."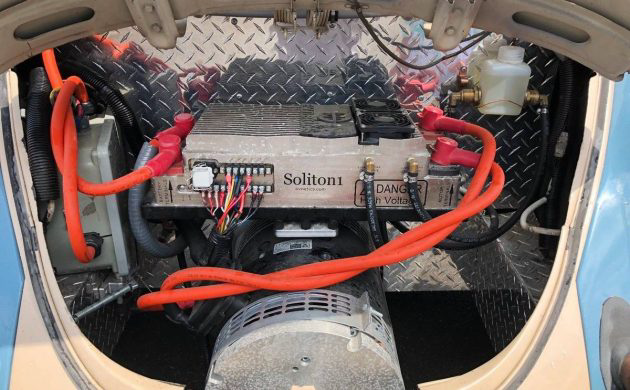 This Beetle EV "has a very expensive top of the line motor and controller. It is a 300 kilowatt 342 max volts 1000 amps controller and motor. The chevy volt battery is putting out 194+ volts so it is operating at half of it's limits. The controller is liquid cooled with an auxiliary pump for really hot days at high speeds." I don't know about the price on this one, I think that it'll scare off a lot of casual EV buyers but those in the know probably have an idea of what the true value is and I'm guessing that it's close to the asking price.