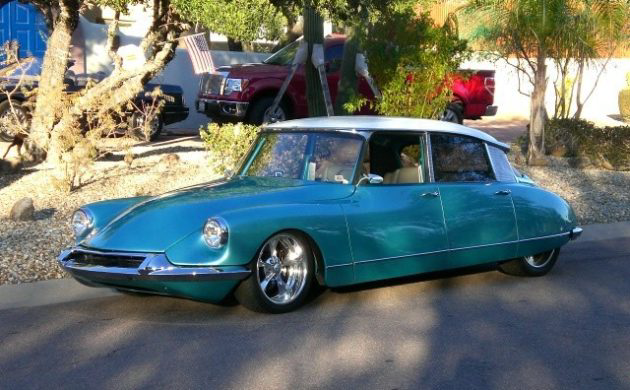 By now, I'm sure you are all aware of the creation of Stellantis, the new holding company for what was FCA (Fiat Chrysler) and PSA (Peugeot/Citroen). Being old-school, I had a hang-up with trying to moosh Dodge/Ram, Chrysler, and Jeep into a cabal with Fiat. I got the entire business reason, but when you look at what the old Chrysler Corporation was, and thought of it in terms of it being in cahoots, and controlled by, Fiat; Alfa-Romeo et al, it just didn't seem right. But now, we have to endure Peugeot and Citroen into the mix too…Ugh! But you know, all is not lost, just imagine the possibility of a Hellcat Citroen, that would be a serious attention-getter! And our find today, a 1964 Citroen DS may just be a precursor to that thought. This most unusual example of France's finest is located in Scottsdale, Arizona and is available, here on Kumbera Motors for $115,000.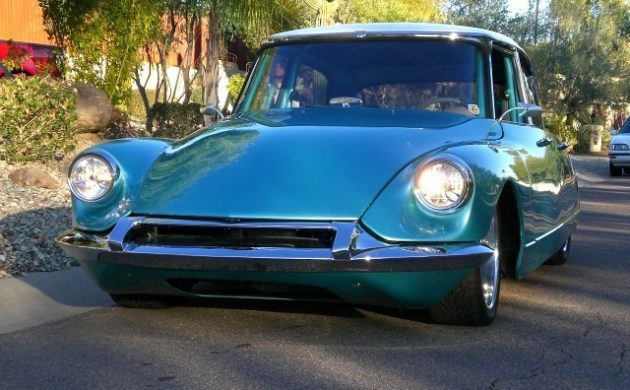 The Citroen DS is one of the most recognizable designs/profiles of all time. Offered between 1955 and 1975, the DS with its quirky Dustbuster profile and hydropneumatic suspension, a common sight on the streets of Paris, was also spotted, occasionally, on U.S. shores too. While not a likely candidate for hot-rodding, it's not a car that should be necessarily excluded. And that's just what some enterprising soul has done with this example.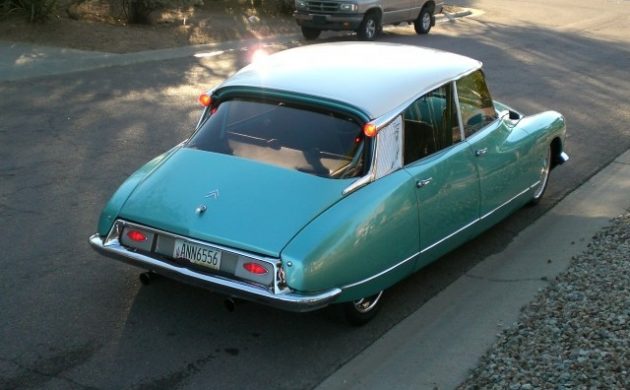 On the outside, other than the big, chromed-up hoops, this car looks like a '64 Citroen that is in exemplary condition. The pearlescent green finish, capped off with a white roof, is a bit beyond the scope of how this French favorite probably started life but it is a stunner today. Most of the listing details focus on the powertrain, more on that later, but the razor straight exterior certainly speaks very well for itself. Even the stainless trim and chrome bits are outstanding. Oh yeah, did you notice the twin, chromed tailpipes protruding from the rear?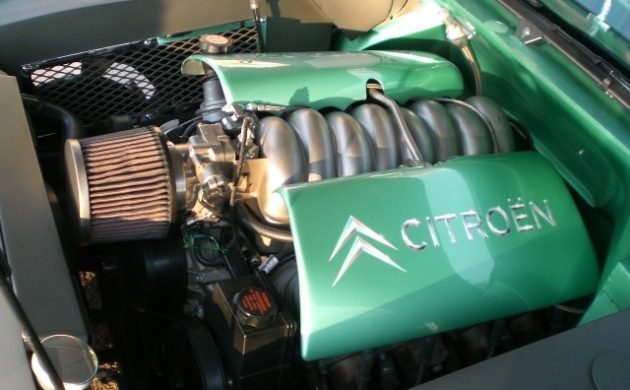 Well, that's because there is a former Corvette, 5.7 liter, LS1 V8 stuffed under the hood! The seller pegs the power at 400+ HP which puts it above its original stock rating. The seller doesn't elaborate too much on specific powerplant details but he does state that this Citroen is, "A purpose-built Show car that would drive and handle on the road better than most". I bet! The transmission employed is an automatic unit and it looks like a 4L60 four-speed, but it's hard to know for certain. Out back is a live axle that resembles a Ford 9" Hotchkiss type.  There are numerous, included underneath images that should be reviewed; this car has clearly been the benefactor of some serious engineering and fabrication. All-told, there is a claimed $300K+ outlay that has been sunk into this Citroen.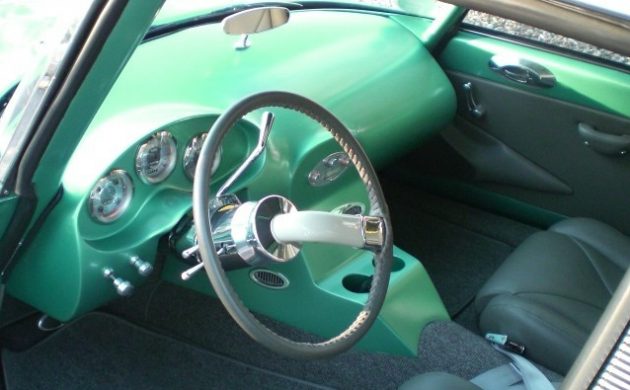 The interior is as one would imagine, at least in terms of keeping up with the exterior. There is a GM style steering column in place but the original, funky single post wheel has been replicated while all-new instruments, provided by "Classic Instruments" are ensconced in the binnacle that housed the original Citroen indicators. The entire package is an exercise in understated simplicity.  And not to be missed is the color matching roll cage. A roll cage, really? I ain't lyin', check it out.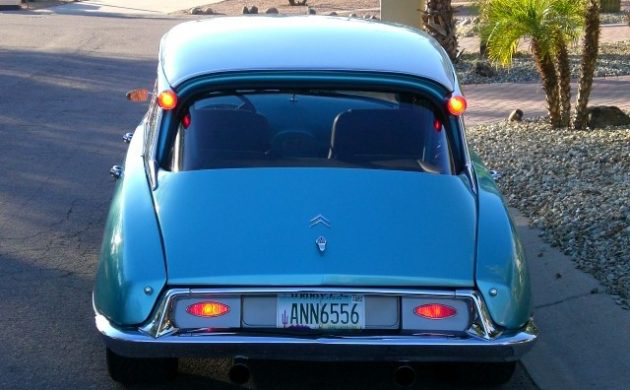 The listing includes many, many images, be sure to review them all. There is even an accompanying walk-around video of this "Citrolet" in action which includes some scenes of hot-footing and even a pretty impressive hole-shot; what would Madeline have to say? – it's entertaining! At $115K, this car is going to be way beyond the means of most, but it's fun to dream on, right?