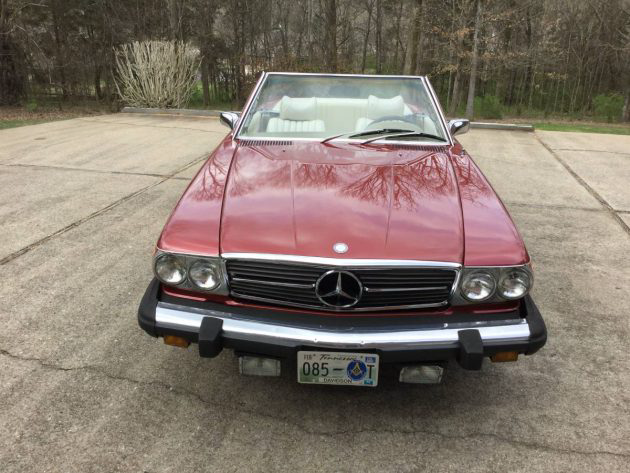 Many years ago, right after dinosaurs gave up their reign on Earth, the Mercedes name was synonymous with quality.  That may sound like a catch phrase or advertising line today, but it was true for a long time.  People purchased Mercedes Benz automobiles because they knew they were safe, handled well, never broke down, and held their value extremely well.  So well, in fact, that many traded their cars in after one or two years to take advantage of the unheard of lack of major depreciation.  Of course, all of that changed when Mercedes purchased Chrysler.  Benzes were still good cars, but it seemed like the company lost focus and quality suffered.  Unlike the dinosaurs, many of the Mercedes from this era are still out there, like this 1974 Mercedes 450 SL convertible for sale on Craigslist for just $6,000.  Located in Goodlettsville, Tennessee, this amazingly well kept Mercedes is just waiting to class up your garage.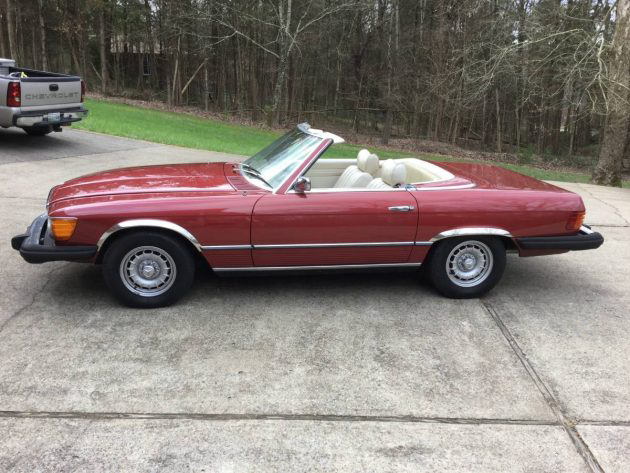 Mercedes began production on these convertibles in 1971, replacing the "pagoda" models that have developed such a following today.  Amazingly, production continued until 1989, and Mercedes punched out over a quarter million of them.  This was done right through the period where it looked like the United States government was going to outlaw convertibles for safety reasons.  In anticipation of even more stringent requirements by the safety brigade, Mercedes over engineered these cars from the start.  So much so that the engineers took to calling the car "der Panzerwagen."  For those of you who are rusty on your German, this means armored car.  Given German skills in building war machines, I think it turned out to be a good nickname.  I would have made it the model name, but that's one of the reasons why I don't get let out in public too often.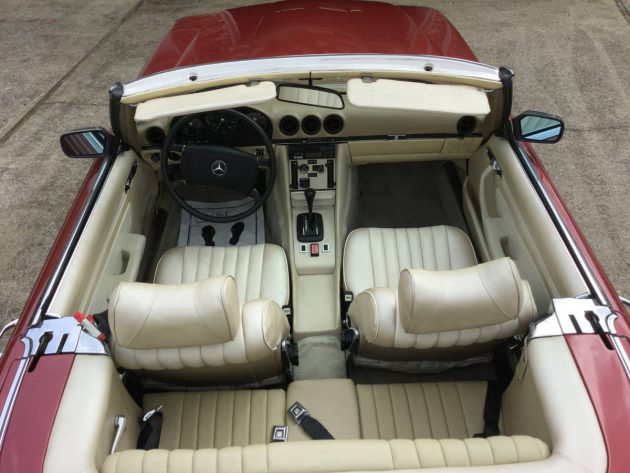 I worked for a guy whose wife had a later 300 Diesel, and, after driving the 300, told him what a great car I thought it was.  He laughed, and then said that it was nothing compared to her 450 SL convertible.  Comparing the convertible's doors to the door on a bank vault, he claimed that it was the most solid car he had ever driven.  Looking at this example, which is 43 years old, you can see why he was such a fan.  If taken care of, these cars will last for a long time.  They were made of top quality materials and the engineering was superb.  This particular car looks well taken car of as well.  The odometer reads just 90,00 miles, and the condition of the car bears that out.  The leather interior has a few areas of fading, but nothing to be alarmed over.  The only thing wrong with it, according to the owner, is that it will need a new soft top.  A replacement can be had for under $400, but I am unsure as to whether that is a part an average guy can replace, or if it would require a trip to the upholstery shop.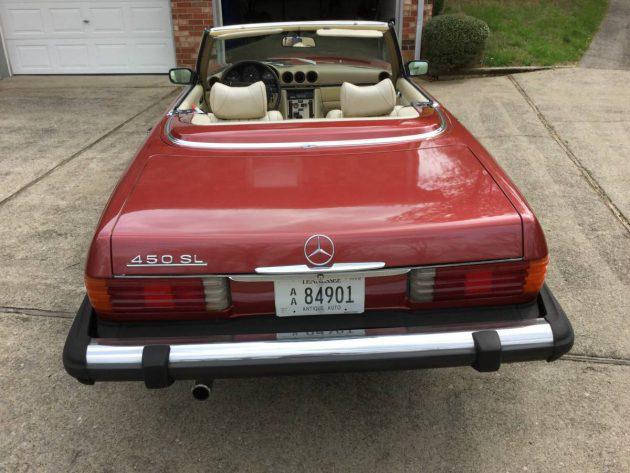 The exterior condition of the car is, to quote Ted Knight in Caddyshack, is top notch.  In fact, this Mercedes would still look right at home in any country club parking lot.  These cars were the ride of choice for lawyers, dentists, doctors, and the tennis playing spouses of such town luminaries.  I remember seeing some of the most beautiful women imaginable tooling around in these little convertibles, as there were a few golf courses and country clubs around my high school.  Of course, they would have run me down with one if they could have, given my looks and social status, and I would have been honored for the privilege.  They were, in my addled eyes, one of the classiest vehicles around town, and that hasn't changed one bit.  They haven't taken off yet in popularity and price, but their predecessors sure have.  Given the fact that there just aren't that many seventies cars of this caliber to collect, especially with the build quality of these cruisers, they should start to rise in value soon.  The "pagoda" Mercedes models have gained in value so much over the last few years, that a rise in prices similar to the early Porsche 911 phenomenon may happen here as well.
If the prices stay the same, who cares?  The cost of entry is low, but the reward comes when you put it in gear and take hold of that enormous Mercedes emblem embossed steering wheel.  These convertibles provided owners with one of the best driving experiences the seventies had to offer.  They are still an amazing car, and now they can be had by us commoners!