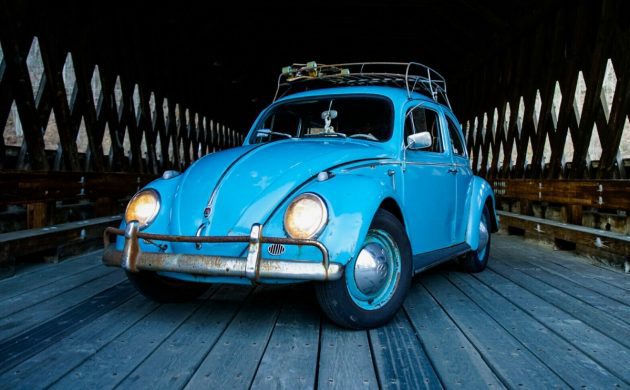 Sometimes it can be pretty easy to determine that somebody really loves their classic car. One of the giveaways is when they decide to give it a name. That indicates that they have developed an emotional attachment that goes beyond the regular human/machine relationship. Thus, we come to "Daphne." She is a 1961 Volkswagen Beetle who has served her owner well during finer weather. He has taken the difficult decision that Daphne needs to go to a new home, so he has listed her for sale here on eBay. She is located in Worcester, Massachusetts, and with the bidding now sitting at $5,000, the reserve has been met.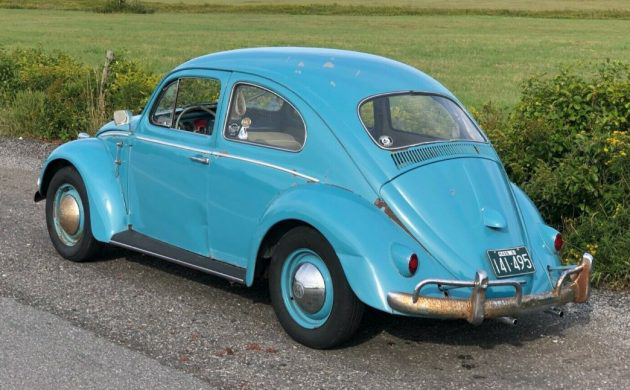 Daphne is a relatively tidy old classic that the owner uses as a daily driver in fine weather. She tends to be spared the rigors of ice and snow, and this is not a bad thing. The floor pans and channels have been replaced in the past, and these are said to still be sound. There is evidence that this little Beetle has undergone some repaint work at some point, and I suspect that it will probably happen again in the future. The body is free from rust, but plenty of little dings and dents will need to be addressed if Daphne is to look her best once again. A fair percentage of the chrome will need to be restored, but the glass seems to be in good condition.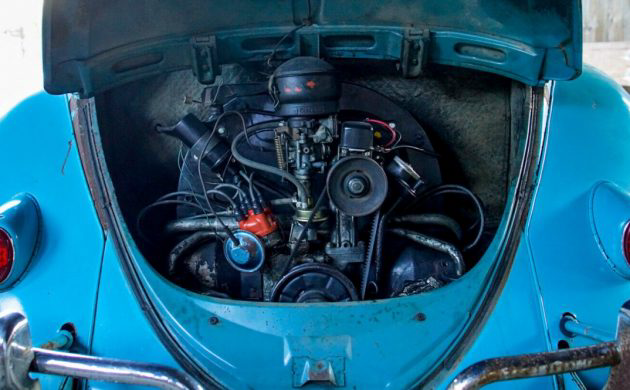 Daphne isn't numbers-matching, but she could potentially be once again under the right circumstances. The car features its period-correct 1,192cc air-cooled flat-four engine, pumping to 40hp. This power finds its way to the road via a standard VW 4-speed manual transaxle. Powerful, it isn't. However, these old things will cruise all day effortlessly at 60mph. If properly maintained, the air-cooled Volkswagen is close to indestructible. It appears that this car has been meticulously maintained. The owner lists his maintenance schedule and some of the products that he uses throughout the process. The list is quite long, but it is safe to say that this is a classic that is treated with dignity and respect. The upshot is that Daphne runs and drives extremely well and doesn't give any trouble. There is a chance that she could be returned to her numbers-matching status. The original engine is available. It runs, but it has an undiagnosed noise, which prompted an engine change. The owner says that this original 1,200 engine can be included in the sale for the right price.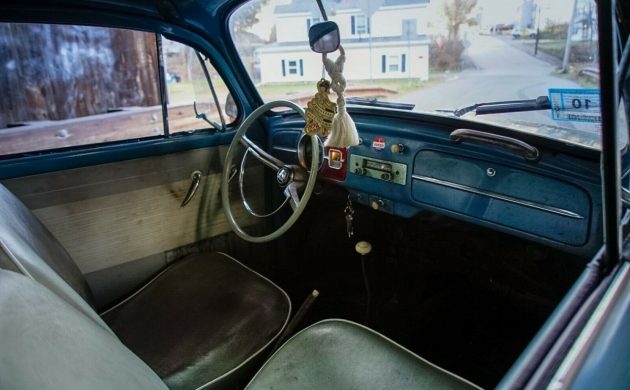 Volkswagen interior trim tends to be quite hard-wearing, although every item does reach its limits. That is why the headliner is no longer present in this car. This is one area that can be prone to problems, and I'm not surprised that it's gone. Replacement headliners are easy to find, and the price will depend on the choice of material. Regular vinyl will generally start at around $160, although you could pay up to $300 if you fancy the luxury of mohair. The covers on the front seats have been replaced, but the rear is original. The door cards are also original, but it is all in need of a deep clean. I'm not sure if this will return the interior to a pristine state, but it would almost certainly make a positive difference. If the buyer is seeking a showroom fresh appearance, trim kits are also easy to find. Once again, prices can vary pretty widely. If standard vinyl is the goal, kits will cost around $700. If the luxury feel of cloth or tweed is more appealing, then kits will sell for just over $1,000. When you compare these prices with some of the classic American projects that we feature here at Barn Finds, those prices look incredibly competitive.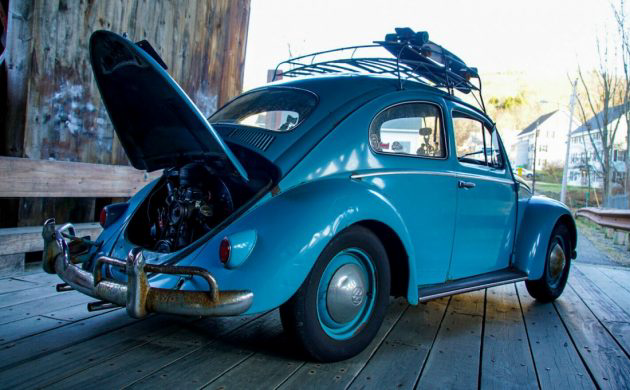 It seems that Daphne has become a much-loved member of the family, and I suspect that the owner doesn't really want to part with her. There is no doubt that she could remain largely untouched, and she would provide years of reliable service. However, I would be so tempted to return her to a factory-fresh state. The Volkswagen Beetle's journey has been a fascinating one because it was initially developed as a people's car. That is why this one would have cost a mere $1,600 when it was new. They became a staple for struggling students at one point and used examples could be bought a few years ago for next to no money. They are still affordable, but they are getting less so with each passing year. This poses the age-old question of just how high values could potentially rise, and that's a question that is almost impossible to answer with any confidence. I owned one in a similar state to this in the early 1980s, and if you'd told me then that people would be selling them for 5-figure sums in the future, I would have placed serious question-marks over your sanity. However, that is today's reality. If you are considering adding a classic Beetle to your collection, perhaps you should look at Daphne. She deserves a good home, so why can't it be yours?