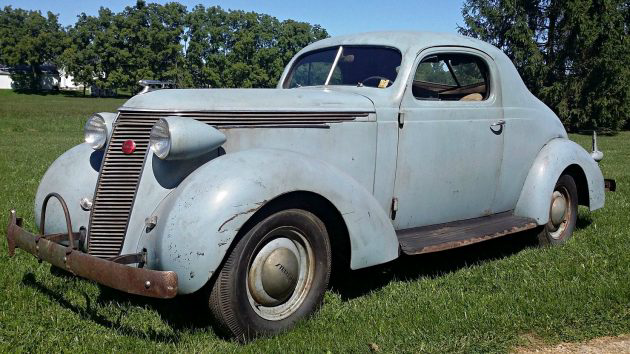 Many things can be said about 1930's America, but some of the automotive styling that was born during the Deco era really left a heavy impression upon American creativity and beauty. With a wide array of wonderful descriptive words to describe this Studebaker, "beauty" and "art in motion" come to mind when looking at this Art Deco machine. Found in a barn likely many moons ago, this Dictator has been in good company with other beautiful art deco machines, but it would seem the seller is looking to thin out his collection. Appearing very original other than "1" repaint in its lifetime, this sleek two door is itching to be a driver once again. 5 days remain in the auction with no takers for the opening bid of $20,000. Be sure to take a look at this beauty here on ebay out of Temperance, Michigan.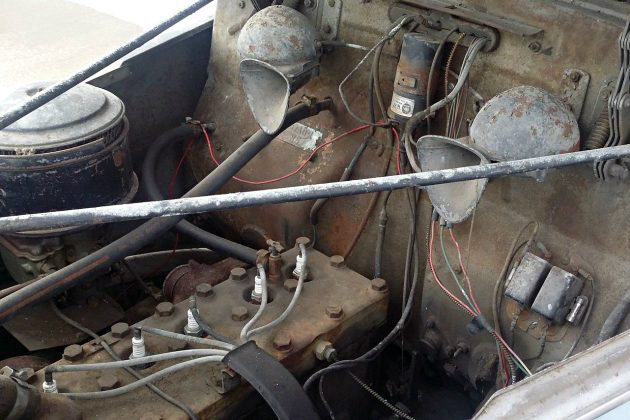 The Art Deco styling didn't stop at the exterior, as the engine bay is adorned with these interesting horns that just look as if they would bellow all sorts of Deco sounds. Although this Dictator appears to be very complete and with a stern asking price, the seller has offered little information. I would assume the engine and all of the mechanicals have been at rest for quite a while. No telling what the state of the engine is, but we can certainly hope for the best, but expect the worst. There is some minor surface rust in the engine bay, and the wiring looks surprisingly decent. Hopefully a little oil in the cylinders, and some ground and terminal cleaning would get this 'Baker on the road to recovery.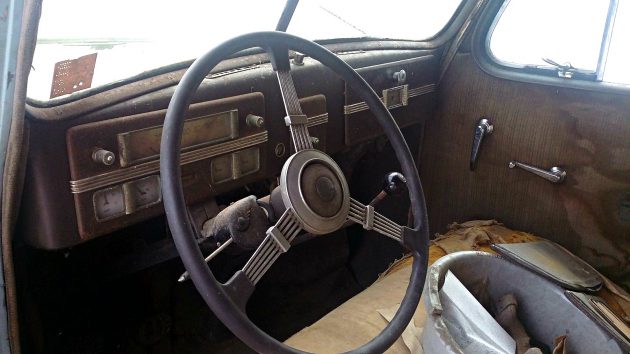 Inside this fine artwork you are greeted by a lovely "banjo" style steering wheel, and a wonderfully symmetric dash with Deco trim. The steering wheel is in excellent condition reflecting no major damage of any kind. With minor corrosion, and surface rust, the dash is nice as well, looking as if it would clean up nicely while maintaining its aged appearance.  Sadly the door panels haven't weathered as well as one would hope, but they are still in place and the original pattern is quite easy to see if you decided to replace the current upholstery. With some possibility for rodent activity, the bench seat is mostly there, but tattered. There were certainly moisture issues at one point as the passenger side door panel shows obvious signs of staining. In fair condition for a 80 year old car, an upholstery job would do wonders for this classic.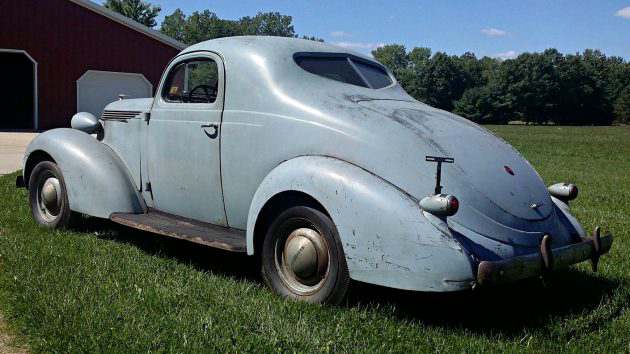 Easily the most unique and iconic feature of this Dictator is the very unusual shaped Deco rear window. Split windows and oval window are buzz words in the classic car world, but what would you call this window? Easy to fall in love with, this Studebaker is a solid looking survivor, but there is a nasty little secret that needs to come to light. The trunk floor, and part of the rear roll pan area suffers from rot. Beyond this area of concern, there is no other rot or rust to be seen, but that's not to say there couldn't be other areas of concern underneath. There does appears to be a sheet metal rip on the passenger side rear fender, that has been realigned with the shape of the fender. One good thing about the roll pan rot is that it is well hidden by the rear bumper, so the survivor like appearance could likely be maintained with metal work, and some paint blending. A restoration would also be a no-brainer on this beauty as these Deco window coupes are rare to say the least. Have you ever seen one of these rare and unique beauties?