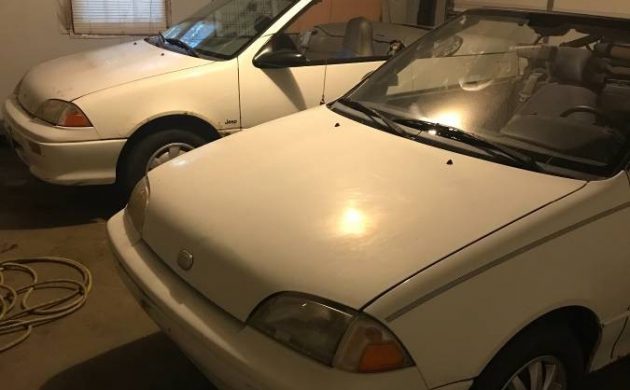 The latest installment of Car and Driver's highly entertaining periodic series "Battle of the Beaters" chronicles the editors' adventures with four Geo Metro hatchbacks, each purchased for between $1,000 and $1,250 and all from the same seller. The thrashing that these little runabouts endured—ultimately leading to each car's demise—is a testament to just how tough these three-cylinder econoboxes can be, and how much fun you can have in a slow, clapped-out car. If you've got some similar hijinks you've been wanting to try out, grab a friend, because have I got a bargain for you: two Geo Metro convertibles, a 1990 and a '92, for $1,500. Yes, that's just $750 apiece, and they're convertibles! Find them here on craigslist in Bloomington, Illinois, and thanks to Pat L. for the find.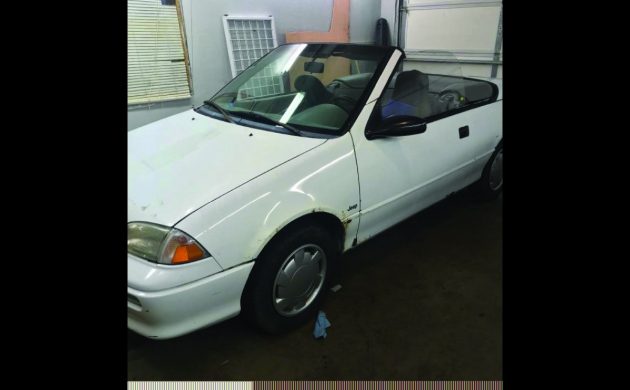 Unlike the somewhat mossy C/D Metros, these two have been garage kept, although that hasn't entirely saved them from deterioration. The ad makes no distinction between the two cars when listing their flaws, but this picture suggests that the '92—identifiable by its deeper chin spoiler and, at the rear, its one-piece taillights—is the one that "needs rocker, floor work, convertible top and A/C charged." Why it has a Jeep badge on the front fender, I don't know, but that makes it seem like it's just begging for an off-road adventure.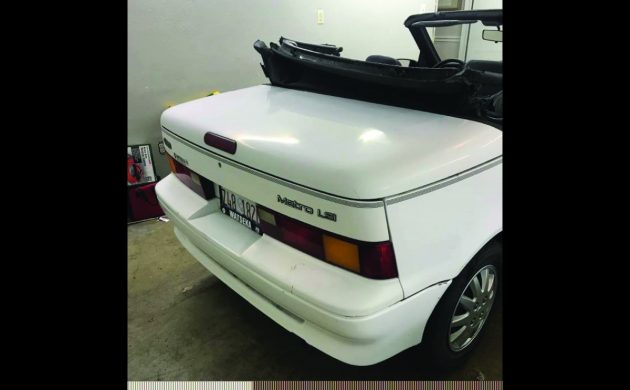 That means that the '90, which is also distinguished by an interesting tape stripe package, is the one that needs some work on its brake lines but "has a nice convertible top." Both cars have CD players, and both are automatics. The lone automatic entry in Car and Driver's Metro melee was the definitive loser, but if it makes you feel any better, it lost due to general neglect and a mysterious mechanical failure, not due to the power-sapping transmission slowing it down. Still, with only 55 horsepower on tap, the automatics probably aren't doing these cars any favors.
I'm not quite sure I follow the seller's logic when they claim, "you can fix up one and sell the other to make your money back!" Besides, why would you want to separate these peas in a pod? Call a friend—or three, each car seats two!—brainstorm your absolute most terrible ideas, pool your pennies, and wreak some fun-in-the-sun havoc. What trouble could you get into with these two Metro convertibles?
Have something to sell? List it here on Barn Finds!