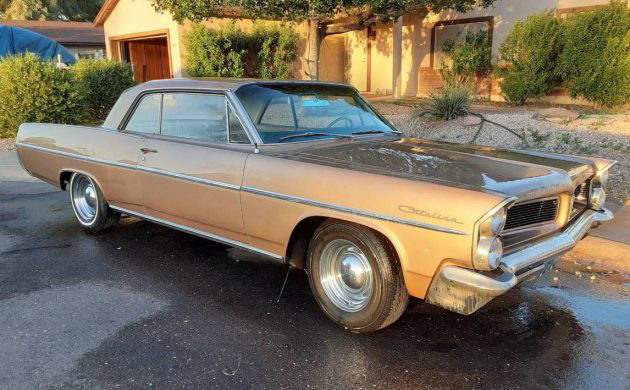 This one is a head-scratcher. It's a sharp-looking '63 Pontiac Catalina, one with an interesting take on performance. It is a significant car as it signifies the beginning of the end for full-size hot-rods owing to the upcoming introduction of the iconic GTO. The large-sized performance was hardly over at this point but the changes were-a-comin'! But again, this one is a bit different than how Pontiac intended, so let's look her over. This Catalina is located in Chandler, Arizona and is available, here on craigslist for $13,500. Thanks to Matt R for this tip!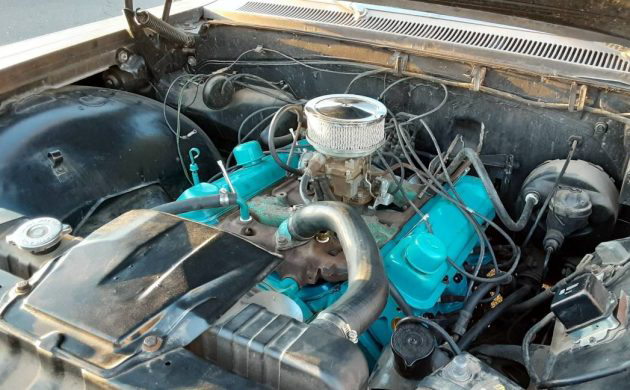 This Catalina appears to have been originally equipped with a two-barrel carburetor equipped 389 CI V8 engine good for 215 gross HP. What's really interesting is that this big Pontiac has a three-speed manual transmission putting the 389's power to the rear wheels. And it still remains as a column shifted arrangement – the temptation to cut a hole in the floor and covert to a floor shift, and/or swap in a four-speed manual gearbox, has been avoided. The seller states that this Catalina is all original with a mileage reading of 68K miles though there is no claim or documentation to certify the odometer reading.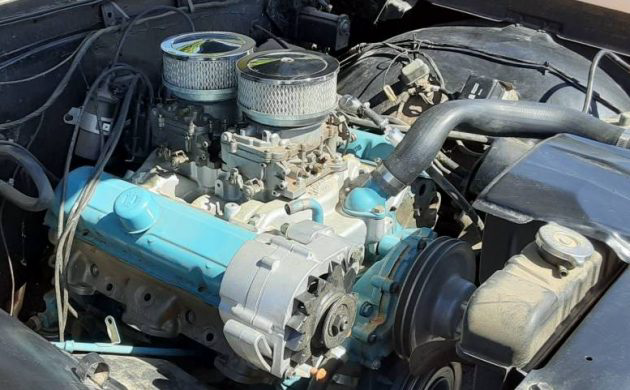 Here's where things become the noted head-scratcher, there is a second image of the engine sporting a pair of four-barrel carburetors! What gives? I wish I could explain but the seller makes no mention of any engine modification, much less how it runs, and there was no dual four-holer option available in '63. Is this the original engine with a big carburetor upgrade? It could be, but one has to imagine replacing a Rochester Dual-Jet with a pair of fours, while not affecting any other engine enhancements, probably has left this Catalina with unusual operating characteristics. And that said, the modified mill does not appear to be in running condition as the belts and sparkplugs are missing from what looks like replacement aluminum cylinder heads. So much for the "all original" claim. Mysteries, Mysteries…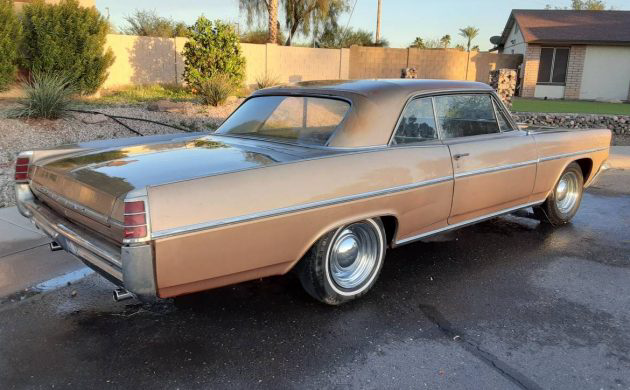 The exterior of this Catalina has captured the early sixties full-size hot-rod vibe pretty effectively with its baby-moon equipped, chrome reverse wheels while sporting white stripe tires (though the passenger-side front tire has gone rogue). The seller states that the body is rust-free and there is no indication of corrosion or body damage. The finish, which appears to be code 22269 Saddle Bronze, is not the first shade that comes to mind for promoting a hot-rod image but it is, at least, still in very sound shape as is all of the stainless trim.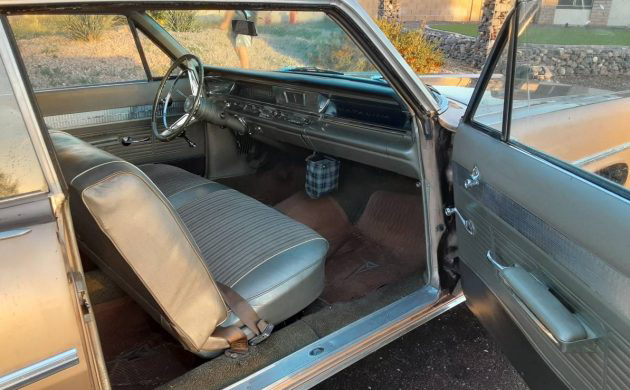 The seller states that the interior is "in great condition" and that appears to be the case. There is one image of the driver's seating surface and it looks to be either discolored or dirty, but it's not worn or split. Cars of this era have a lot of painted steel interior surfaces and this Catalina is no exception but it too shows well and is not scratched. Good to see is the inclusion of seatbelts and the original radio.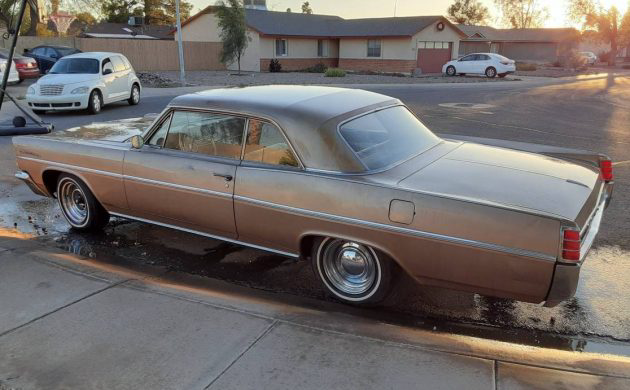 This is a great set-up and a reminder of how things "yousetabee" before the advent of the GTO that so completely changed the domestic high-performance game. Unfortunately, this Catalina's listing leaves us with more questions than answers. What do you think, worth pursuing with a few questions?