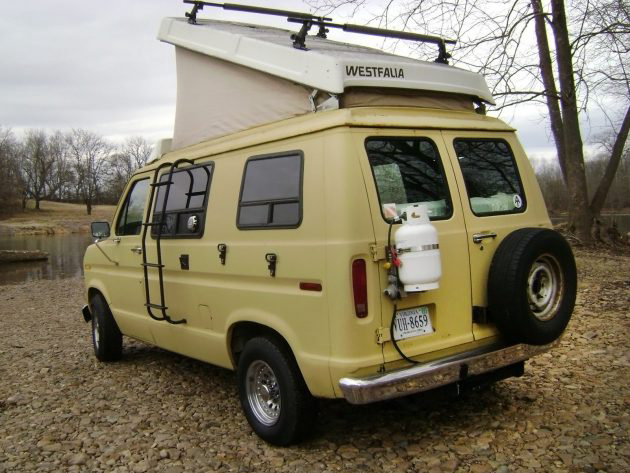 In sort of an east meets west configuration, this 1986 Ford E-150 camping van has a Westfalia top and kitchen inside. It's listed on eBay with no reserve and a current bid price of $3,650! It's located in Grottoes, Virginia.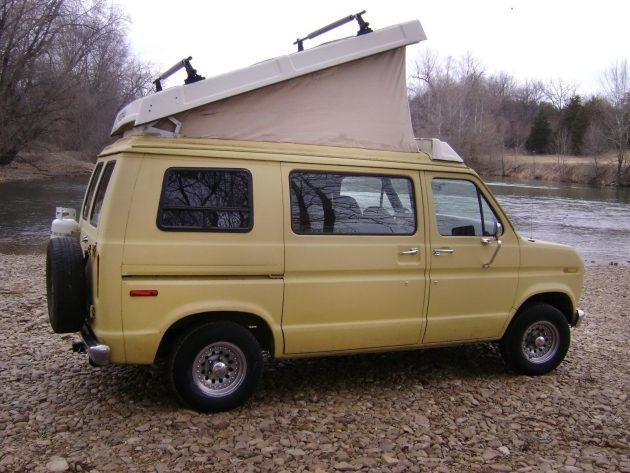 This really looks like a lot of fun for under $4,000 to me. The condition seems to be great and it's hard to argue with that super slick Westfalia kit-o-parts. The seller does mention that the canvas "has patches and screen needs work", but other than that, and maybe some interior updating, there don't appear to be any glaring issues. It has a "Yakima 5′ rack/side ladder and 2 folding steps". It also has rear "air shocks, 2″ Reese hitch / wiring" and new tires. Really, less than $4,000 for this van?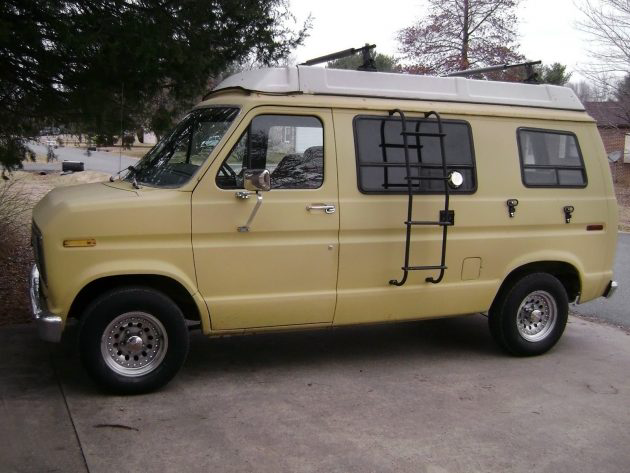 As a traveling architectural photographer I've always wanted a rig like this. It would save my clients hundreds if not thousands of dollars on expenses for hotel stays. Not to mention giving me a great, high perch for getting up above other vehicles in parking lots when getting photos. If this one had a diesel it would be very tempting, but even with its current engine the seller says that it "gets about 15 on the highway."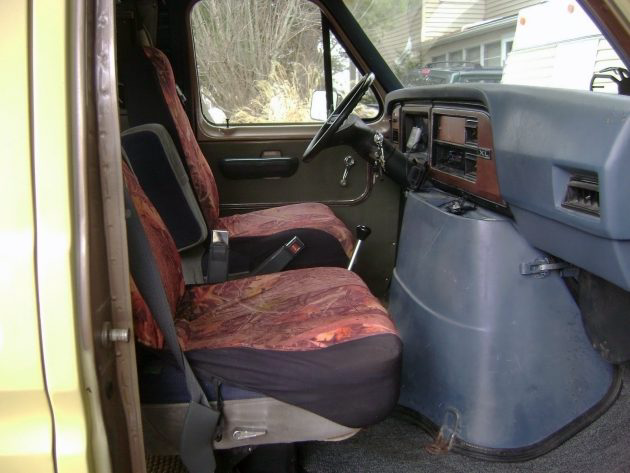 So, a yellow van with brown door jambs and blue dash and doghouse? Hmm.. something has been changed but it doesn't really matter. The seats are most likely in need of repair, or again, just leave the seat covers or get some nicer ones. It's a $4,000 camping van, not a Bentley. Wait, is that a 4-speed on the floor?! Now there is something you don't see every day! It even has overdrive, hence the decent highway mileage. It also has a new clutch. There are no engine photos but this one sounds like a winner. It has a rebuilt 300 cubic-inch inline-six "new Edelbrook 500cfm 4bbl carb, manual choke, Offenhouser intake, DUI distributor, Taylor wires, EFI exhaust manifold , 4″ alum . intake plenum/4″ cone filter, new exhaust system." Again, this has to be a deal at less than $4,000.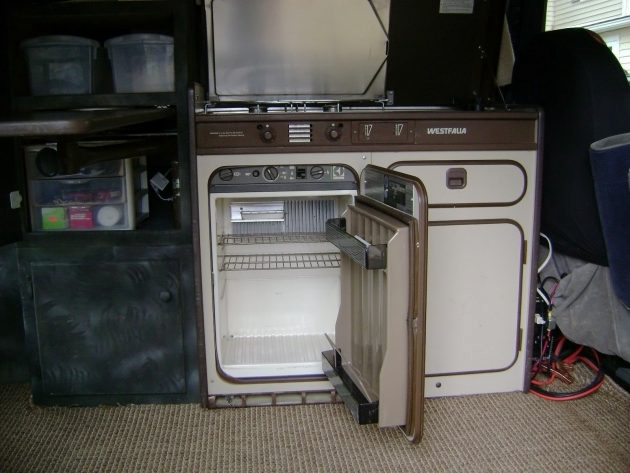 The inside, though, that's what most of us want to see. It looks great to me in there. What I wouldn't have given to have a chunk of a Westfalia kitchen in one of my Dodge van back in the 1980s.  The owner says about the interior: "Westfalia kitchen cabinet, sink, 2 burner stove and dishdrainer, overhead flor light, other cabinets with stowable tabletop, Dometic 12v/120v ref." I'd be sleeping on the floor for sure with that short bed, but that's ok. I think this is a killer deal for anyone wanting a unique camping van. What do you think?