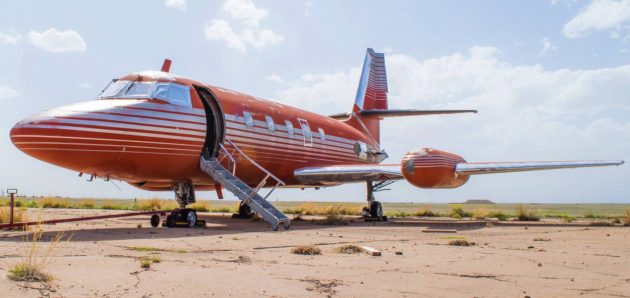 UPDATE 5/25/18 – This auction ended a year ago, but we wanted to followup and see what it ended up selling for. It looks like the auctioneers were optimistic with their $2-3.5 million valuation because the hammer dropped at a mere $430,000!
FROM 5/22/17 – This Lockheed JetStar has been sitting out on a run way in the middle of the desert near Roswell, New Mexico for the past 30 years. At first glance, you really wouldn't give it much thought. It's just an old plane after all and given it's lack of care, it won't ever fly again. Yet this jet is making big news. You see, it's said to be Elvis Presley's lost jet. Well, I doubt it was ever really lost, but it was clearly forgotten out on this strip of tarmac for a number of years. It's now being auctioned off here on LiveAuctioneers with bidding already reaching $126k. It's estimated to be worth between $2 million and $3.5 million, but we will see if it reaches those kinds of numbers.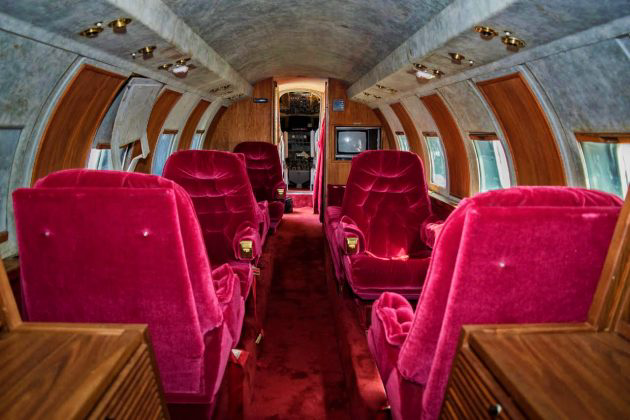 The story, as best as I can find at least, is that this jet was ordered by the King himself. He apparently designed the interior, right down to the red velvet upholstery and red shag carpet. The plane was for his father Vernon Presley, but all the paperwork is signed by Elvis. The interior really is what you would expect to find in a '60s jet that was designed by the King, it's bright and a little over the top.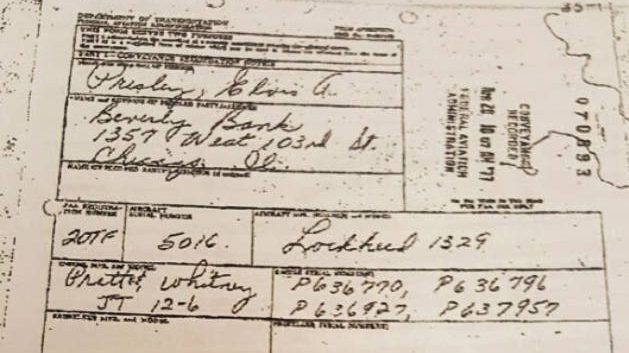 What makes this jet "lost"? I'm honestly not sure. It's been in the care of the same owner for the past 35 years, so perhaps it was lost from public knowledge when they took ownership? Yet it was featured on TV by National Geographic and is said to be a major amusement attraction. The only thing I can think is that the transaction was kept private and so this plane never caught the public's attention. Unlike Elvis's other jets, which have been well know since he purchased them, this one has gone fairly unnoticed. Heck, his other jets were even on display at Graceland. Do any of you happen to know more of the story?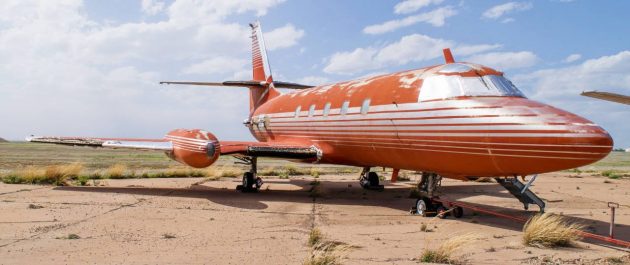 I don't see anyone restoring this JetStar. If anything, it will be disassembled and shipped to a private collector or to a museum to be put on display (and to generate admission sales). It really is an interesting piece of history and I'm sure there are lots of Elvis fans out there that would love to own a jet that was custom designed and owned by the King. One thing is for sure, this has to be one of the more unique finds we have seen in a while. It might not have been in a barn, but there is no doubt that it's been parked on this runway for a very long time!