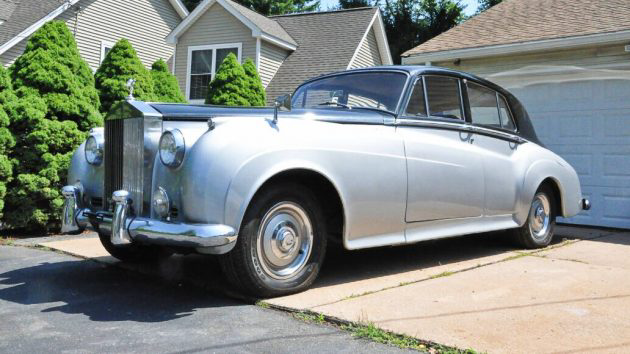 There's no doubt that Rolls-Royce built their cars to last, but that doesn't mean they are the easiest cars to keep on the road. While they aren't terribly difficult to work on, they are hard to find parts for and can be plagued with electrical demons. Reader Kevin C's Silver Cloud II has been remedied of some of these issues, as it's had an American V8 installed! His dad bought this Rolls a number of years ago, but sadly, he passed away and the car has been sitting ever since. Kevin would like to see it go to a good home, rather than go to waste, so it's being offered for $9,000 or best offer. It is currently located in Newington, Connecticut.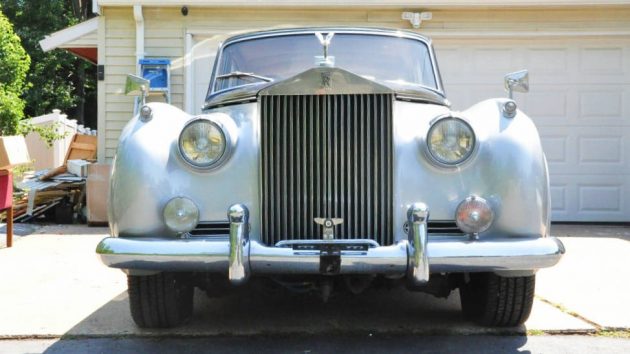 From Kevin – This Rolls-Royce was purchased by my father in 1999 from a seller in Canada. The vehicle arrived on an open trailer in a full-on winter storm. The Canadian driver said he'd driven in worse. This car is RHD but has had its engine changed to a Chevrolet 350 at some point in the past. It was driven very little after my father purchased it and even less after he passed on. The vehicle has not been on public roads in over 10 years. Chevrolet mechanicals makes this car rather easy to work on for a person interested in a Rolls Royce but not interested in paying excessively for routine maintenance.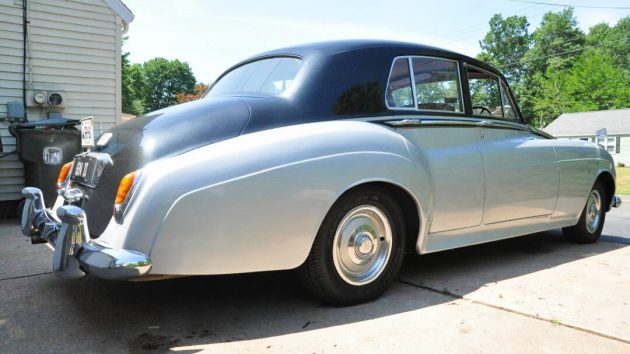 The Jack Barclay body is solid with no visible rust and no apparent body damage.  The paint was laid on before my father purchased the car and is a 10-foot paint job at the very best.  It has not gotten better with age and there are a few spots where something is going on under the paint. The chrome is bright but is fading somewhat. There is no rust on the chrome.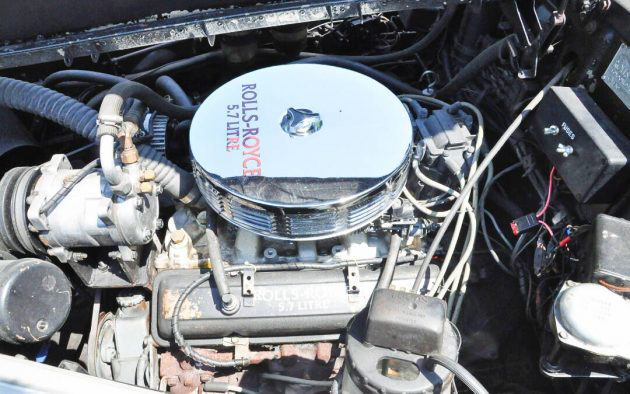 The car has not run on public roads in over 10 years. The engine, a Chevrolet 350, starts and will run but the car will need some serious carburetor work before it's anywhere near drivable. The Rolls-Royce electric fuel pump was changed not long after my father purchased the car but the aftermarket universal pump on the car seized up solid during the car's nap. I have replaced that with a similar piece. The exhaust is somewhat louder than when the car was parked. I'm not sure what's going on there.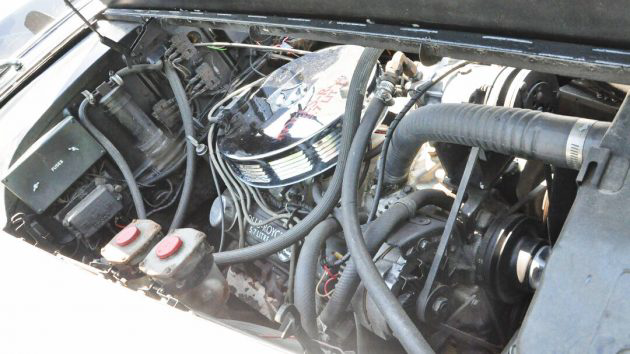 The engine compartment is detailed for enough for a cruise but as the car has sat for 10 years, it's going to need some attention. Somewhere along the line, the fuse boxes with their fussy GBC fuses were replaced with fuse boxes that take AGC-type fuses.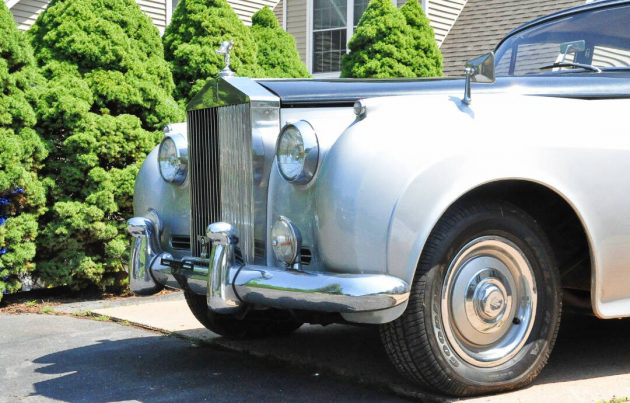 The car never stopped assertively and at some point during its 10-year nap, the hydraulics on the left front wheel have seized up completely. I have managed to get the drum off so that the car can move, but this is the one area where the car will need the most work. Changing the wheel cylinders (there are four on the axle) looks pretty straight forward and I'd probably do the same for the rear as well.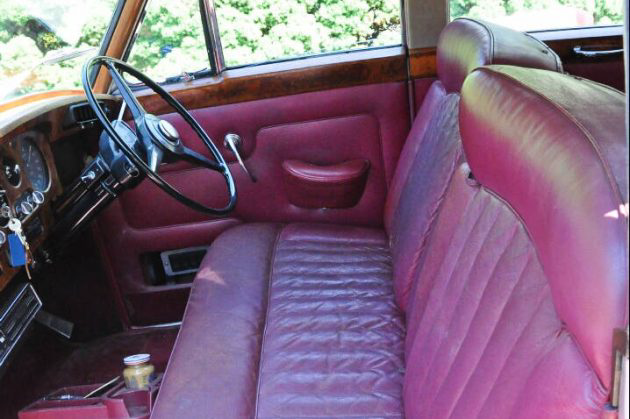 The power steering works well with no apparent problems. The car has an add-on under-dash air conditioning unit and a compressor mounted under the hood but that has never worked or been serviced since my father took ownership.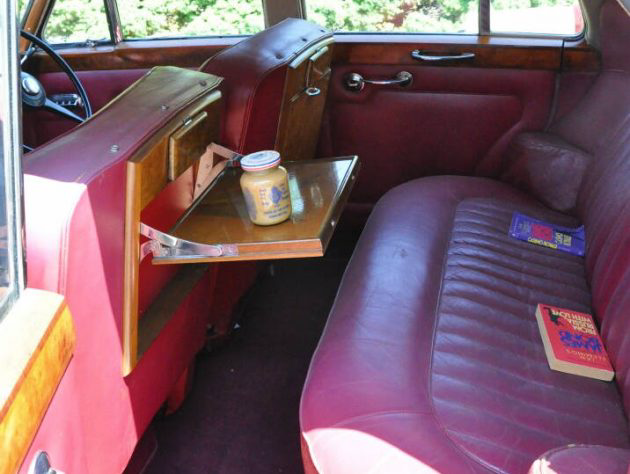 The wood is excellent and was lacquered shortly after my father purchased the car. The seats are maroon in color with the front seats being very dry. The rear seats are in excellent condition as are the fold-down tables.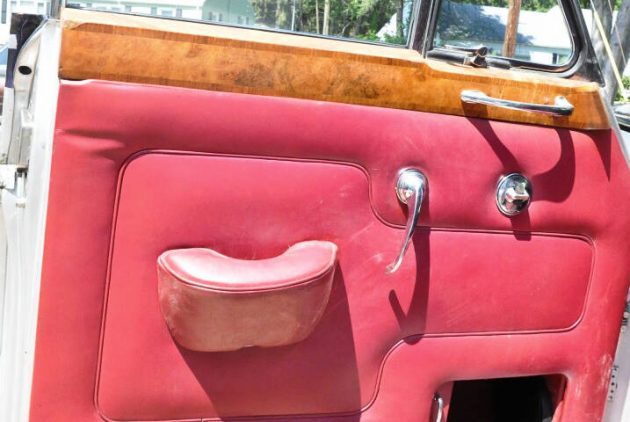 The car has power windows with aftermarket switches installed at some point before my father took ownership of the car. They all worked when the car was parked but I believe that only two work now. The car has an aftermarket radio that was installed by Circuit City. Unfortunately, they did something during the installation process which resulted in some of the gauges no longer working. The aftermarket radio does sound nice.
Update from Kevin – I forgot to include that as the car us in Connecticut, there is no title, as CT is a non-title state for cars over 25 years old. That's likely important to buyers. I begged all morning at DMV to no effect for a title.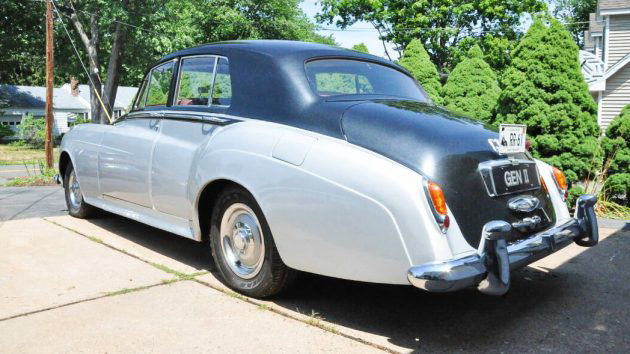 While Rolls-Royce collectors would probably prefer if this car were original, having a 350 under the hood makes it more appealing to the average gear head. It provides more power, a great sound and is easy to get parts for, what isn't there to love? You get the grandness and luxury of a Rolls, without any of the headaches! I haven't been watching the Silver Cloud market closely, but I think his asking seems reasonable if the car is rust free and the interior is in nice shape. And I'm sure if you ask nicely, Kevin will share his Grey Poupon!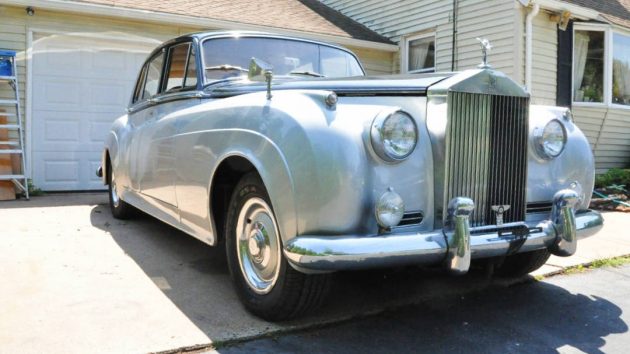 Our thanks to Kevin for listing his Dad's Rolls with us! I'm sure the V8 would make it an interesting machine to drive. And if you have an interesting classic in your garage, barn, or shed that needs a new home, please consider listing it with us!