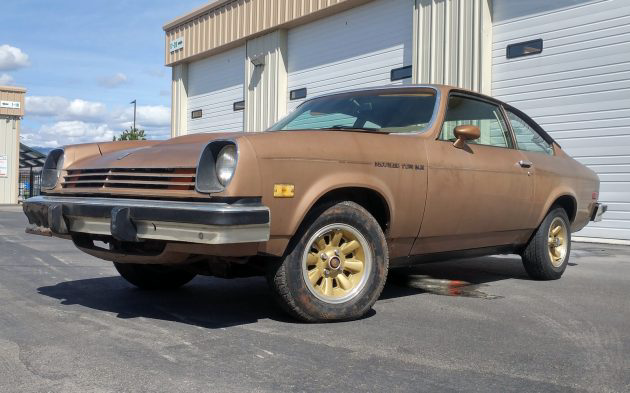 UPDATE: The Vega has sold and will be headed to Massachusetts. Thanks Paul!
Here's another one from my personal collection. We found this cool Cosworth on our local craigslist. It had been parked for a while, but I just had to drag it home! It had been in the same family for decades so it was hard for the seller to say goodbye. His father loved this car and there's a thick folder full of receipts and Cosworth club newsletters to prove it. These are rare cars and this one has a nice option list so it's definitely worth restoring. It's located in Boise, Idaho and I'm asking $3,500. Please use the contact form below if interested.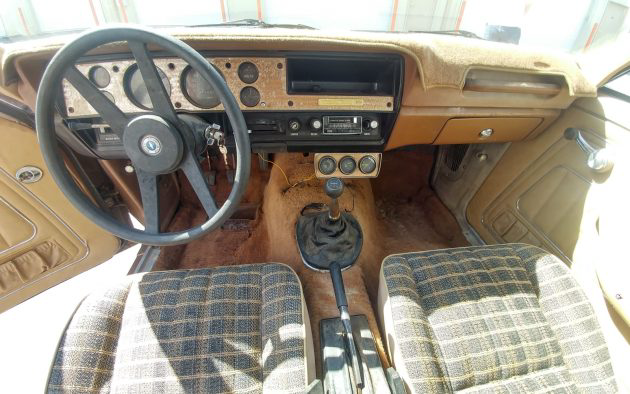 The Cosworth Vega came out in '75 and black over black was the only color scheme offered. In '76 they added a few other paint and upholstery options though. This particular car came in a gold hue with this wild patterned interior. There were only a handful sprayed this color and few of those came with the extra-cost cloth seats. Cosworths received a unique metal turned dash with extra gauges and a number plaque. This car is also outfitted with the optional 5-speed transmission and pop out side windows for extra ventilation.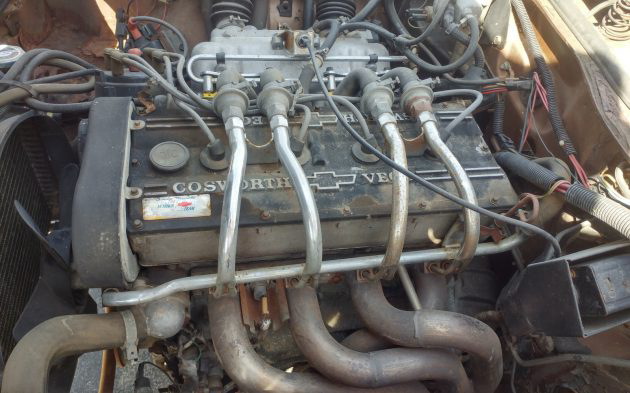 You'll need that extra airflow because these cars weren't ever offered with A/C. They were meant to be high-performance machines and things like compressors and condensers just slow you down. One look at the engine is all it takes to know that this is something special. It has four cylinders, two cams, and electronic fuel injection. This isn't the type of thing you'd expect to see in the engine bay of an econo car from the seventies. The exhaust manifold alone is a work of art!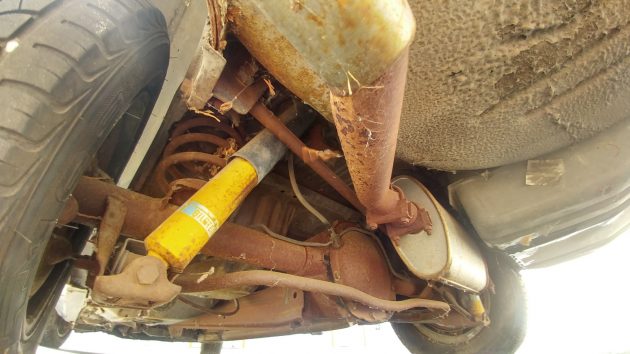 A fancy engine and some cosmetic upgrades weren't the only things that made the Cosworth special though. Underneath you'll find thicker anti-sway bars and heavy duty suspension. The blue and yellow Bilstein shocks are even more proof that someone really loved this car. The Positraction option box was checked too so this was about as close to a canyon carver as you were going to find in the GM stable.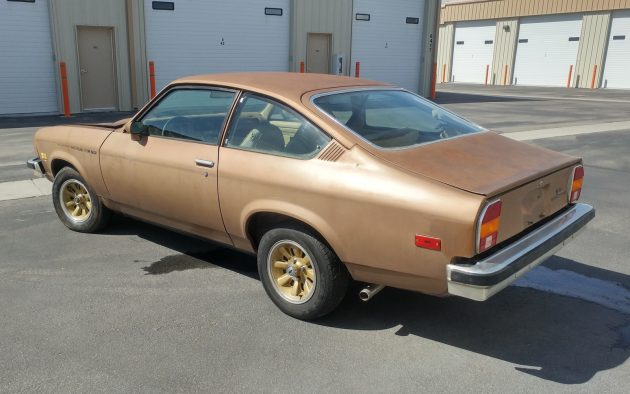 This thing is going to need a lot of work before you are going to do any carving though. The body is actually very straight, but there is some rust in the front fenders, battery box, and at the bottom of the windshield. Other than that, it looks pretty good for a Vega that spent some time outside. The engine turns over by hand and there's still fluid in everything. The fuel tank needs to be dropped and everything cleaned out. Plan on replacing all the consumables and doing some deep cleaning. These things are on their way up so here's your chance to get one cheap before they take off. Hopefully this one goes to a good home!