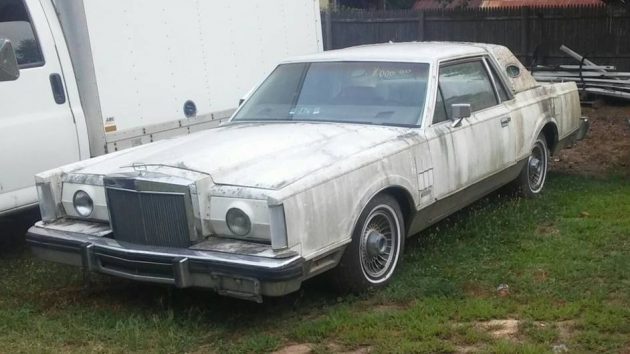 There's always been a fascinating feedback loop between customizers and automakers' in-house styling departments. The unusual but factory original "touring lamps" on the front of this grimy Lincoln Mark VI coupe are a case in point. Follow along with me: Brooks Stevens' Excalibur SSK, a 1964 Studebaker skunkworks project never officially sanctioned or claimed by that company and put into limited production with Chevrolet power, kicked off a vogue for "neoclassical" automotive styling that went mainstream in the late '60s and early '70s as big-displacement engines necessitated long hoods, creating real estate for sweeping, pontoon fenders and other baroque flourishes. This factory styling then became a jumping-off point for even more flamboyant and exaggerated styling on customized "flash cars" such as those famously built by Les Dunham for films such as Superfly and Live and Let Die. One of Dunham's most recognizable signatures was the "Fly Light," a facia mounted over the factory headlights to give the appearance of massive round headlights in the style of a 1930s Rolls-Royce. Though considerably scaled down, the Lincoln touring lamps, mounted on the doors of the hideaway headlights and optional from 1980 to 1983, were the closest a buyer could get to factory-installed Fly Lights, an interesting nod by Lincoln to the appeal that the "flash car" scene held for some luxury car buyers of the era. This Mark may be looking less than fly these days, but it's the first example I've ever seen with the touring lamps—so it's not just a barn find, it's a barn find with history! Check it out here on craigslist out of the Maryland suburbs in the DC metro area, with an asking price of $2,000 (archived ad).
Yes, the ad refers to this car (repeatedly) as a "mark 5" [sic], but an '80 is a Mark VI, and so indeed is this—as is visible on the trunklid badge in two separate photos. It would probably be even more visible if the seller had made the barest attempt to wash the car; this is the easiest way to add value to a car when you're advertising it for sale, and "barn find" or no, I don't understand not doing so, even at this price. Let's be real: if it was clean, I might consider this 75% of the way to being a $2,000 car. As it is, I'm not sure it's even 50% of the way there.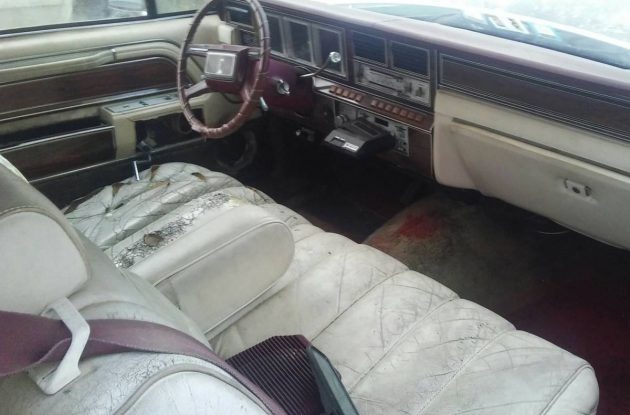 Mileage is claimed as 79,000, but the wear on the driver's seat—and just in general—gives me serious reason to doubt it. The back seat looks much cleaner, though, and the white-with-burgundy-accents color scheme is fun, but the real showstopper is that little black box jutting out of the dashboard: an honest-to-god 8-track to cassette adapter!
That's some serious crud buildup at the base of the windshield, but the good news is that the 351 Windsor V8 is said to run and drive. How well is open to question, and in a barge like this it won't likely be all that fast, but like any good "flash car," this is a cruiser anyway, not a stoplight drag racer. The Mark VI gave way to the aero-smooth Mark VII in 1984, so this coupe represents the end of its neoclassical era. It blends together an interesting array of stylistic influences, topped with a healthy layer of grime kitsch, which the 8-track with cassette adapter only heightens—just clean it up and throw on wider whitewalls, and you'll be the belle of the next cruise night!