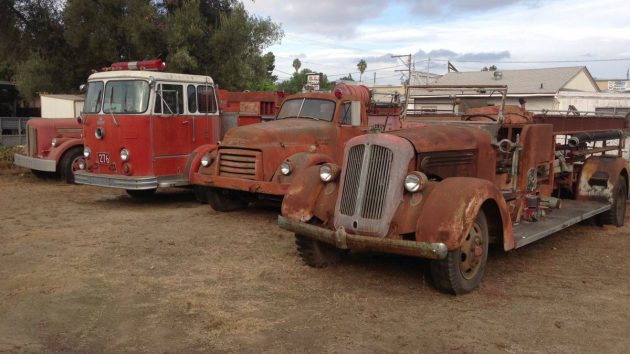 Did you want to be a fire fighter when you grew up? Didn't make it? Love to re-purpose old trucks? Here you go! Thanks to reader Woodie Man for this seriously cool fleet find! All four trucks are for sale here on craigslist, with prices ranging from $3,000 t0 $5,000. Unfortunately, the seller doesn't detail which truck is which price! All I know is that they are seriously cool looking.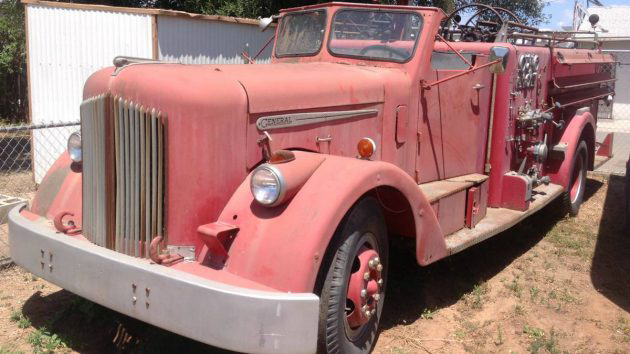 Moving from left to right, this is a General Detroit or General Fire Truck Corporation (same company, changed names) truck. It looks similar to this model that was used during World War II. No idea exactly what year it is, but since the company stopped building fire engines in 1955, that's as new as it could be.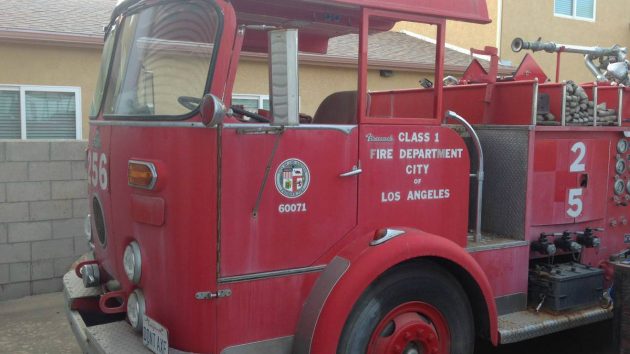 Second in line is this forward control Crown machine that obviously was used in Los Angeles. This one looks like the largest one of the bunch, and to be honest, apart from putting some type of box or platform on the back I'm not sure what to do with this one. At least it offers weather protection, versus the open ride on the first one. Crown was in business (mostly producing school buses) until 1991.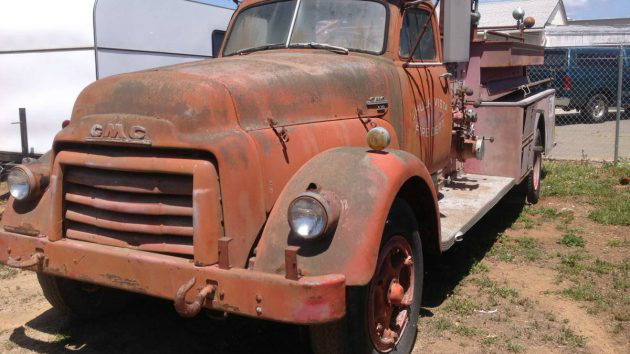 This GMC looks like the smallest one of the bunch, and of course GMC is still in business! This one is from the early 1950s, and I did find this conversion of a 1953 GMC truck like this to a mobile headquarters for a snowboarder! Very do-able if that's what you are looking for. Personally, I think the front of this truck is quite intimidating, despite it being the smallest of the four here.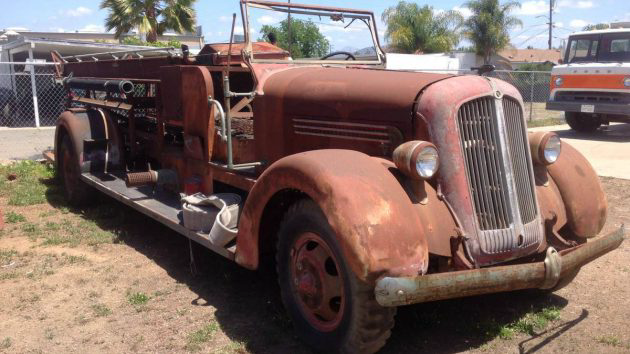 Finally, we have this truck, which to me has the prettiest lines of the four. From what I can tell, this is an early 1940's Seagrave "waterfall" (named for it's grille shape) truck, possibly a "Quad" based on this old website. I don't know exactly what it is, but it's beautiful. Unfortunately, it also looks to be the roughest of the four. And with an open cab, converting it to something useful will be a labor of love. But perhaps that's exactly what you're looking for! And if you've read this far, what did you want to be when you grew up? Or have you grown up yet?