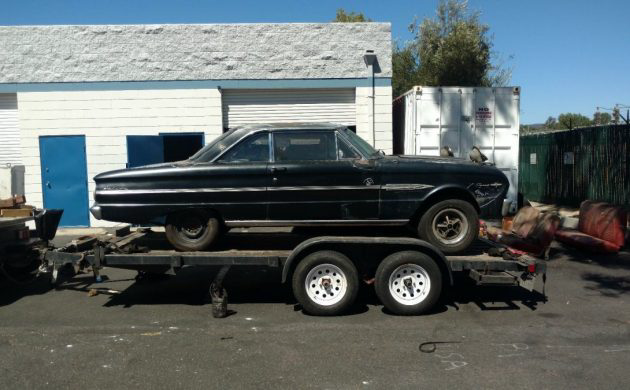 When the Falcon Sprint was released it was the only time that a V8 engine was available as an option in the first generation Falcon, and was available as either a 2-door hardtop or as a convertible. This 1963 Sprint hardtop is listed for sale here on eBay. Located in Fallbrook, California, it is listed with a clear title. The seller has set a BIN price of $10,000 but the option is there to make an offer.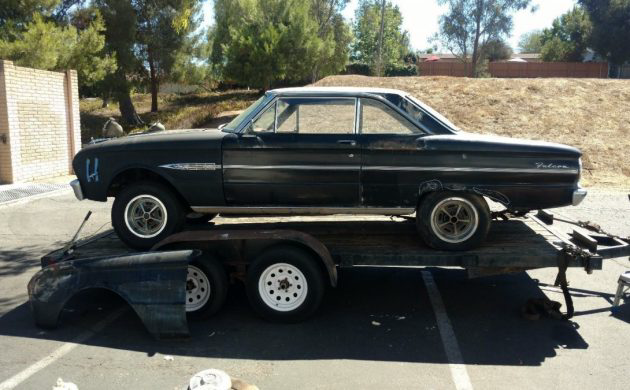 The seller only provides two photos of this Sprint, but does give us a bit of useful information about it. This Sprint is a California car, and the areas outlined in chalk on the rear quarter panel appear to be the only major rust in the car. The remainder of the corrosion is merely surface rust which would be rubbed away during preparation for a repaint. The car still wears its original black paint, and it apparently also sports its original red interior, but we get no shots of that or an indication of the condition.
The Sprint still carries its numbers matching engine and 4-speed transmission, which is the most desirable combination for this model. There is no indication regarding the condition of the drive-train, but a nice bonus is that the car comes with spare engines, gearboxes and rear ends, so that leaves the new owner with a few options if the original drive-train has issues.
This is one of those cars that makes me want to bang my head on the desk. Firstly because I really want more information and photos of the car to determine how solid it is, and secondly because I really want it in my workshop. Regardless of that, finding these for sale as a hardtop is not as easy as finding a convertible. Good original hardtops look to be selling for in excess of $28,000. If this Sprint is as solid as the seller claims then it will make a fantastic project for someone.