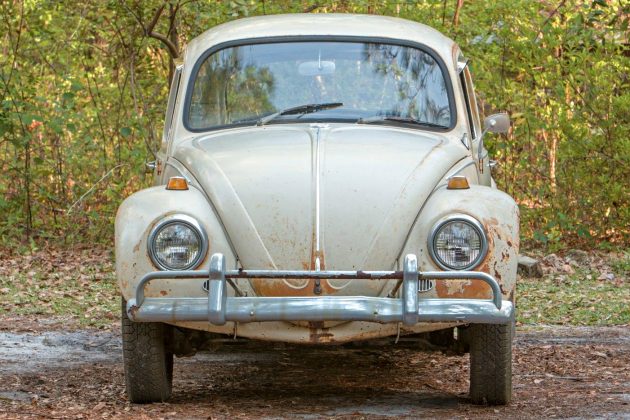 Many things can be said about the Volkswagen Beetle, its history and popularity. Although developed in the late 1930's the Beetle was a successfully sold automobile up until production ceased in 2003. Known for their simplicity, and reliable drive-train, there aren't many that show up that have rolled over the odometer 3 times like this Beetle has. Although having covered 300,000+ miles in its lifetime, this sad old Bug has been parked for 10 years, and hasn't been started in 5 years. Having received regular maintenance in its lifetime, the engine was rebuilt 40,000 miles ago, and can likely be revived without too much effort. A little banged up, and having some rust concerns, you can buy this classic for the buy it now price of $3,600. You can check it out here on ebay out of Tallahassee, Florida.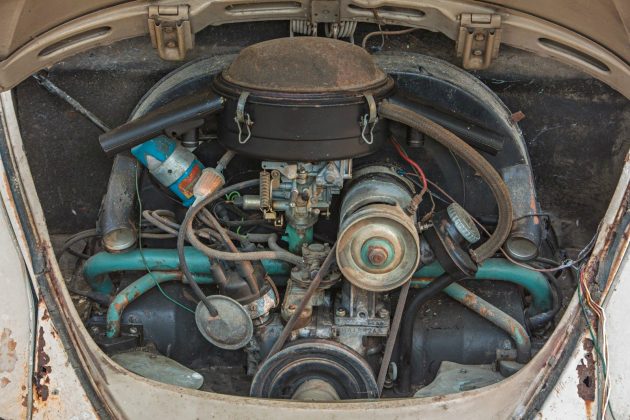 Although this Volkswagen has been through a few engines in its lifetime, the current single port 1600 is not the original engine, but has only covered 40,000 miles since it was rebuilt. Although parked 10 years ago, the seller did use to start and drive the car once a year, but that came to an end 5 years ago. The seller describes the engine as a good runner, and also mentions that it is leaking some oil.  A solid cleaning, a tune up, and some fresh fluids would likely breathe some life back into this flat 4. The fuel tank was replaced many years ago, but likely could stand a cleaning once again.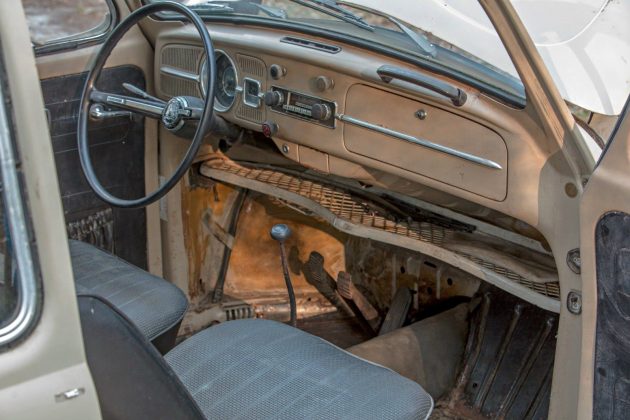 The interior is typical Vw with its simplicity, although it is slightly dirty. All of the vinyl would probably clean up nicely, and a carpet kit could also be purchased and installed easily. One cool feature is the under dash rack that many folks love, although those with long legs can't live with it. Metal instead of padded, this dash in is nice condition with no chipping paint, but there are a few small areas around the trim, and the ash tray where some surface rust is developing.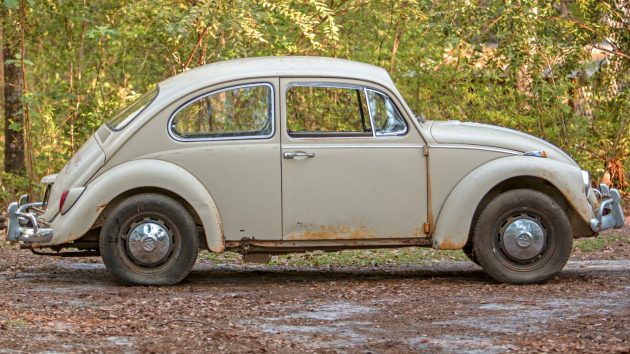 Looking over the exterior it is easy to see this Volkswagen wears some patina, but to what extent is the question. The exterior shows nicely with lots of original paint, and a few dents. Someone at some point got real anxious with a jack in the jack point on either side of this car. The passenger side jack point was bent upward and even dented the body a little. The passenger door is dented down low as if it was part of the jack mishap. There are no running boards on either side of this car, and there is a piece of body trim missing on the passenger side as well. Despite the seller's description of the exterior, it starts to get a little intimidating when he gets to talking about the chassis. The seller explains that the "floor pans are ready for replacement" and that the battery is currently sitting on a piece of plywood. Granted rusty pans are no surprise in a Volkswagen, and the battery box area is typically a rusty spot to begin with. The front apron is rotted out at the bottom, and the rear apron has rot holes in it as well. Overall the body looks reasonable with only minor rust on the exterior of the heater channels. For the seasoned Volkswagen enthusiast, you are looking a brake system overhaul, tires, engine awakening, floor pans, and a front and rear apron at the least. 1967 and older cars are typically favored for their styling and appealing wide 5 lug pattern possibly making this Beetle a must have project for someone. Is this project '67 worth the "buy it now" price?