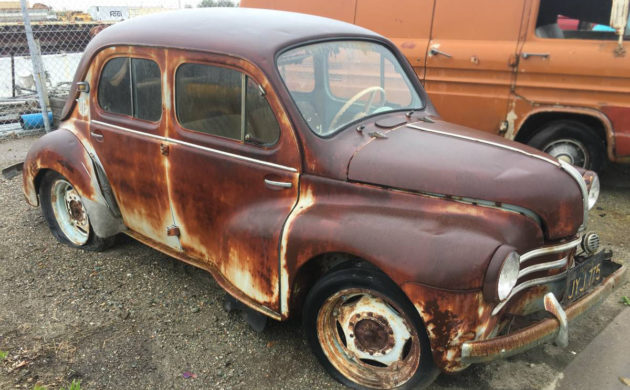 Talk about patina, this 1955 Renault 4CV is loaded with surface rust. I mean, patina. These cars were and still are some of the quirkiest cars out there and they have an unusual drivetrain configuration, not to mention the way the doors open. I love quirky cars and this one can be found here on craigslist in the Stockton, California area. The seller has an asking price of $1,500 listed. Thanks to MattR for sending in this tip!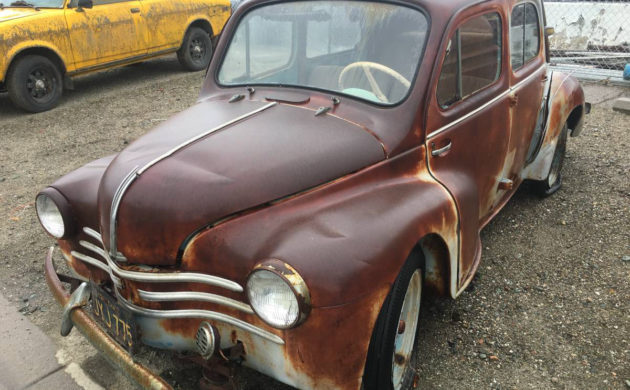 It appears that something fell on the hood and front fenders of this 4CV at some point which is unfortunate, but otherwise it appears to be in surprisingly good condition. The missing paint has to be its most noticeable feature – although some would say that the way the doors open would be its more unique feature.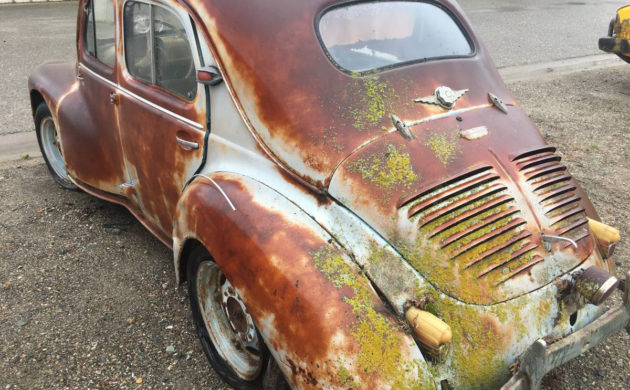 The Renault 4CV was made for the 1947 through 1961 model years and the design didn't change much, or really at all other than a few details here and there. It's hard to beat those lights behind the rear doors and the front suicide doors are super interesting.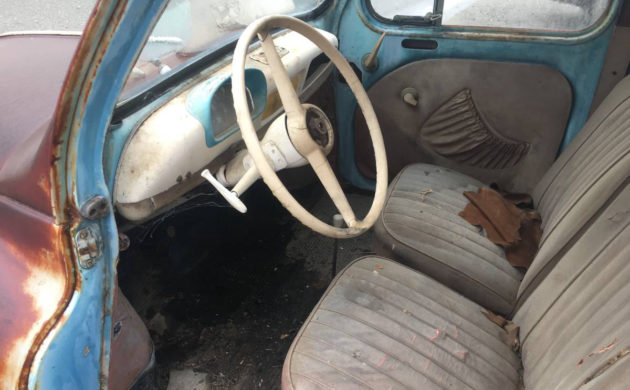 So this was a blue car originally? Or, blue and then white? White and then blue and then white? It's hard to know, given the almost total coating of surface rust on the exterior. As with the exterior, the interior could be stripped bare and brought back to life again. This car is only 12-feet long and 4.5-feet wide so it could be restored in a single-car garage. If rust isn't a big issue, it would be a fun-sized car to restore. The seats are there so they can be used as a pattern and Renault made over a million of these cars so hopefully any missing parts could be tracked down.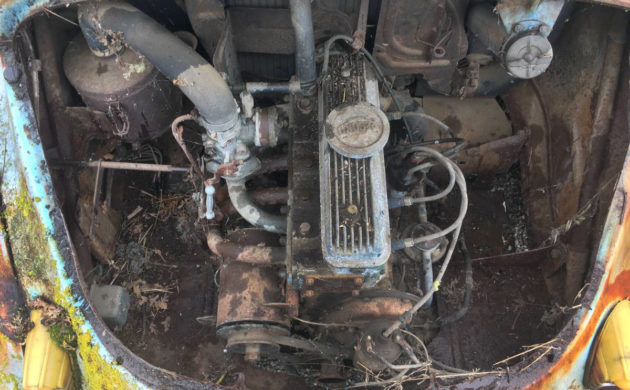 This incredibly crusty but original and complete engine should be Renault's 747 cc four-cylinder with just over 20 hp and a 0-60 time of around 30 seconds. I can't imagine this car ever being restored but maybe it'll be saved by a Renault fan. Any thoughts on this 4CV?