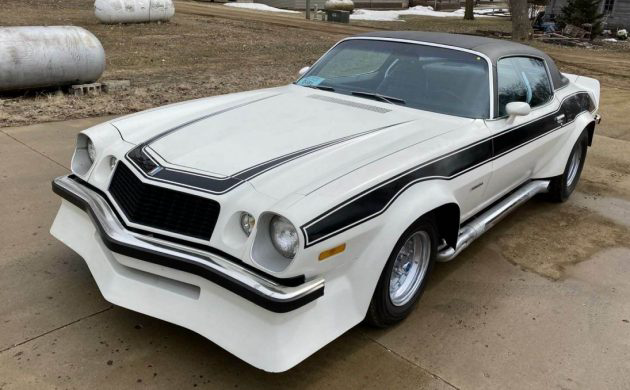 In the racing world, flared body panels deliver practical benefits such as increased downforce and slippery aerodynamics. On a street car, flares let you fit wider wheels and tires while maintaining legal requirements for tires protruding from the car's bodywork. In some states the allowable protrusion is zero. In other cases, like today's featured car, flared body panels just look cool! This 1975 Chevrolet Camaro in Brookings, South Dakota looks much like this similar car we featured in December of 2018. It's unclear if the vehicle has been modified or upgraded since then, but the listing here on eBay features a Buy It Now price of $11,000.
The listing features more boilerplate than information, but the 350 cid (5.7L) V8 is said to run good today, and the 2018 listing described this beast as a no-cost-spared show car with 375 HP. That suits my taste; a car should always be faster than it looks. Today's show cars wouldn't dare reveal mechanical bits, preferring to encase them in fiberglass and carbon fiber.
Side pipes and the skinnies and fatties pump up the '70s look, and those rear meats should help hook up that stout 350, especially with today's superior rubber compounds. At around 3300 lb, this second-gen F-body clocks in about 500 lb lighter than today's Camaro, so don't be surprised if this one can hold its own in a street fight. Many will expect sporty cars from the mid'70s to mid-'80s to be mostly noise and stripes, but this one backs up the fancy body kit with some real performance.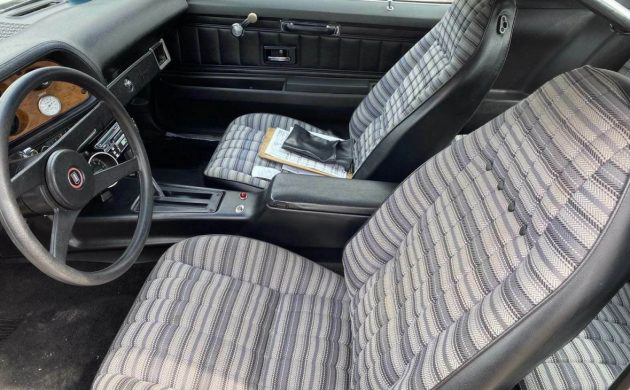 The excellent interior supports the seller's hypothesis that the car may have only 33,000 miles. True mileage cannot be confirmed. The cloth upholstery definitely ups the class compared to many cars' ubiquitous black vinyl. Yes, the steering wheel is a giant piece of plastic, but the size and shape should do just fine. It's round, and presumably turns left and right. Some would love to see a manual shifter here, but if one thing will make an automatic tolerable, it's power, and the slush-box suits the car's use as a flashy mating decoration. Who needs the hassle of changing gears while you're hanging out the window beckoning to members of the opposite sex? With the powerful V8, side pipes, and the super-trick body, this Chevy is like mechanical peacock feathers, ready to strut.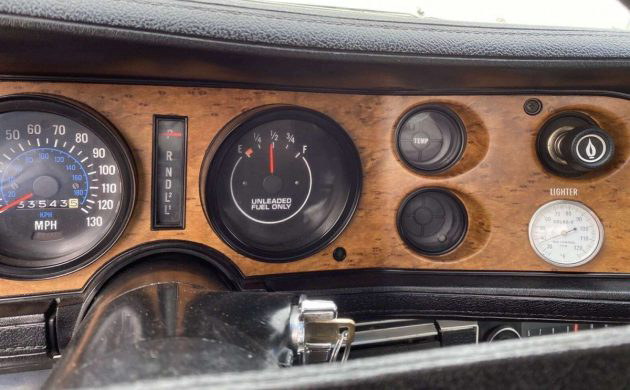 Before we get too nostalgic for the '70s, it's worth pointing out that no sporting-oriented car should have a gas gauge the size of a tea saucer or a temperature light in place of a gauge. Someone has added a completely mis-matched oil pressure gauge to augment what is probably an idiot light that comes on just as your engine is about to expire. The five-digit odometer recalls a time when, surely, you would return to the dealer for a new car before reaching 100,000 miles. Check out that plastic wood stuff; from thirty feet back, that might almost look like burled walnut! Joking aside, Chevy sold almost 150,000 Camaros in model year '75. If you couldn't afford a Corvette, this was the next best thing, and they appealed to a broad spectrum of buyers. Thanks to nastyz28.com for some details. Does this '70s custom suit your flamboyant lifestyle?
Have something to sell? List it here on Barn Finds!