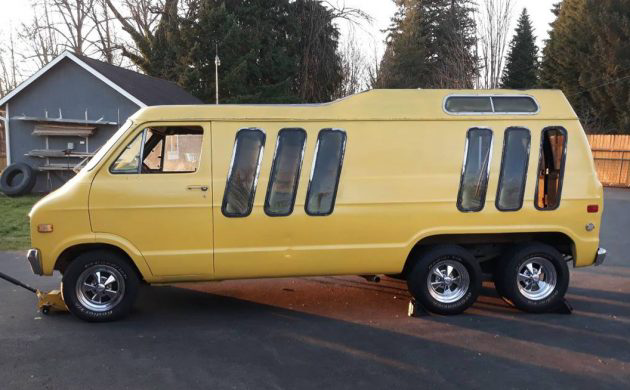 Sometimes, four wheels just aren't enough, especially in the vanning world, the world in which this 1978 Dodge B200 six-wheel van fits squarely into. It's more than a hobby for some of these folks, it's a culture and a lifestyle. The more creative the better for me when it comes to custom vehicles so I can appreciate vans like this. This two-tone Dodge can be found here on craigslist in Monroe, Washington and the seller is asking $5,800.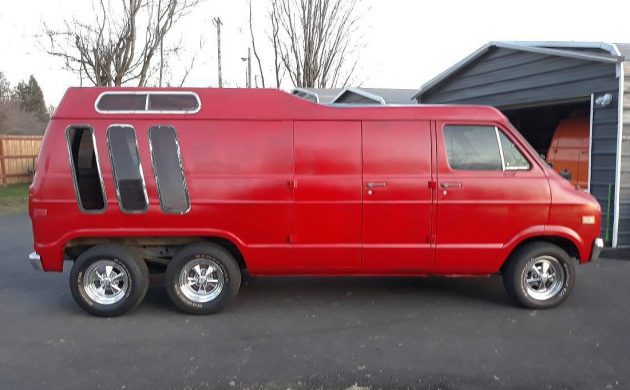 Hey, what the?! Like two sides of a coin, this van is yellow on one side and red on the other. It's more of a soft seam between the two colors which is a bit unusual but the seller said that they or whoever owned the van were trying to figure out which way to go, color-wise. I prefer yellow myself so I'd respray the whole van yellow if I had to choose between yellow or red. I'd first fix what little rust there is, which isn't much, reportedly. Although, the rocker panel on the yellow side looks like it either has a decent layer of bondo on it or is just yellow paint over chips in the former paint job?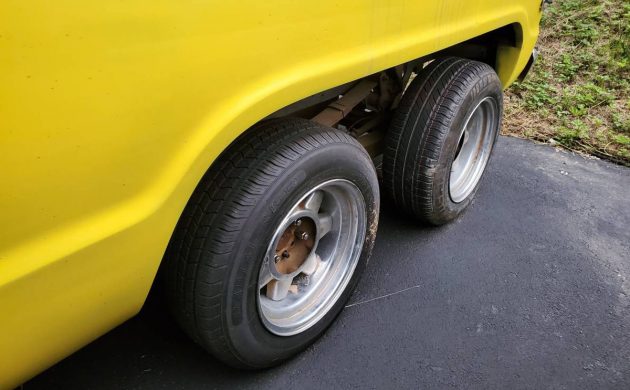 They say that it's from Las Vegas and is almost rust-free other than a few spots and it does look good other than the side doors. That tandem axle, though, that's crazy and cool at the same time! Sort of like me but without the cool part. They were typically done by conversion companies and the rear axle isn't typically powered at all, it's just for looks and for supporting the extra length. I owned a commercial cleaning company in the 1980s and 90s and we had one Dodge maxi van but it didn't look this long.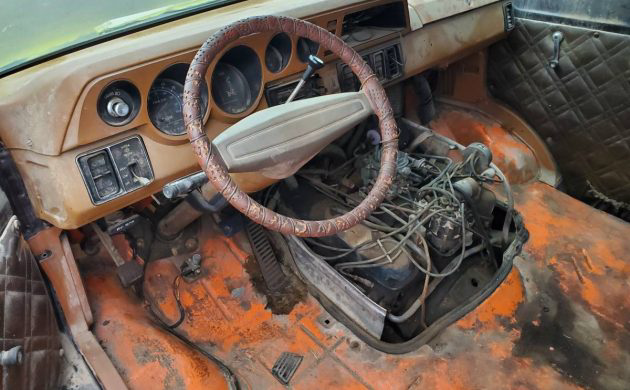 The interior will need a lot of work, even more than the exterior will. You can see that this was originally an orange van which is coincidental given that red and yellow make orange which is probably a more eye-catching color anyway. That would be my color of choice. The rear cargo area has enough room for at least one family to sleep in, other than maybe the Waltons, and you'll want to do it up right to keep up with the custom theme. The roof skylight is a very cool touch.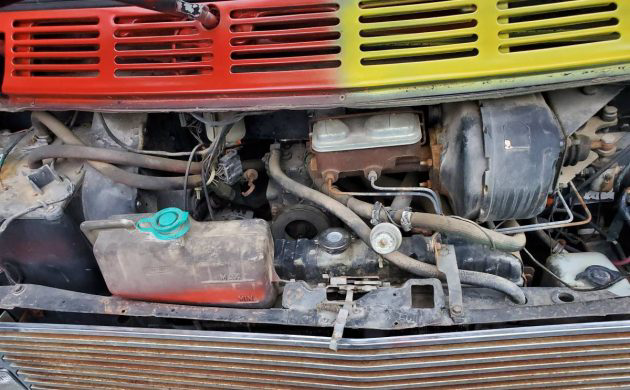 The engine, which is probably better seen in the previous photo, is Dodge's 360 V8 and, of course, there's an automatic transmission to back it up. You don't want to be shifting in a van like this, it's for cruising in style and grace. Well, I don't know about grace but a person doesn't buy a van like this in order to impress the hoity-toity, they buy it to enjoy the vanning lifestyle with fellow van enthusiasts. Have any of you ever owned a custom van?