The ways of the great General Motors are often mysterious and hard to understand.  For example, why did GM decide to sell their European built Opel division products in America before there was even a gas crunch?  Then, after making this decision, why did they decide to sell them through Buick dealerships, right next to the huge land barges that docked in their showrooms?  Strangest of all, why did GM decide to produce what was, for all intents and purposes, a mini Corvette in an already crowded imported sports car market?  There are many mysteries to ponder here, but the biggest one facing us is how did this 1973 Opel GT, found on Craigslist in Douglasville, Georgia, end up being in such good condition when so many of its brethren have returned to the Earth through oxidation?  Being sold for a cash only price of $4500, this little GT may be a diamond in the rough just waiting for a saucer eyed Opel enthusiast to gobble it up.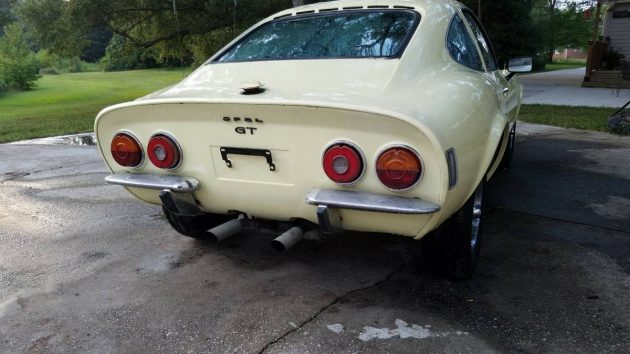 To understand Opels, you have to understand Europe.  Cars in Europe have, for the most part, less stringent demands placed upon them.  Distances driven between cities is usually shorter than similar scenarios in the United States.  Many inner city roads are smaller, as most were built in an age where a horse was the fastest vehicle of the time.  The other big difference is that fuel is taxed at a much higher rate over there than in America.  Therefore, cars have to be a bit smaller, more economical, and they don't usually end up with the mileage that American cars rack up.  General Motors, in its quest to be a global company, acquired Opel in 1931.  They held the company until earlier this year, when it was sold to a conglomerate called Groupe PSA.  During its history as a General Motors subsidiary, it bounced around from being a drag on company finances to being a cash cow for GM during the lean years before the government engineered bankruptcy.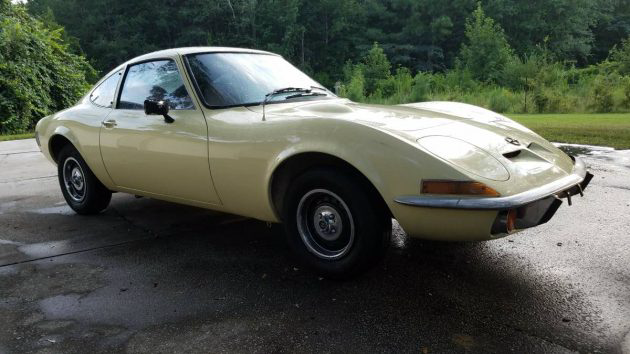 As for the decision to sell the Opel GT and Kadett in America, my guess is that GM either used the whole thing as a tax write off, or as a hedge against the rising sales of similar sized Japanese cars.  The Opels would at least give GM something to sell in that size and general price range.  Yet, they didn't meet the sales goals needed to really establish the brand in America.  Part of the reason that they were sold in Buick dealerships is that Buick didn't really offer any competing lower priced models that were made in America.  That was likely a double edged sword, as I imagine Buick dealerships weren't exactly hangouts for import buyers or people looking for a cheap ride.  The Kadett was just what nobody was looking for, at least but the GT had some style.  Looking inside and outside like a little 1968 Corvette, the GT competed against cars like the MGBGT, Triumph GT-6, and the Datsun 240Z, at least under the classification of hard top sports cars.  More than likely, it was fighting for the customers that were looking at Triumph Spitfires and MG Midgets.  While the styling was fantastic, the weak engine was no match for the 240Z, or the MGB and Triumph GT-6 offerings.  The other problem was build quality.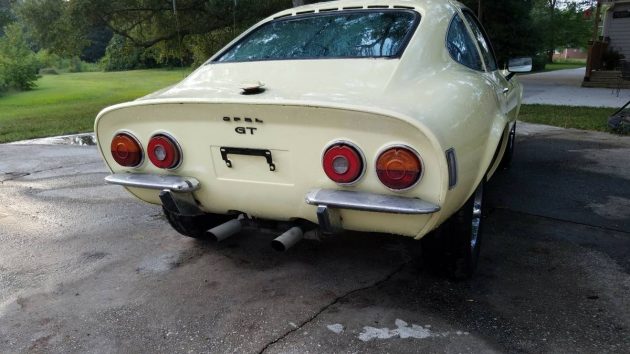 Buyers ended up with a car that was kind of a misfit.  The engines were too small to make them fast enough to attract hard core enthusiasts.  The styling made you think of a Corvette, but the acceleration was pure Kadett.  Parts were never as common as those of other makes, and GM dealers were lukewarm at best in regards to repairing and servicing these little cars when there was cash to be made on the American side of the dealership.  These problems were minor in comparison to the number one issue: rust.  Rust simply eats these cars alive.  From the battery tray, to the pivot points for the headlights, and, of course, to the floors, these things returned to the Earth with a vengeance.  In doing research, I came across a great thread in the Opel GT Forum concerning buying an Opel GT.  One of the opening comments basically tells you should approach a purchase as if you are buying a body shell, and you want the best (read: rust and crash damage free) one you can find for a restoration.  It further warns you that 95% of the parts you need are out there, but key sheet metal parts are not being reproduced.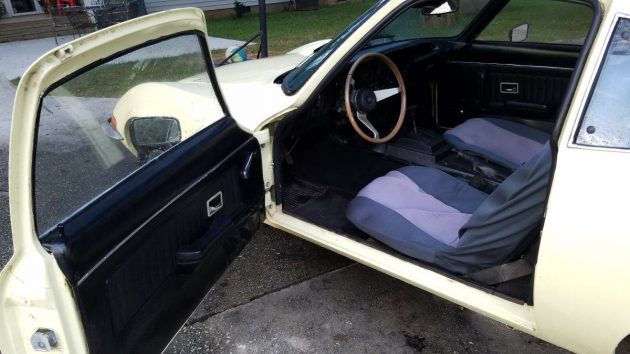 The parts that can be found are not that out of line, and there seem to be a few vendors to choose from.  That's a lucky thing, because it seems hard to find one that needs nothing at all.  The car we are looking at in this report is advertised as being in good condition.  Claiming that the car is rust free (the only one on the planet), he further states that it has great paint and a good interior.  The paint part I believe, as the car looks stunning in this pastel shade of yellow.  As for the interior, it would be nice to see under the cheap, ill fitting seat covers.  Even if the seats are in poor condition, proper replacement upholstery can be found.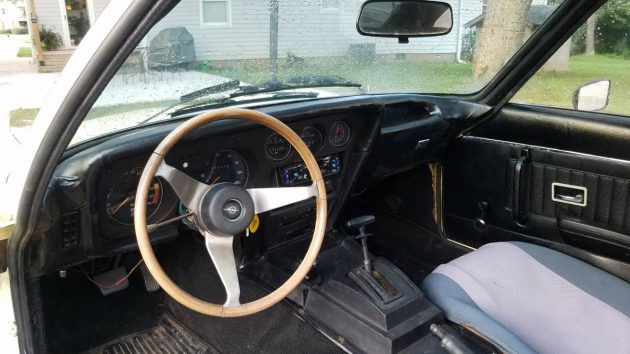 As for the rest of the interior, it looks like the new owner can plan on spending some time making the kick panels fit a little better.  The dash appears to be re-skinned with a thin vinyl overlay, but you'd probably be better off peeling it like a banana and replacing it with a hard plastic overlay.  Another troubling area is under the dash, where a dangling wire awaits your upside down visit.  The trip under there might not be too bad, as many claim these little Opels are surprisingly roomy for people who are over six feet tall.  I don't see how, but that's what they say.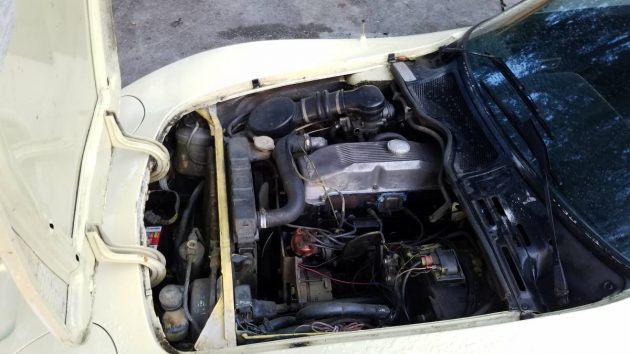 Under the hood, we see what I believe to be the later 1.9 liter inline four, which was supposedly the only engine available with the three speed automatic transmission.  Believe it or not, the owner claims that this car is equipped with air conditioning.  Unfortunately, the "pump" is out of the car.  I guess the owner means the compressor, but if anyone can tell me where it would fit I would be appreciative.  The engine bay is pretty crowded, but not Sunbeam Tiger crowded.  Everything appears to be there, and the owner states that it cranks, runs, and drives!  While I always assumed the three kinda go together, it is reassuring that they can be looked at as separate achievements.
So, what we have here is an Opel GT that, if you can believe the ad, is one of the better examples of the breed.  The owner is looking for $4500 cash, and could probably get it from someone who just has to have one of these.  The rust free claim is the biggest draw here, but I would plan on renting some lift time from a nearby shop and giving the car a deep, deep exam before ponying up some cash.  I look at this car and, although I like the color and general look, I just can't justify having one at this price.  You can get a pretty nice MGB for the same money, or even a mid seventies Corvette in average condition if you throw in a thousand dollars or so.  Both have an extensive network of parts providers, support clubs, and fellow owners to get you through the rough patches of ownership.  The Corvette offers the tantalizing shape and adds to that the wonderfully reliable and powerful Chevrolet drivetrain.  In my eyes, and I am biased as a Corvette owner, this is half the Corvette for nearly all of the costs of a Corvette.