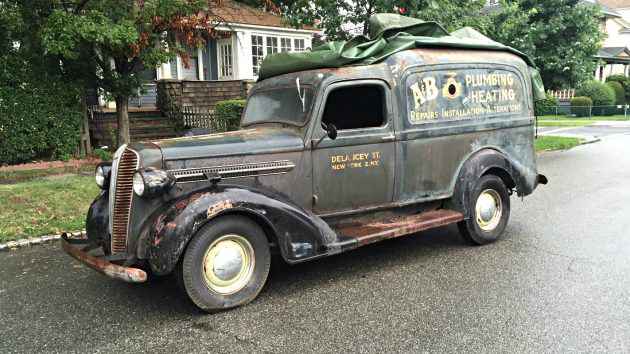 These 30's era Dodge "Humpback" Panel trucks are interesting and beautifully styled. This specific truck must have lived an interesting life as a plumbing and heating work truck in the city of New York! The seller hasn't given much info on the truck but looks to be a recent discovery. Appearing completely untouched since it's handyman duty this looks like a cool project. The billboard paint work on this truck is interesting and really adds some character. With 2 days remaining, bidding has risen to $7,300. Check it out here on ebay out of Bayside, New York. A big thanks to Peter R. for the awesome submission!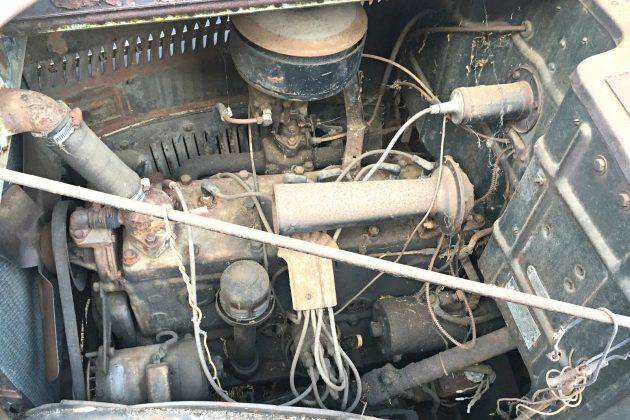 With a thick layer of dust, it is obvious this 6 cylinder engine hasn't run in some time. Despite the down time, the engine appears complete and untouched with only minor surface rust to be seen. The condition of the engine is unknown, but hopefully the engine is not seized. The engine bay looks nice as it still wears a fair amount of paint. Once cleaned, I imagine the engine bay would show nicely.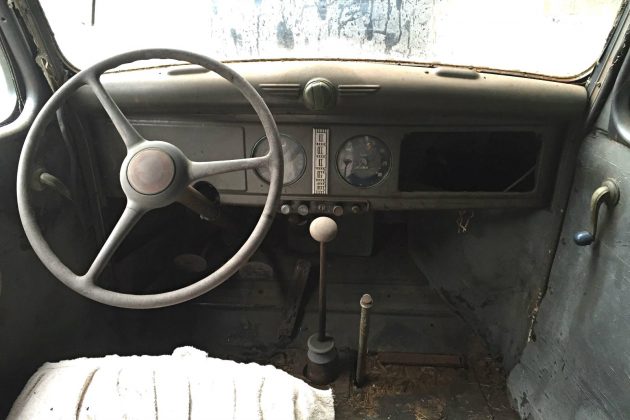 Inside of this old handy van is a very simple interior. There is only a driver seat, but the dash is really quite beautiful. With a light patina, and no heavy damage, the dash, steering wheel, and shifter look like the controls to a time machine. The remainder of the interior is empty, but the wood floors remain, although they are in rough shape. There is some rust in this truck but it is a New York native so it is to be expected. The rear lip edge of the floor is rough having some extensive rot present. The structural integrity of the floors is unknown, but it would appear this panel truck was used as a storage shed in its hibernation.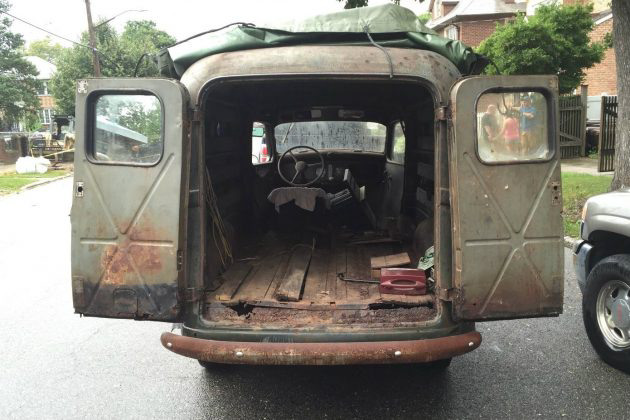 The majority of the exterior looks quite reasonable on this Dodge, but there is some rot lurking as I have already mentioned. Both driver and passenger side rocker areas on this Dodge have some rust and perhaps some rot as well. Also the interior section of the rear doors have some rust, but they do not appear rusty from the exterior. Instead the rear doors are dented at the door bottoms.  The running boards are mildly dented and wavy, but they appear worthwhile for a restoration. There is various surface rust all over this truck, but there is also still plenty of paint. For the most part the body seem straight minus a few minor areas. There are no extreme dents, or creases, except for the rear doors. Also the seller isn't too clear on the subject, but the roof may have some issues. The exterior appearance of this Dodge is fantastic, and its New York roots as a plumbing and heating work truck is something neat to see, as it seems so many "work trucks" didn't survive the crusher. Although not as solid as many of us would hope for, this Dodge would be a wonderful restoration candidate, and at that it would be awesome to restore and maintain its Plumbing and heating history. Would you restore this Humpback to its former glory?