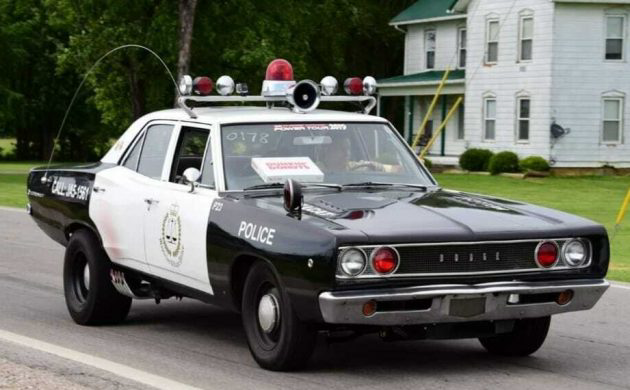 Looking like the physical manifestation of a high school motorhead's study hall scribbling, this completely outrageous Dodge promises endless hours of entertainment for its owner and everyone who sees it. The mock police car, a 1968 Dodge Coronet from Macedonia, Ohio, comes to market here on eBay where it can be yours for the Buy It Now price of $55,000, or perhaps with an acceptable bid using the Make Offer button. If that sounds excessive, consider that the engine bay holds the powerplant from a 2018 Dodge Charger Hellcat and makes "in the neighborhood" of 800 HP. That's good for a high 10-second quarter mile ET! Built for the 2019 Hot Rod Power Tour, this Hot Wheels car come to life is no fancy theme trailer queen, but a real driver that gets 22 MPG on the highway thanks to an overdrive transmission.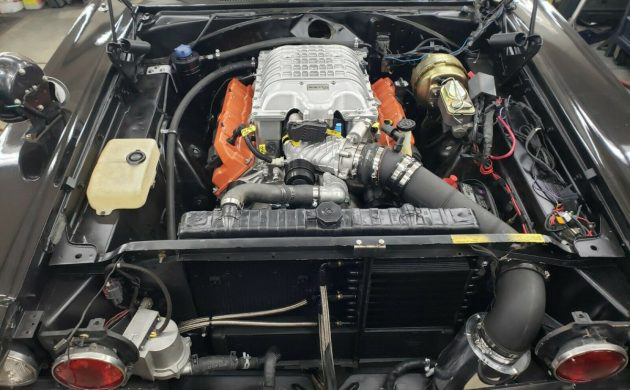 Old meets New in the engine bay of this potent black and white B body. Windshield wipers, air conditioning, and heat were all sacrificed on the altar to appease the Horsepower Gods. Despite the '70s forward rake courtesy of leaf spring shackles, a modified front suspension suggests an interest in rounding a corner now and again.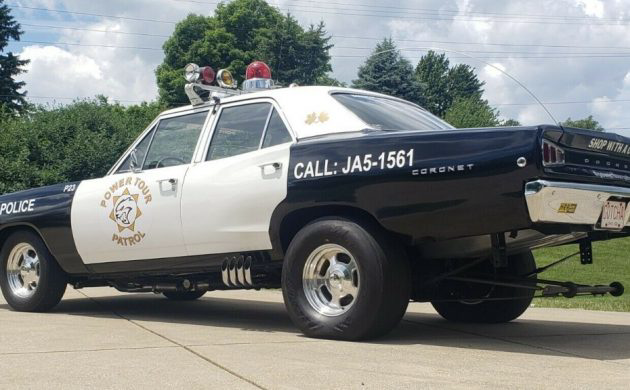 The seller includes many details on this serious machine. Reportedly painted "about 15" years ago, the Coronet is described as running "perfectly." It looks like tons of fun, but it certainly falls short of a "Pro Touring" car. The latter would perform at a high level while maintaining occupants in comfort through broad temperature and weather conditions, showing itself well in multiple disciplines such as autocross, drag-racing, and road racing.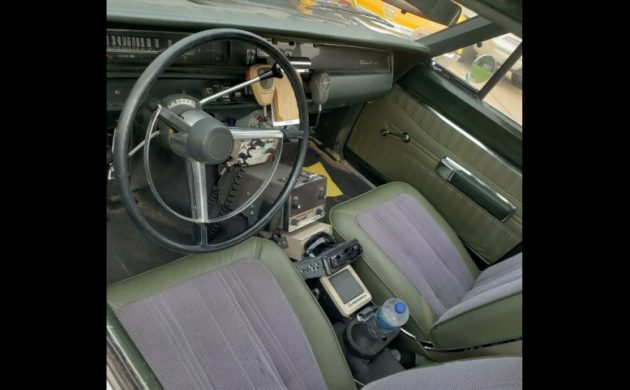 A modern single-DIN radio nestles amidst vintage police equipment. With working sirens and lights and the word "Police" emblazoned on its body, this high-powered po-po wagon likely breaks numerous laws in most areas. Personally I question using a "real" Canadian police car, to borrow the description from the listing. Those who value vintage police cars must certainly lament the loss of this one. Setting that aside, however, it is truly one of a kind and built to be driven, and enjoyed, right down to the doughnut box on the dashboard. Can you see yourself driving this mighty Dodge?