In discussing with a professor why the British had such a hard time waging war in North America during the 1700s, he remarked that they didn't understand the distances.  Everything in England and Europe was fairly close together in the eyes of the British generals, and they never grasped the vastness of America.  That theory makes sense for that time period, and I think it kind of ties in with why the British never really understood the American market. Their cars were fine for English roads, but they were sometimes under-powered when it came time to travel down American highways. It took guys like Carrol Shelby to help the Brits find a suitable heart for their sports cars, like the one in this 1966 Sunbeam Tiger for sale here on eBay in Dunstable, Massachusetts.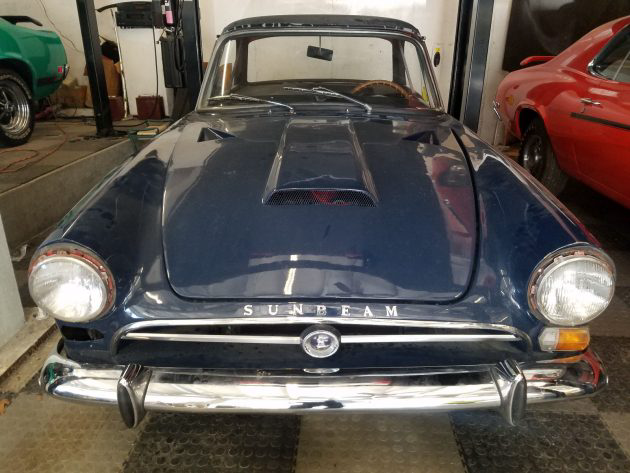 The short story is that the Rootes Group wanted a more powerful engine for their Sunbeam Alpine sports car.  They first approached Ferrari about redesigning their four cylinder engine, but the deal fell through.  With a suggestion from Formula One designer and driver Jack Brabham, they began looking into the prospect of shoehorning a Ford 260 cubic inch V8 into the Alpine's engine bay. They simultaneously approached both Carrol Shelby and Ken Miles to build mock ups of this concept.  The executives at Rootes felt the Shelby version was a bit more refined, so he ended up with some sort of deal.  Ken Miles was out of the picture.  Shelby wanted a shot at producing the cars here in America, but he ended up with royalties on each car instead.  The production contract went to Jensen Motors, who had just lost their manufacturing deal for the Volvo P1800 and were eager for the work. Ultimately, 7,128 were produced.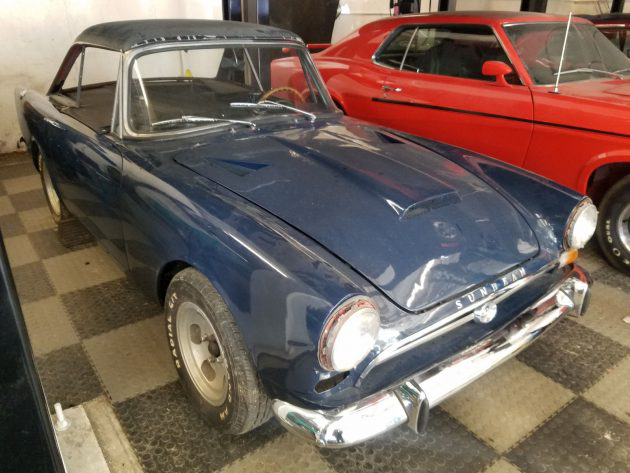 This particular Tiger has an interesting history.  It was owned by a man named Frank Dryden, who was a member of the Sunbeam Tiger Owners Association and quite the mechanic. Dryden ended up finding and fitting a Ford BOSS 302 engine into this particular car, earning a write up in the book "Tiger: Making of a Sports Car."  In the write up, the author mentions Dryden's struggles to keep the car cool. This may explain the unusual hood. The impression given from the book was that Dryden was a pretty clever guy, and he got a lot of the cooling problems sorted out.  One must remember that there probably is no way to keep these cars cool 100% of the time.  A Ford V8 crammed into a tiny engine compartment is a recipe for an occasional boil over, and most people seem to forget how common overheating was in cars during this time period.  Factor in the fun of modern traffic, and you will likely see your own copy of Old Faithful on occasion!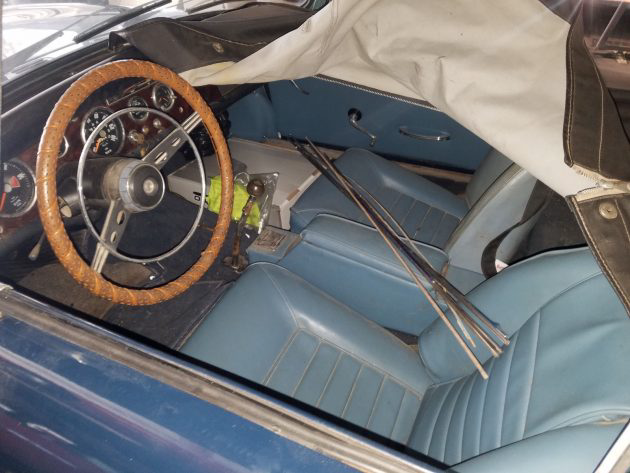 Inside, its like going back in time to the early seventies.  I am no expert on Tigers, but I am suspicious that the upholstery may not be factory correct.  I may be wrong about this, and I hope a reader can set the record straight.  The steering wheel is ensnared in one of those old, wretched steering wheel covers that you would get at your neighborhood drug store.  I haven't seen one of thse in a while, and I really had hoped I never would again.  All the instruments are there, and they look to be in fair condition.  The shifter does worry me.  I believe it to be correct for the car, as it has the T-handle for putting the transmission into reverse.  What worries me is the surface rust.  This makes me think the car may have been stored in a humid environment for some time.  Not a deal breaker, but a sign that the car needs to be looked over carefully.  Especially the floor.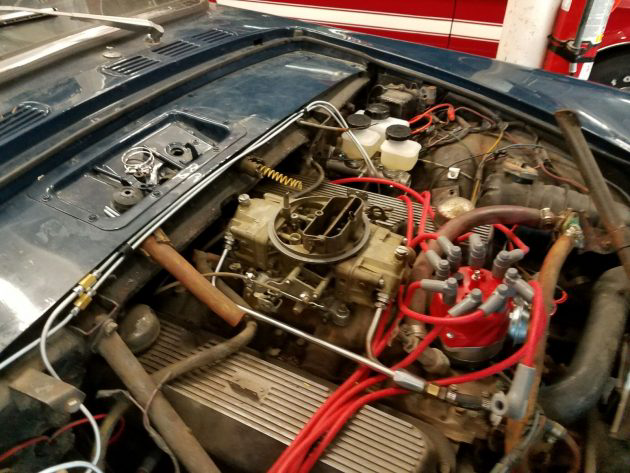 Under the hood sits the spice for the rice.  Already a good performer, Mr. Dryden upped the game when adding this BOSS 302 engine.  I am not quite sure how one of these engines slides in, but there seems to be little in the way of extra room in there.  When the cars were being built, it was said that a worker would have to take a sledge hammer to the freshly painted firewall to make the engine fit in this tiny compartment.  When Chrysler bought the Rootes group, they wanted to put a Chrysler V8 in the cars.  Unfortunately, the distributor on Chrysler small blocks of the time was at the rear of the block, preventing the switch. Chrysler ended up telling Rootes to stop production when they ran out of Ford V-8s, thus ending the run of these unique cars.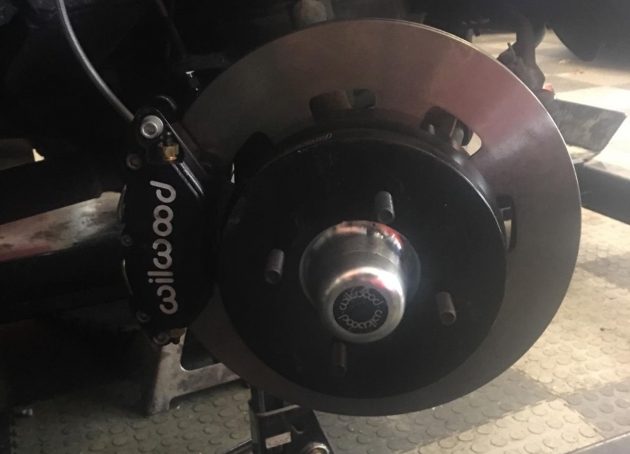 It does appear that someone has tried to remedy one of the common faults of Sunbeam Tigers.  Even with disc brakes on the front, Tigers were known for being rather under braked.  Someone has decided to take the bull by the horns here, and has added a set of Wilwood calipers and discs to the front.  Hopefuly, the front suspension was rebuilt at the time, as the added weight made this a problem area for these cars.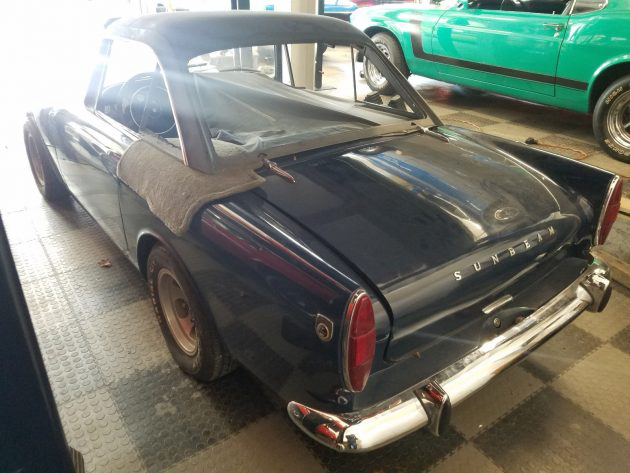 When you look at this particular car as a whole, it provides a good glimpse into what an English-American hybrid would look like after a few years of tinkering by an American enthusiast. American hot rodders seem to never be satisfied with leaving things stock.  Mr. Dryden put his mark on this car, and it shows. It would be a shame for someone to perfectly restore this car back to stock.  From the aftermarket wheels, to the modified hood, and, of course, the BOSS 302 engine, this car tells of a time when people worked on cars as a hobby and sports car racing was a big thing in this country.  Sunbeam Tigers have risen in value, and adding a good one to your collection would probably be a safe investment. Why not add one to your stable like this one? This is a car you can enjoy without feeling guilty about running over a mud puddle.
As for the whole notion that the British didn't understand the American market, what would have happened if the British had established design centers in America? If their designers and engineers had to work in America, I would imagine that cars like the Tiger would have become the norm rather than the exception in regards to sports cars.  Maybe British sports cars with powerful American engines would still be with us…