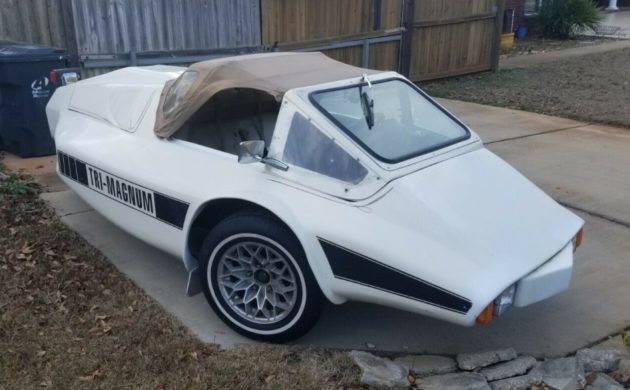 We recently featured another Tri-Magnum 3-wheeler here on Barn Finds. These unique rides are built from plans as a do-it-yourself project from the people at Robert Q. Riley. Their website says "Tri-Magnum is a high-performance three-wheel sports car…and today, it's still one of our most popular designs." This particular car is listed as a 1981 and can be found here on eBay with a current bid just over $5,000. Located in New Brockton, Alabama these cars are pretty neat. Let's take a closer look.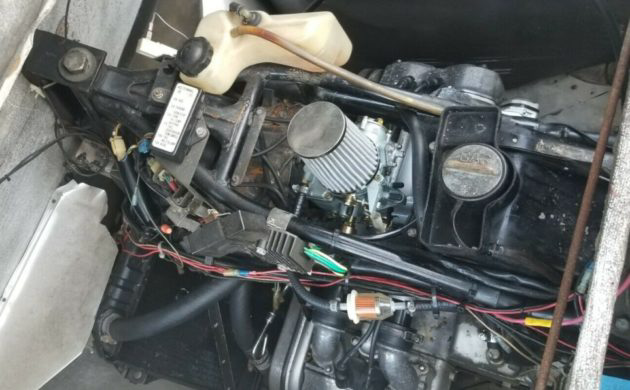 Unfortunately, there isn't much information in the ad. It does say the engine is a 1100GL Goldwing from a Honda motorcycle but other than that, there aren't too many details. I bet if the engine motivates a big heavy Honda, it will motivate this Magnum pretty well. Apparently the Goldwing is the powerplant of choice for the plans. The R. Q. Riley website says "Built on a Honda Gold Wing, a GL1800 for example, power-to-weight ratio comes in at about 10 or 11 pounds per horsepower – or roughly equivalent to a 3,500 pound car with 350 hp engine." That sounds fine to me!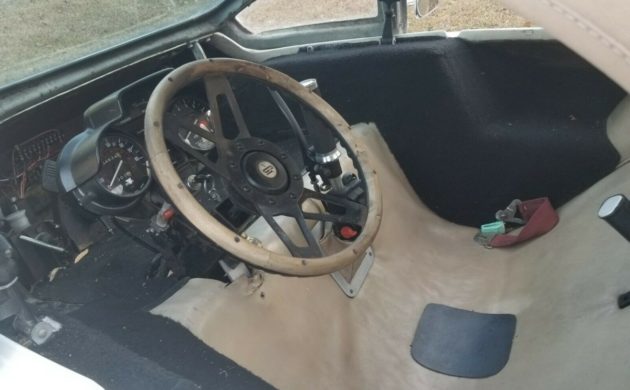 The interior is certainly cozy. I don't know exactly what the height and weight suggestions are, but I bet any driver six-foot or taller will be in trouble. If you've actually sat in one of these, let us know what it's like. There are no pedals to be worked, so that probably helps with the legroom. The controls are located on a "…jet-fighter-style control stick that emerges from the floor between the occupants." The control stick contains the original handlebar controls from the motorcycle along with clutch controls, so everything except steering is done with the control stick.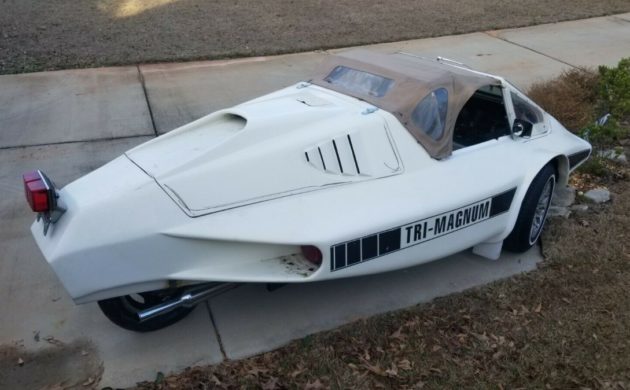 Here you can see the rear end. As Russell pointed out in his Barn Finds article from earlier this month, the Tri-Magnum 3-wheel idea was around long before the Polaris Slingshot or the Can-Am Spyder that are currently on the market. But as a do-it-yourself project, you have the satisfaction of building it from the ground up, which is neat. What is your opinion on kit cars?