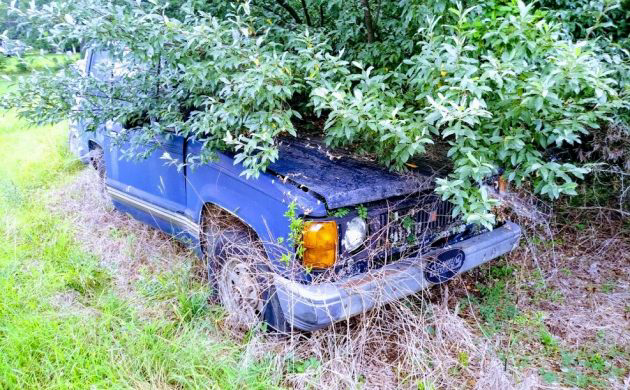 As many of our readers now know, I have a slight addiction to rescuing vehicles from salvage yard-type environments. At last count, of the five projects I own, three of them have literally been pulled from a salvage yard (with one being a legitimate barn find – the Euro-spec BMW 320). This latest one comes from the same property as my 1980 Toyota HiAce project and the large Georgia collection we've listed as a Barn Finds Exclusive. I present to you, my 1986 Isuzu Trooper two-door!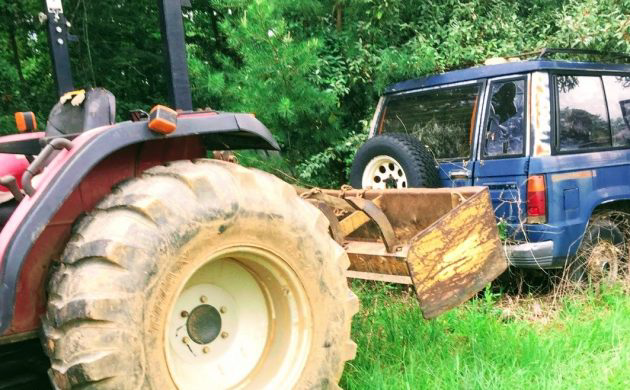 The Trooper was parked at my friend's place about ten years ago as a running vehicle. Obviously, it didn't move much, and it was snared in some massive brush and trapped by a tree that sprang up in the meantime. The Trooper is an early model, which means it has round headlights instead of rectangles and is a two-door, which is somewhat hard to find. Most importantly – especially for a northern fella like myself – there's not a spec of rust on it. Anywhere. Of course, the motor is a somewhat notorious 4-cylinder with a tendency to blow head gaskets, but that's a story for another time.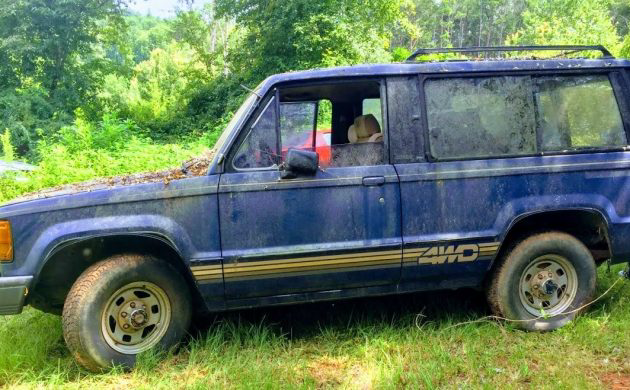 The Trooper exited its brambly prison a few months ago, but only recently left my friend's property. As you can see, the paint is quite tired, the tires were flat, and there's years' worth of debris caked into every surface. Fortunately, those blemishes are only skin deep, and the awesome period 4WD graphics are well preserved. This is a lifelong Georgia Trooper, bought in Marietta and only moving between there and Blue Ridge, according to its CarFax report. You can find out more insights as to why I'm saving this Trooper in the video below.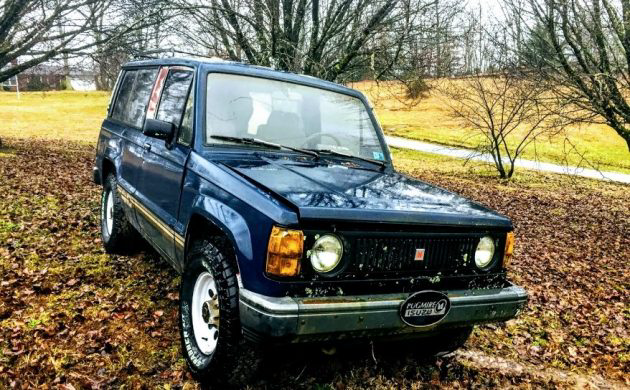 The Trooper recently received a fresh set of tires and some repainted Isuzu steel wheels I found in a junkyard in Connecticut. I shipped them to my in-laws' and had them mounted to the largest set of tires I've ever bought. Just having this Trooper riding on some off-road friendly rubber is a marked improvement, and I've since found a shop in Georgia that is willing to help bring the Trooper back to life. I'll be documenting it once work gets going on the project, but be sure to check out the video for more of my thoughts on this latest junkyard rescue, and follow me on Instagram for other vehicular musings.
Be sure to subscribe to our channel here to see more Barn Find videos!