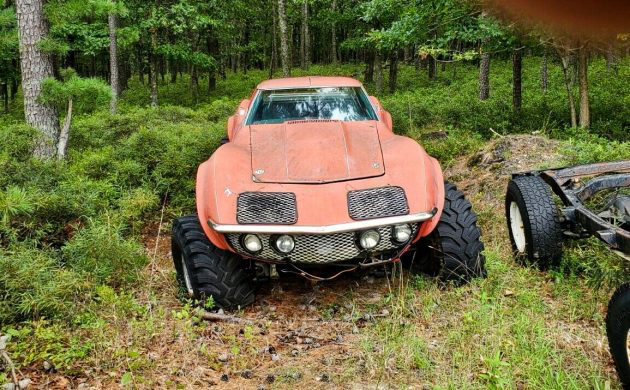 One thing that trucks do incredibly well is look good with significantly raised suspensions. Conversely, sports and muscle cars look quite tidy when they are low to the ground, perhaps brought even lower with a suitable lowering kit. When the two opposites converge, you end up with what you see here: a 1968 Chevrolet Corvette, fitted with a 396, sitting on a Chevy 1/2 ton frame. Clearly, someone had big goals for this thing as there's even a custom mesh insert with driving lamps mounted below to make up for the fact that the flip-up headlights are missing. An interesting project and/or challenge, depending on your appetite for adventure. Find the Corvette here on eBay with bids to $2,450 and the reserve unmet.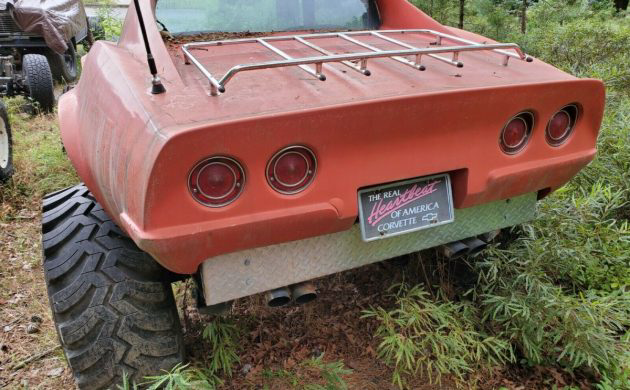 The Corvette sports numerous other tweaks, like the quad exhaust setup out back and the very period-correct luggage rack on the trunk. That alone is a publicity stunt I'd love to be behind for a major brand, with the picnic basket carefully stowed on the trunk lid with the classic red and white checkered picnic blanket tucked neatly inside. The body doesn't look bad for what it is, though the seller does vaguely refer to it needing fiberglass work. The tires appear to have good tread despite the Corvette listed as a "running when parked" example, which usually indicates long periods of not working or moving. Well, it doesn't work at the moment and has been sitting 2-3 years by the seller's estimate.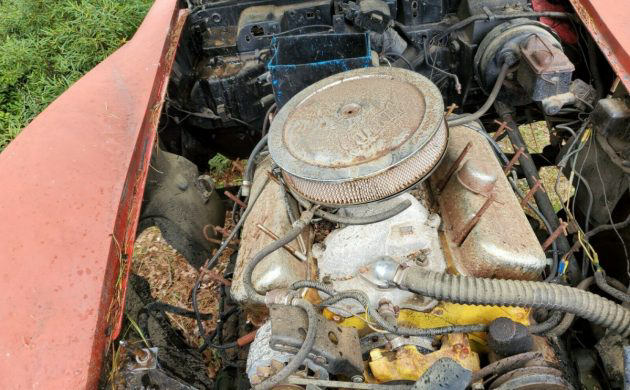 The 396 was apparently rebuilt before it began its long-term slumber, a scenario I see played out often with hulks like these. It makes me wonder does everyone truly set about rebuilding an engine and then decide not to use it, or does something go haywire with the engine rebuild that causes the owner not to attempt to fire it up at all after the first turn of the key revealed some unexpected ugliness? Who knows, but a 396-equipped Corvette is generally always desirable; I'm just not sure what the attraction is like when the motor is attached to a body riding on a lifted 4×4 chassis. The engine bay is fairly unkempt, so I doubt the rebuild happened at a high dollar restoration shop.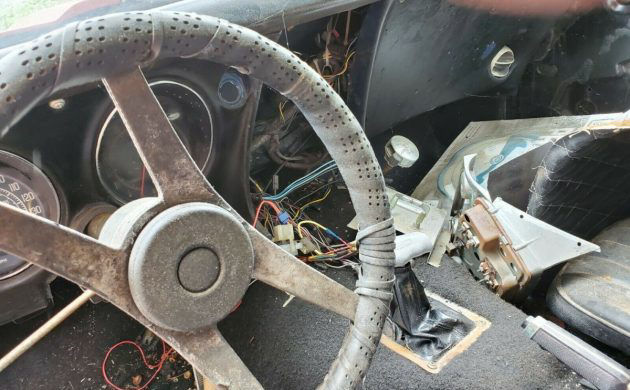 Oddly enough, this Corvette isn't residing in mountain country; no, it's in Barnegat, New Jersey, which appears to be in Ocean County and has a good amount of frontage on the Atlantic Coast. Now, obviously, one does not need to live in the woods to enjoy a vehicle such as this, but it's also not the first thing you think of with images of sand and surf running through your head. The interior is, not surprisingly, a mess, and is likely one of the areas the seller is referring to when he says some "TLC" is needed. What I always wonder with half-finished conversions like these is whether the next owner intends to see it all the way through, or spots a potential diamond in the rough that can be brought back down to earth for reasonable money if most bidders are scared away. What do you think?