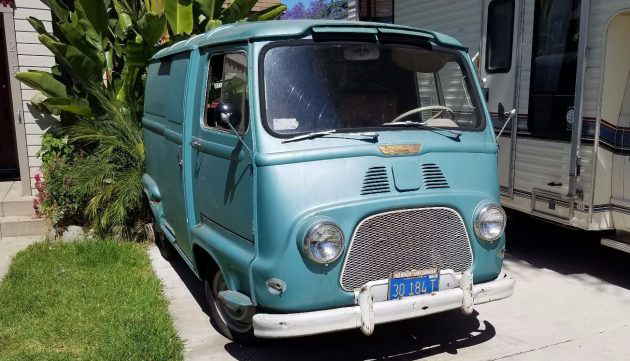 Look what Jamie found! Leave it to the French to create a van with a cartoon face like this. Scotty wrote this up in January when it was for sale on Craigslist for $3,000. The seller has cleaned it up a lot but it is still not running. The Estafette was an iconic little van around France for decades, from the 1960s into the 1980s. Renault sold about 500,000 of them. The Estafette was designed for small businesses of all kinds and they were everywhere. The front engine, front wheel drive configuration provided a flat floor and more room in the back. It came in configurations similar to other vans including tall versions and camper vans, with or without windows and even a pickup version. They have a 120″ wheelbase and weigh just 2,000 pounds. This little blue van is listed on eBay in Monrovia, California. The opening bid is set at $4,000 and there have been no bids. It hasn't run for awhile, and hopefully, the little 845 cc engine is not seized. Renault used the Dauphine engine for the first 2 years until the larger 1,108 CC engine was developed for the R8.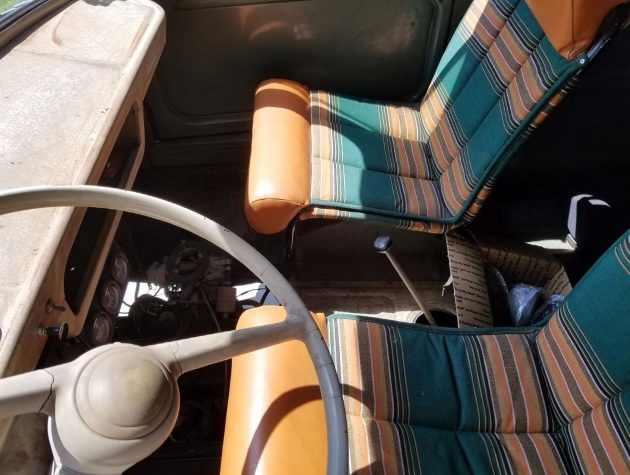 The seats are original and minimal but they appear in good condition. The seller has cleaned it up a lot since he purchased it in January.
There's not a lot of room in the back, but with a flat floor and wide door opening they were just the right size for a small business.  The French police, or Gendarmerie, used these little vans. The only time I have ever ridden in one was in a French Police van in the early 1970s.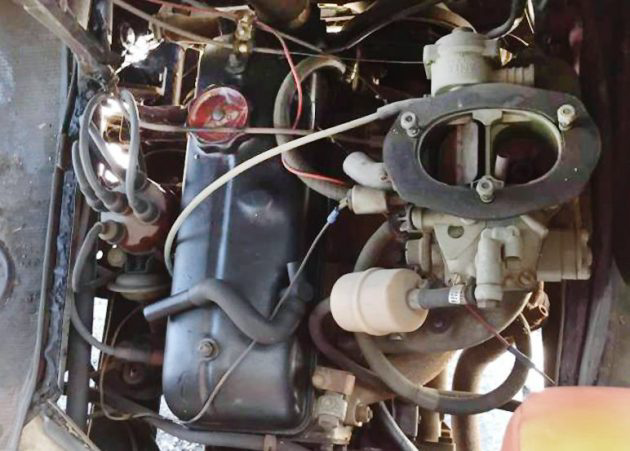 This picture of the engine is from Scotty's earlier post. It looks complete except for the air cleaner. One has to wonder why it is they couldn't get it running and how serious the issue could be. They don't provide a picture in the eBay listing, so perhaps it's been disassembled revealing a serious issue. They are known to run hot and blow head gaskets so if it's been sitting for awhile there could be rust in unfortunate places.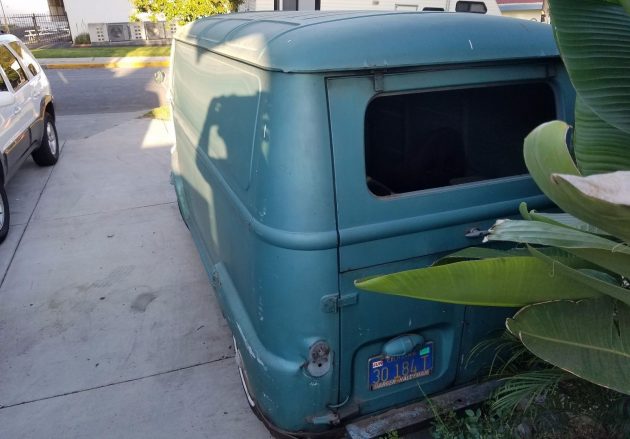 This little van is going to take some work to get it running again but it certainly looks like a worthwhile effort. Judging by the license plates, this one was imported in 1973. These vans are rare in the US, but because most parts are common across several models, parts are plentiful and easy to find. A later model with a larger engine would be nice but the Dauphine 845 CC engine should be adequate for around town or a later Renault engine like the 1,289 cc Renault 12 engine might be an easy upgrade. Usually, I would suggest looking for a later model, but I haven't been able to find another one for sale in the US. I think this would be handy and great fun. Hopefully, this seller doesn't want crazy money for this van. After all, they paid $3,000 or less for it just a few months ago.