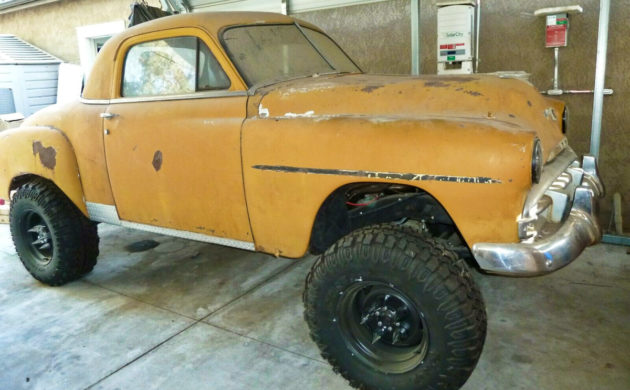 UPDATE 4/3/2020 – This seller has lowered their asking price significantly since we first featured it. They are now down to $4,500, which might still be a tad high given what it is, but I'm sure someone out there would have a blast with it!
FROM 2/10/2020 – In today's word, the concept of a business coupe may seem like a strange configuration for a passenger car. It's an even stranger concept when you give a business coupe the "business" like adding a four-wheel-drive set-up to its underpinnings. Sounds out there but here's a real, live example in the form of a 1951 Plymouth Business Coupe, located in Clovis, California and available here on eBay for a BIN price of $8,000 with a "make an offer" option.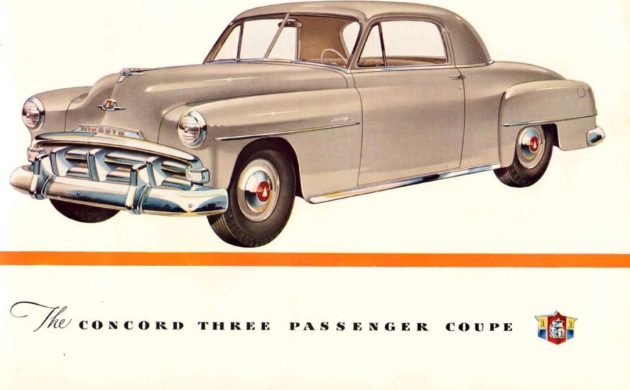 The business coupe concept dates the '40s and '50s with the thought that a traveling salesman needed more room in the trunk for hauling his wares and samples around and less room in the passenger compartment because he was usually the only occupant of the car. So that's what you had in a business coupe, a two-door coupe with no backseat and a larger trunk.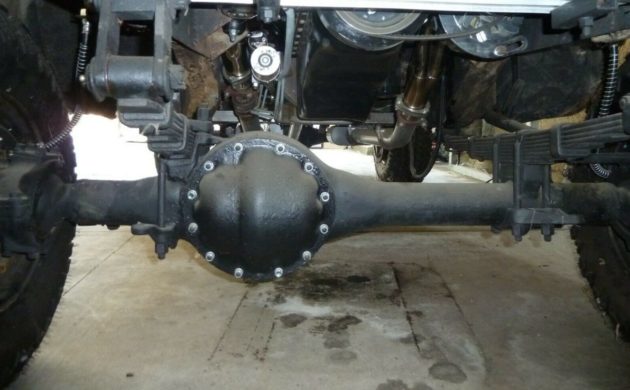 Now someone with an extreme sense of creativity, and obviously some serious mechanical aptitude has taken this coupe and set it up on Dodge military-style Power Wagon axles. There is a mind-run of information included in the listing but to cut to the chase, the front axle is not connected so this Plymouth is still laboring along in two-wheel drive mode as it was originally intended. Also, there are non-working front brakes. The seller claims that this Plymouth is about 90% completed but that sounds like a bit of a stretch.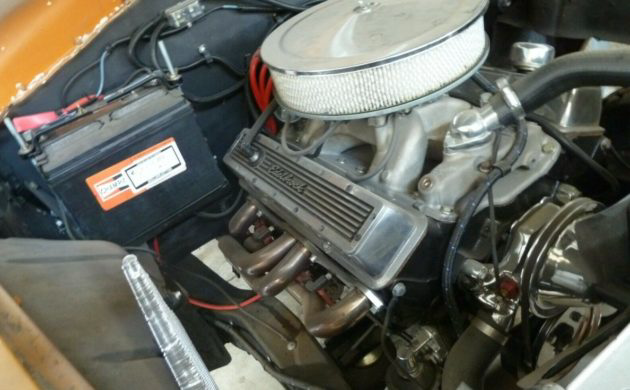 For power, the builder selected a Chevrolet 350 CI V8 small-block engine of some configuration connected to a Turbo-Hydramatic 400 three-speed automatic transmission.  The seller doesn't state how this Plymouth runs but he does add that the engine and transmission are new so I gather it does motivate along at least reasonably well under its own power. Also included in a new fuel cell, wiring harness, and a B&M shifter.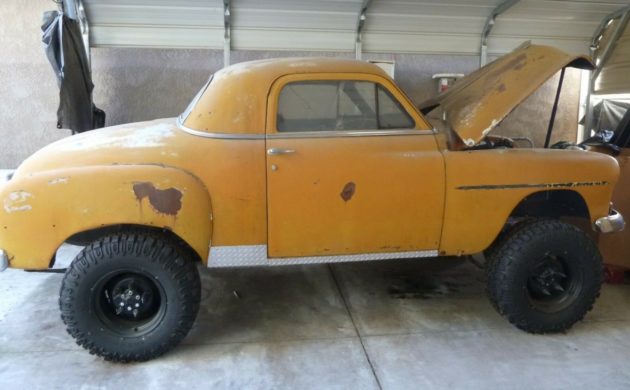 The exterior, besides being really up there, appears to be pretty intact. There is diamond plate patching where the rocker panels once were but the rest of the body looks to be mostly corrosion-free. The body is a bit rough with some minor dents and surface rust but again, nothing serious. The seller states that he doesn't know if the screaming yellow finish is original or not; I'm guessing no.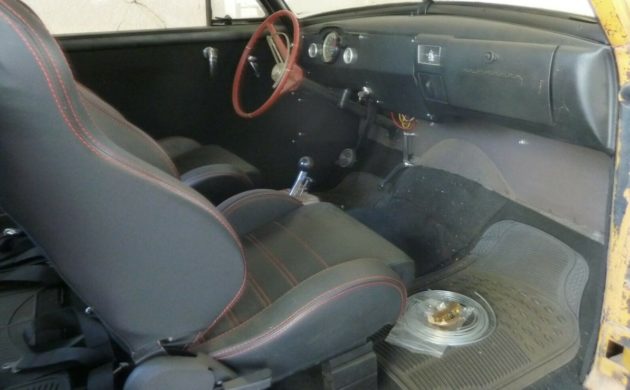 The interior has clearly had a lot of effort put to it. There are modern seats from something else, replete with racing harnesses and a custom dash with new gauges. This interior really appears to be a highlight of this most interesting coupe.
So, this leaves the question, what to do with Mad Max? It's not really a 4X4 as it doesn't have a transfer case and it won't with that Turbo 400 in place. The end game here would be best suited with an actual, completed four-wheel drive power train. If that's not doable, then maybe backing it down to a hot-rod or resto-mod creation would be even better. You don't see that arrangement on a Business Coupe often so that would be both unique and cool. As it is, this Plymouth is a bit half-stuck! So what do you think, assuming this current two-wheel-drive arrangement is less than ideal, what's the best way forward for this coupe?
Have something to sell? List it here on Barn Finds!