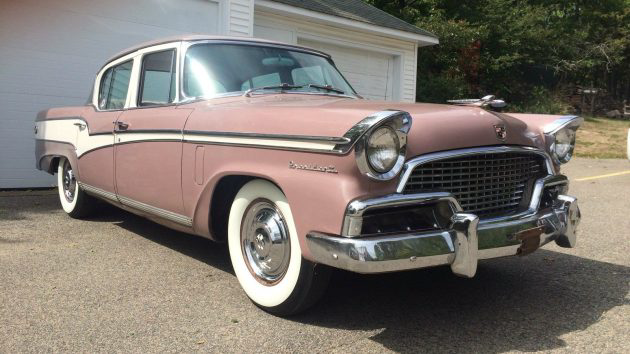 Back in April of 2016, David F. did a great job writing up a 1956 two tone Studebaker President from California, these colors and wide white wall tires, just like this one. I *think* it's the same car–take a look and let me know if you agree. The car is being auctioned this time here on eBay. It's located in Weymouth, Massachusetts, and so far bidding is only up to $2,800–a far cry from the other car/same car's $6,995 craigslist ask previously.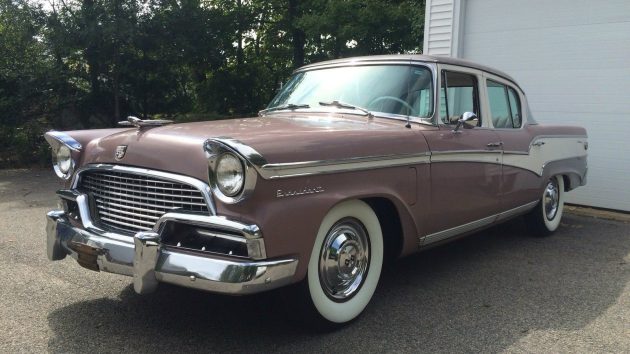 Whether this is the same car or not, I think you'll agree with me that this is one cool Stude! The reason I think they are the same car is that if you look closely, the paint in the lower rear quarters doesn't quite agree with the rest of the rose colored paint–which is the same as the car David wrote up. The seller tells us that the paint is thin in spots and starting to reveal the original primer below. They also point out that there is a dent on the very lower edge of the right rocker panel and that some of the chrome trim is pitted in spots.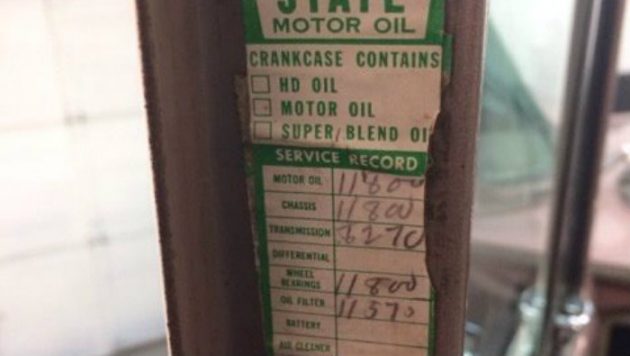 One of the seriously cool things about this car is the air of originality it maintains. The seller tells us that it has 115,106 miles and originally came from Oregon. It was put into storage in 1969 after the death of the original owner, and wasn't brought out until the twenty-first century. Interestingly, the seller tells us that all the paint is original except for the roof, which was repainted at some point. There was some discussion in the comments section of the first post about another color being painted in those lower quarters, but other readers thought that wasn't the case for 1956 cars. Any opinions this time?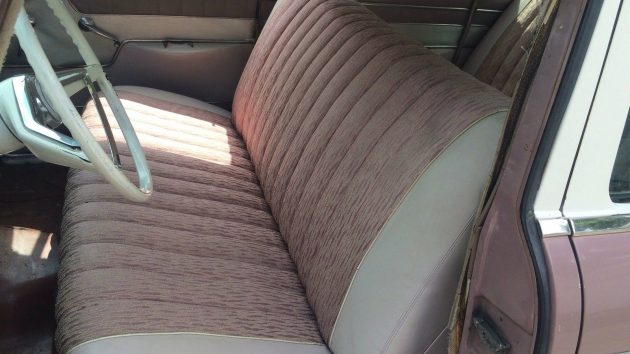 To me, the interior looks identical to the car David featured, and I really like it. It certainly appears original and I believe it to be so. If you are at all interested in these somewhat different and unusual cars, I would strongly urge you to check this one out. You'll need to replace the carpet, but the floors underneath look beautifully solid, and although we don't get a picture of it (this time?) if the 289 V8 looks like the other one did, you won't be disappointed. Let us know if you are the new owner!