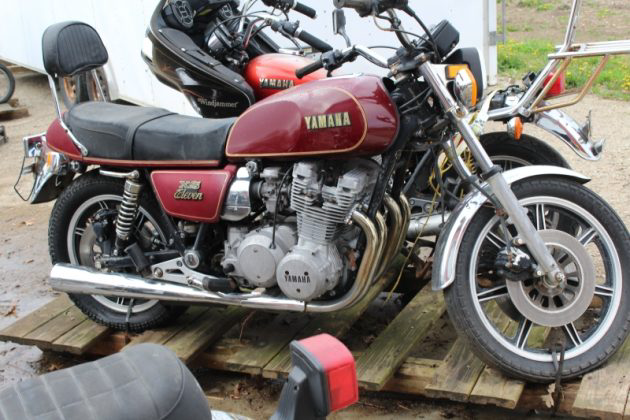 Where will you be on July 22nd at 9:00 AM? If you want a two wheeled bargain like the Yamaha XS 1100 pictured above, you had better be one of two places: preferably in Austin, Minnesota at the mother of all motorcycle auctions or at your computer bidding online for one of these diamonds in the rough.  While there isn't much of back story to this amazing find. we do know that Arts Parts LLC Auctions is auctioning off 450 vintage motorcycles from the 1960s through the 1980s.  While some are little more than a few parts held together by a rusty frame, there are a lot of neat and complete bikes that look like just a few hours of work would put them on the road again. Thanks goes to the eagle eyed Scott Y for the tip!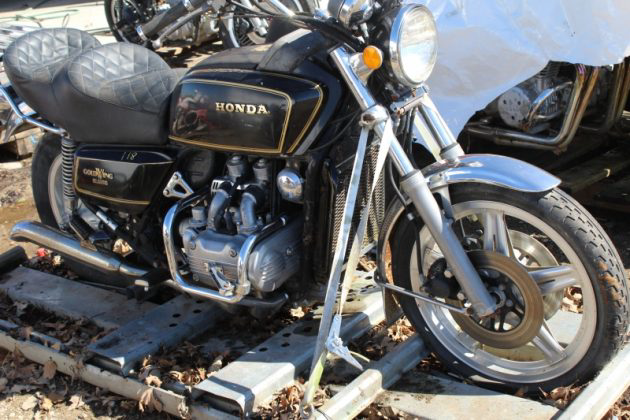 While I would love to post up about 100 of my favorites, I don't want to be an enabler for all of you who, like me, will spend hours at work looking through the pictures of bikes.  Let the auction website be your fix.  I will, however, give you a glimpse at some of the variety in this collection.  From pit bikes, to scramblers, to cruisers, this auction has it all.  While many of the motorcycles will likely never see the road again and are good only for parts, bikes like this early Honda Gold Wing likely need little to reclaim their places on the backroads of America.  Just looking at that cushy seat makes my rear end feel good.  There even appears to be a place for a companion.  That would be great if I could locate a woman with the proper mix of bravery and stupidity to trust me at the controls of such a fine machine.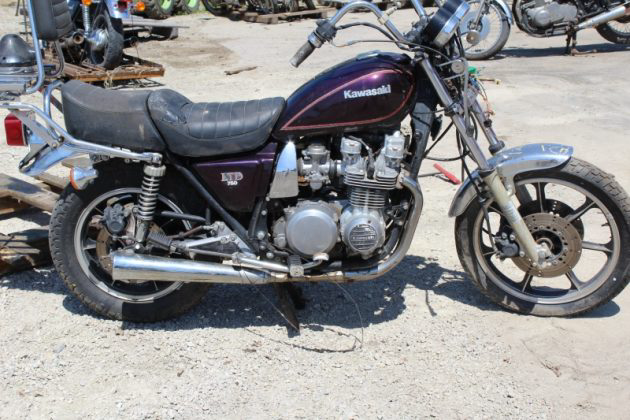 Next up is a fairly complete example of a Kawasaki 750 LTD.  Having owned one of its little brothers, a Kawasaki KZ 650, I can testify that these bikes are comfortable to ride, easy to work on, and reliable.  At least they are reliable if you don't have me working on the electrical system, which my former steed suffered from. This bike actually appears to be in better shape than my old bike was, making me contemplate bidding on it.  Even if I have to make peanut butter and jelly sandwiches my main food group for a month or so.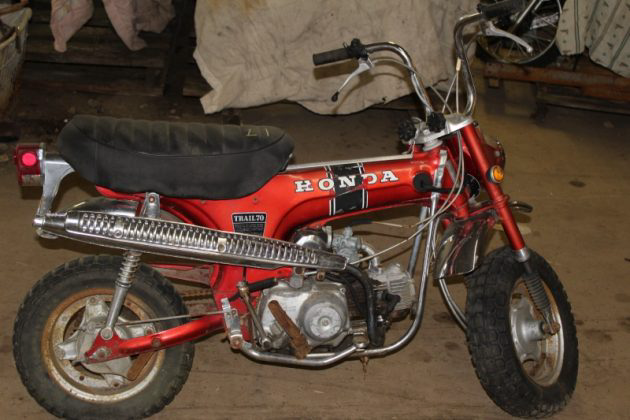 Finally, if you have something a little smaller in mind, this Lilliputian Honda Trail 70 could be just the ticket.  If it were me, I'd try to purchase a few of these and bring them to abandoned parking lots to race friends in a bantam bike battle royale.  Or, I would take them to gatherings of my extended family just to loan to my over protected nieces and nephews.  Imagine the pleasure of seeing the horrified reactions of risk adverse soccer moms when they see their precious babies jump on a leg burner like the one above!  The possibilities for mayhem are endless…
So, are you ready to spend a few bucks to bring one of these beauties back to life?  If so, I've got dibs on that sweet Kawasaki.  Hands off!