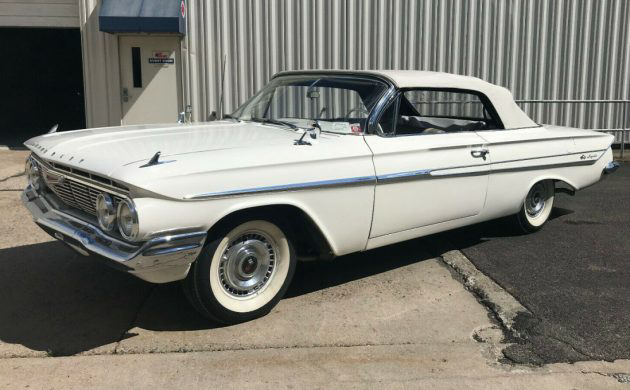 If most of what turns up here on Barn Finds are true barn finds, then this 1961 Chevrolet Impala convertible is more like a Palace Find. A 23K mile museum exhibit and located in Norwich, New York, this unusually equipped Impala is now available for sale, here on eBay, for a current bid of $50,000; 61 bids tendered as of this writing.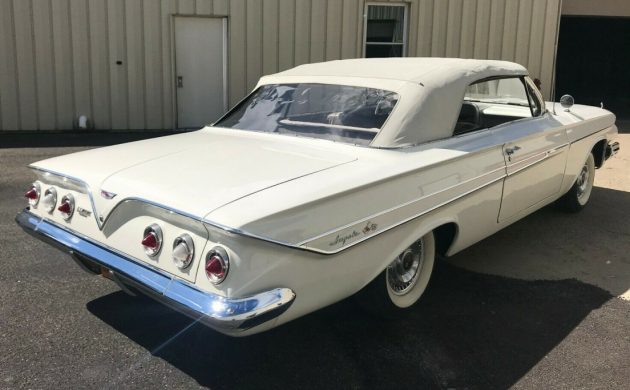 The '61 "B" body Chevrolets were the logical progression away from the overwrought '59 "bat-wing" model and its slightly subdued '60 successor. While still maintaining the same underpinnings and power teams, the '61 settled into a more buttoned-down appearance that would be the Impala's hallmark throughout the very successful '60s.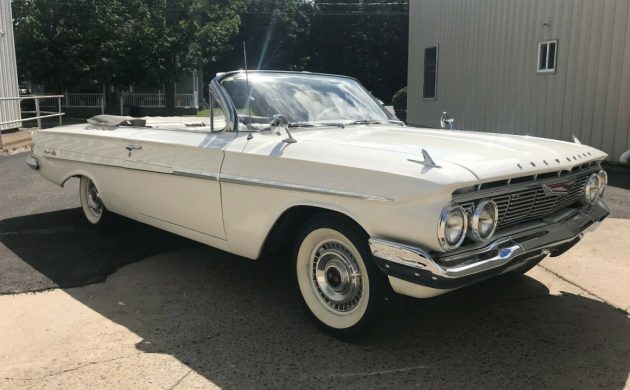 The seller claims this as a 23K mile example, TMU. Ok, I'll admit it, I'm a bit of a Luddite and had to look up TMU – to my understanding; so maybe the mileage is original and maybe not. Whatever the case, it's in fantastic shape but it is not original as it is referenced in the listing as having been "restored". OK, no worries, it still looks great. Was it restored to its original configuration? Don't know. The seller adds, "This restored Convertible has excellent paint, bright trim, new interior, new top and boot, and good tires." Nothing on the exterior looks out of place, skipped-over, patched, or missing, it is an accurate portrayal of a '61 Impala convertible. There is probably no point in discussing rust or rot, none is evident and the restoration would have covered that. While not a fan, at all, of wide whitewall tires, they are correct for 1961 and work well with the deep white finish. The exterior mirror placement is curious, there was no requirement for exterior mirrors in '61, so they are an addition, and for the sake of safety,  a good one. Most images of '61 Impalas that I could scavenge generally show outside mirrors being placed in their more traditional, door-mounted location, but since these are not original, I guess placement doesn't matter.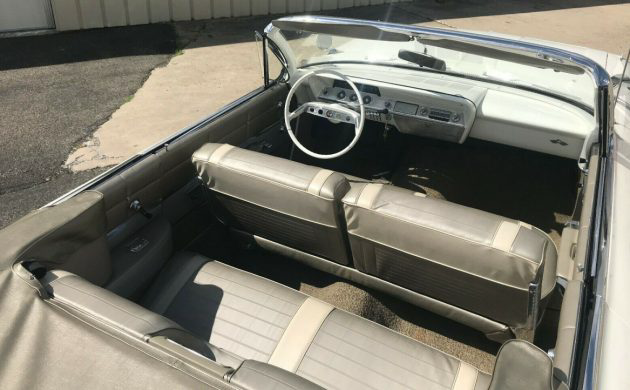 The interior of this Impala matches the exterior for condition and may match it a bit too well as it seems the steel dash and "A" pillars should be finished in fawn, to match the interior, and not white to mimic the exterior. Granted, this Chevy isn't an attempt at a 100 point restoration, so it's a small issue, but we're talking a not so small price so correctness comes into play. All of that said, the interior is very sharp and presents as a simple and clean environment. Speaking of simple, note the instrument panel with the center-mounted glove box, not much to it.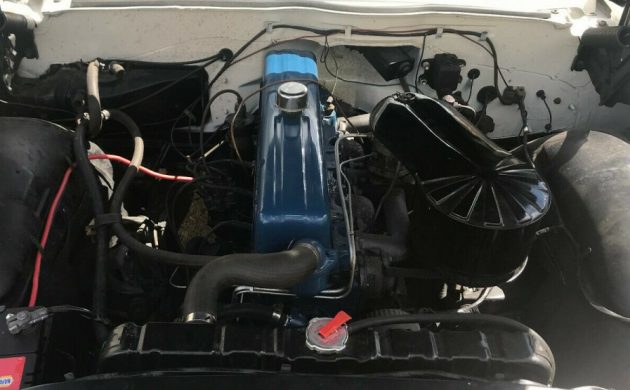 The surprise to this convertible is the 135 gross HP, 235 CI in-line, six-cylinder engine under its hood. In an era when horsepower was a defining promotional point, and at a time when Chevrolet just announced the introduction of their new 409 CI "big" V8 engine, a six-cylinder seems an odd choice for an Impala convertible. A Biscayne or BelAir maybe, but an Impala? Nevertheless, that's the way things rolled in those days; it was all about building it your way. To add to the unusualness, the transmission is a three-speed manual with a "three-on-the-tree" shift lever. The seller states that there are no known issues and that this Chevy has been driven in parades and exhibitions.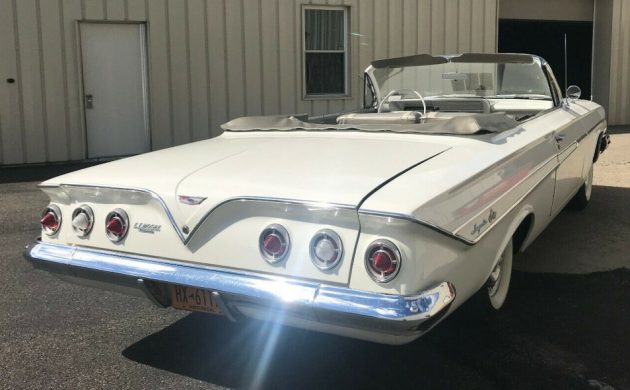 This Impala is being sold, by auction, from a car museum and the proceeds are supposed to remain with the museum, which is a 501(c)3, not for profit corporation. The bidding started at $20K and there are still almost three days to go. For what this Chevy is, and it is an excellent example, its current bid is a whole lot of money. A V8 powered version and/or an SS equipped variant could justify it; this is an "out there" number based on current trading trends. Let's hear from you, worth the price or better to look elsewhere for one with a bit more oomph and personality?