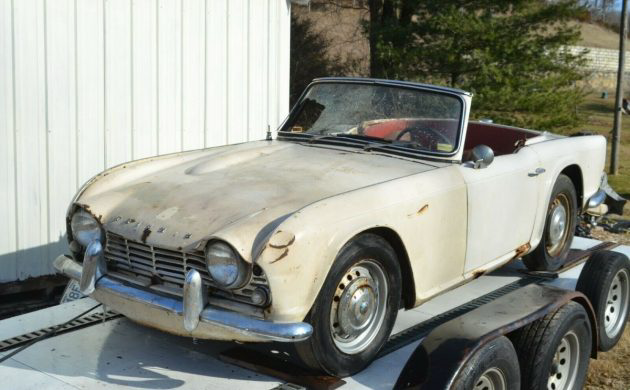 Classic British sports cars remain a firm favorite amongst people who want to tackle a hands-on restoration. It is easy to see why because their engineering and construction are generally relatively uncomplicated, meaning that most tasks can be tackled with ease by a competent person. Parts are also readily available, and in most cases, they remain affordable. Barn Finder Ikey H has had his radar working overtime, and he has spotted this fantastic 1964 Triumph TR4 for us. So thank you so much for that, Ikey. It is located in Ballwin, Missouri, and has been listed for sale here on eBay. Bidding sits at $3,600 in a No Reserve auction.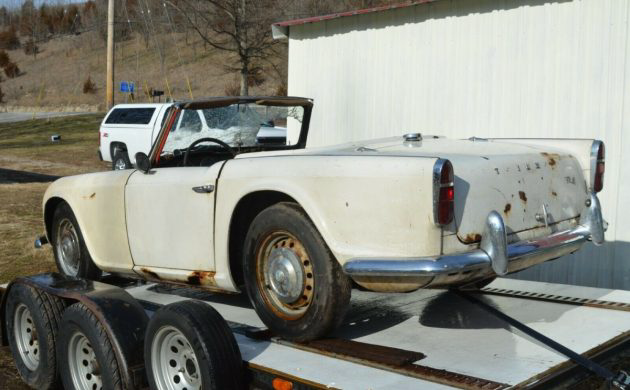 Triumph only offered the 1964 TR4 in five paint shades, and this car wears one that was imaginatively known as White. I believe that this is the vehicle's original color because I can't spot any evidence to the contrary. It appears that the little Triumph has been parked in a barn since around 1971, and all that the current owner has done is to wash off the accumulated dirt and dust. The greatest fear when it comes to restoring these little beauties revolves around the question of rust. This TR4 isn't exempt, but the news is generally quite positive. There is some in the outer rockers and a few minor spots in various locations around the body. These are small enough that they could be addressed with patches rather than the wholesale replacement of steel. When we delve under the car, we begin to appreciate what a wonderful find the Triumph is. The frame carries little more than some surface corrosion, and what we can see of the floors looks to tell the same tale. I would still be inclined to completely dismantle the vehicle to clean everything properly because the last thing you would want is for it to deteriorate a few years down the track. All of the trim is present, although most of it will require restoration. The windshield is badly damaged, but the seller includes a pair of replacements as part of the deal.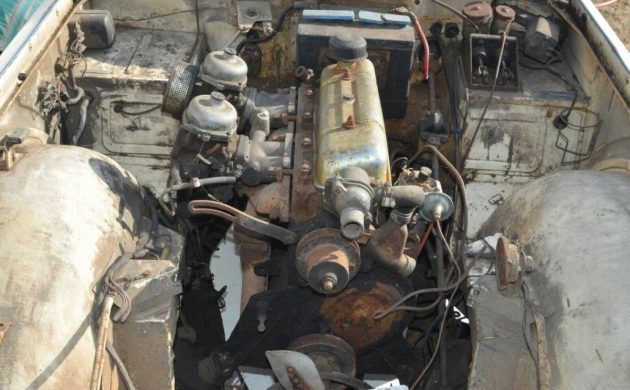 It isn't clear whether the Triumph is numbers-matching, but given the short amount of time it spent on active duty before it was parked, I wouldn't be surprised. Powering the TR4 is a 2,137cc 4-cylinder engine, which Triumph hooked to a 4-speed manual transmission. That didn't make it the fastest car on the planet, but its 0-60mph time of 10.9 seconds wasn't bad, and it could wind its way to 103mph. This engine has pretty humble origins because Standard initially developed it for use in a Ferguson tractor. That's a world away from a life in a convertible British sports car! It isn't clear whether the engine turns freely, but that's a positive for potential buyers if it does. These pushrod motors are about as basic as they come, and if it does need a rebuild, it shouldn't be a difficult or costly exercise.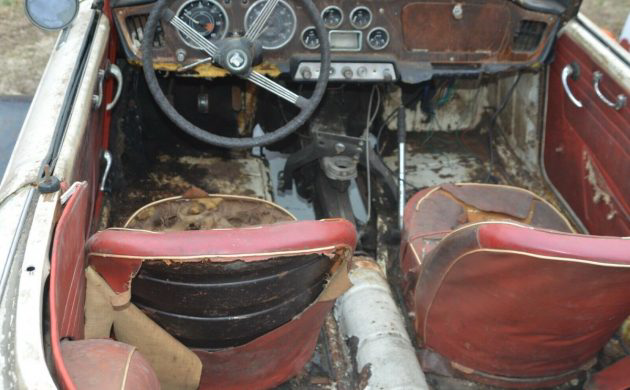 When a classic roadster without a top spends five decades in a barn, there's every chance that the interior is going to suffer badly. This TR4 doesn't disappoint there because it will take some work to return it to its former glory. However, it does appear to be complete, so at least the buyer will be starting with some good foundations for a restoration. All of the parts to return the interior to its former glory are available, but this is one area where the buyer will need to break out their wallet. A carpet set, interior trim, and seat upholstery will leave no change from $2,000. The walnut dash could potentially be an issue because there is some noticeable deterioration. I would consult a specialist to see if they can undertake a restoration because replacements can be hard to find.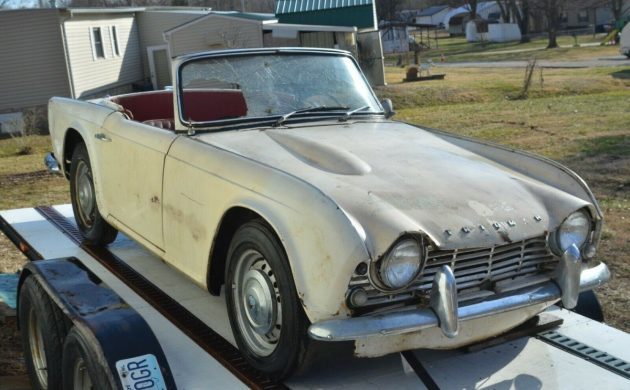 The Triumph TR4 is a perfect candidate for a DIY restoration, and for any first-timers, it is not a car that they will find so complicated that a labor of love can develop into a chore. This one shows a lot of promise, and it would seem to be well worth the effort to return it to its best. Pristine examples can quite easily sell for around $30,000, and if the buyer completes the restoration correctly, it should be capable of threatening that sort of figure. Stepping back and admiring a classic car that you have restored with your own hands is one of life's most satisfying experiences, and that could be what awaits the next owner of this little Brit.