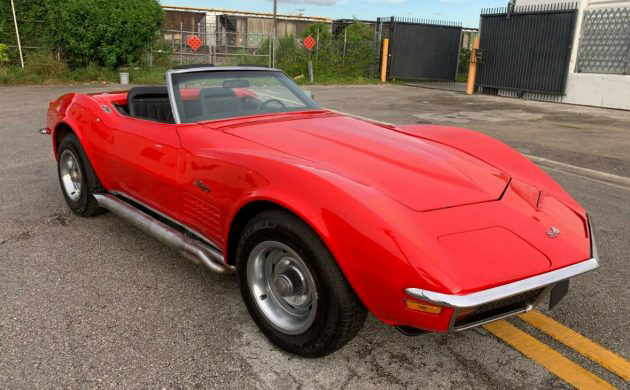 Whenever I see the words "Corvette" and "No Reserve" in the same listing, it is always guaranteed to grab my attention. It seems that I'm not alone because this 1971 Corvette Convertible has received some spirited bidding since being offered for sale. It isn't 100% original, but it has enough positive attributes to make it a tempting proposition. The Corvette is located in Miami, Florida, and has been listed for sale here on eBay. The bidding has reached $18,700, and remember, this is a No Reserve listing.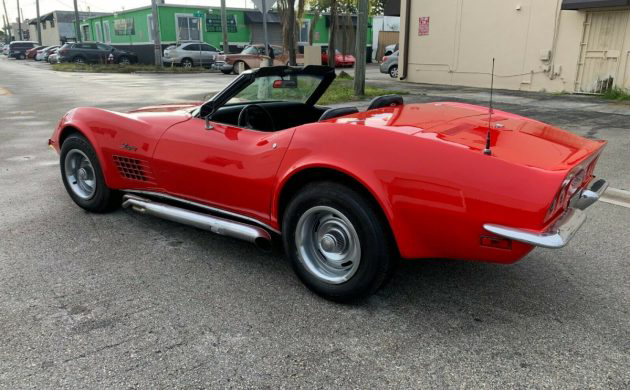 When I first looked at this car, I had a feeling that we'd seen it before here at Barn Finds. However, that isn't the case. We did recently see another Mille Miglia Red Convertible from the same seller, but that vehicle was a 1975 model. This one shows a lot of promise. The owner states that the car is rust-free, which is always a good starting point. Until recently, it had been owned by the same person since 1999. I always tend to find a history of long-term ownership to be an encouraging sign with cars like this. It usually suggests that the vehicle has been well cared for. The paint has a beautiful shine, and I can't see any signs of cracking or crazing. The headlights are said to operate as they should, but the wiper door does need to be checked for a vacuum leak. The Corvette is fitted with a new Black convertible top, and while it looks wrinkled at present, I suspect that it will improve with time. The side exhaust isn't original, and for me, the jury is out on that. The issue is that it doesn't appear to feature any heat shielding. That means that there is a definite possibility of burned legs for anyone climbing in or out of the Corvette. Otherwise, the trim and chrome appear to be in good condition, as does the glass.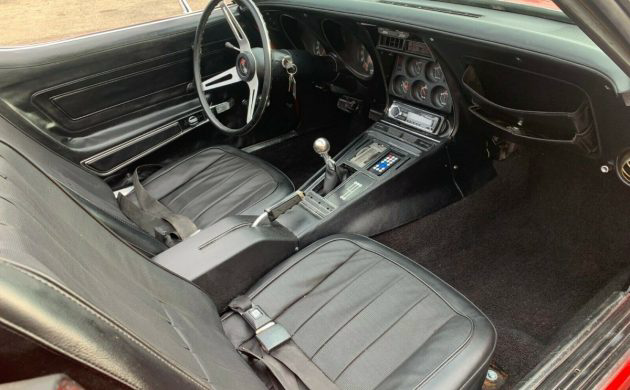 The Black interior of the Corvette generally presents well, although there are a couple of issues that the buyer might want to address. The upholstery on the seats is free from rips and tears, but it looks like it could be stretched. It also might be the case that the foam has started to compress over time. If that is the case, replacement foam would potentially fix that issue. There is some stretching of the vinyl on the driver's door trim, and I don't think that this could be fixed. It's presentable for a driver-quality car, but I have a feeling that this is an item that will probably be replaced at some point. However, the thing that jars for me is the fact that the original radio has been removed, and a CD player has been fitted in its place. I have no issues with the swap, but the installation isn't particularly neat. There are aftermarket adaptors available to improve the quality of this job, and buying one of those would represent $30 well spent. Apart from that, the rest of the interior looks to be neat and tidy.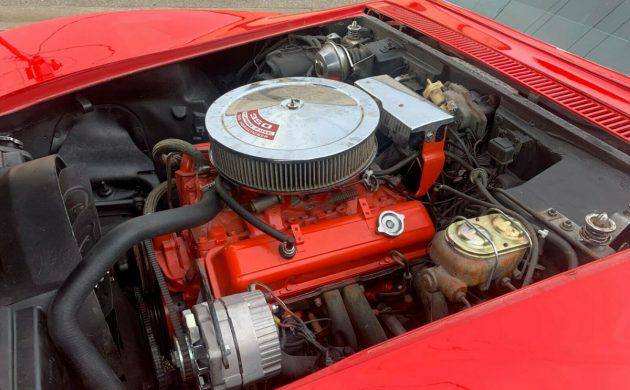 The Corvette is a numbers-matching car and features a 350ci V8, a 4-speed manual transmission, and power steering. It is here that the news is extremely positive with this Corvette. That 350 has received a rebuild and has only clocked 200 miles since the work was completed. Also, all of the belts have been replaced, along with the alternator, radiator, tires, and the master cylinder. The result of all of this hard work is a Corvette that is said to run and drive nicely, with the transmission shifting smoothly. I can't help but think that with the aftermarket headers and the side exhaust, that this 350 would sound extremely tough.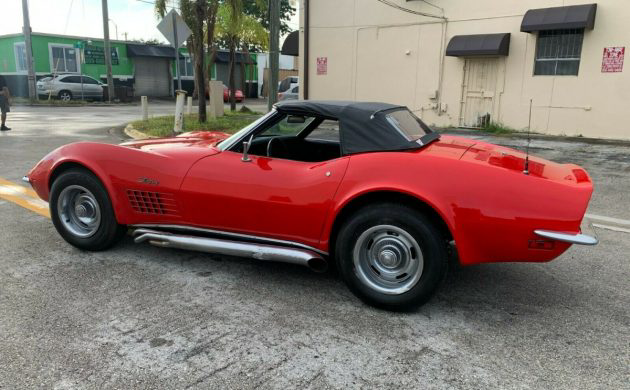 There is a lot to like about this 1971 Corvette, and it is easy to see why it has attracted so much attention. It is a car with no immediate needs, and the raft of mechanical work that has been completed should mean that it won't need a spanner laid on it in anger for quite some time. The fact that it is a chrome-bumper C3 helps its cause enormously, as these are the most highly coveted. I wouldn't be surprised if the bidding pushed up towards the $25,000 mark, although there is the possibility that it could go higher. However, this is a No Reserve listing during an unusual period in our history. That could see it sell for significantly less money, and could make it a potential bargain.