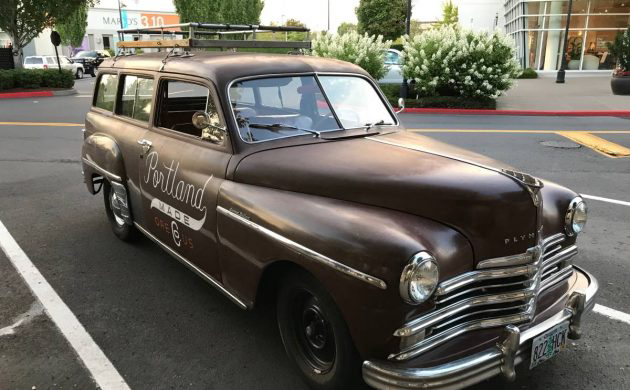 Plymouth was the last major automobile manufacturer to roll out new designs after World War II. Redesigned for 1949, the new Plymouth continued to be conservatively styled, which would later be referred to as the "the three-box school of styling – one box piled on top of two boxes laid end-to-end."  And also new for that year would an all-steel, two-door Suburban wagon as the costly-to-produce "woodies" were fading in popularity (although Plymouth still offered them, too). The seller's Suburban looks to be a competent survivor located in Tigard, Oregon (southwest of Portland). It's available here on craigslist for $12,500. Thanks, MattR, for flushing out this tip for us!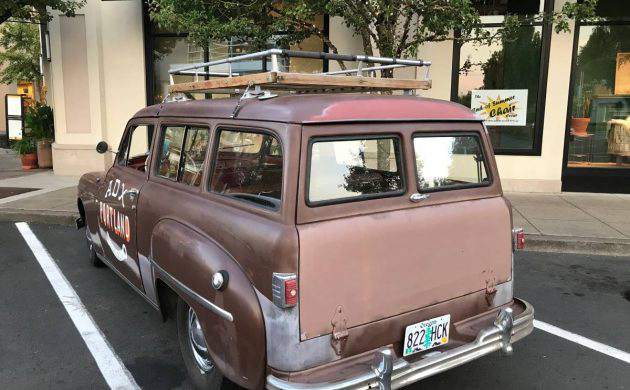 The Plymouth brand survived for nine decades (1928-2001). Since it was positioned at the lower end of the price scale to compete with Chevy and Ford, it helped keep Chrysler afloat during the Depression era years. Back then, you could buy a Plymouth at all Chrysler division dealerships (Chrysler, DeSoto and Dodge). All U.S. auto production came to a screeching halt between 1942-46 due to the war effort. Plymouth was the slowest to come back with new products, with its 1949 offerings out well after the calendar had turned over. However, Plymouth's claim to fame before and after the war was they were inexpensive and reliable. They were hard to kill!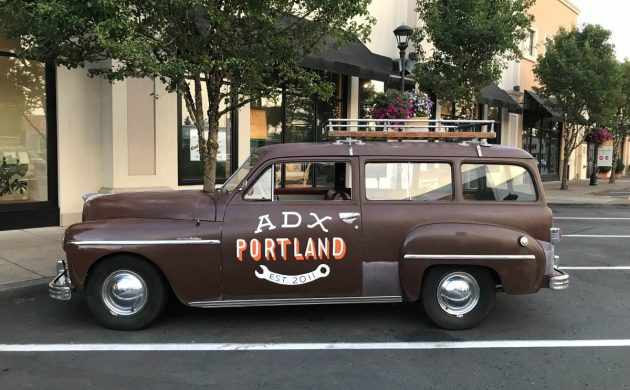 More than 70 years on Planet Earth has been pretty kind to the seller's 1949 "surf" wagon or "rum runner" as he calls it. It apparently still runs great, although the seller doesn't include a mileage figure. We assume the original 218 cubic inch, L-head straight-six is under the hood, putting out either 95 or 97 hp depending on when in '49 it was built; there is no photo to validate this. A wagon like this would be great for hauling stuff more than people, although it would do both capably. The body looks good and the graphics on the side, ADX Portland, stand for Art Design Xchange, perhaps the seller's business. Hopefully, they will peal right off.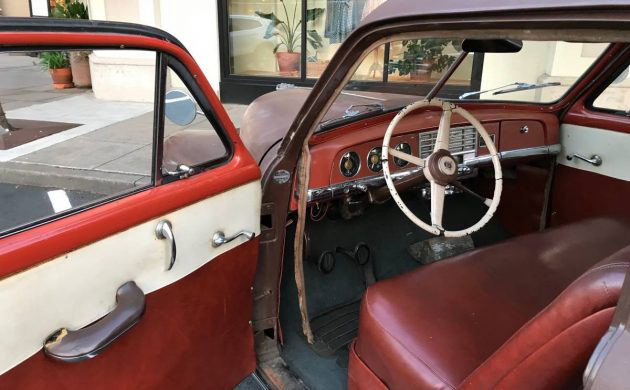 The body looks sound with a touch of grey primer near the taillights and the tailgate wearing primer red. We don't know what that's about, whether rust was an issue or there was a traffic mishap. The interior is on par with the body; we see part of the front half of the interior, but there are no pictures of the back seat or storage area. The ample amount of chrome and glass look good as I'd hate to have to source any of that stuff now.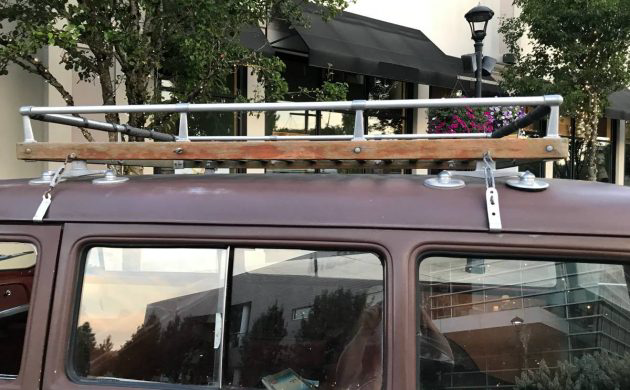 By and large, the car seems to be a winner. A three-on-the-tee transmission that's okay, all hubcaps present (the one missing in the photos is nearby), all lights work, and it has a newer radiator. The turn signals are old school – stick your arm out the window, but apparently aftermarket kits are available.  The windshield wipers will need some attention as the knob for them fell off. The same is true for the glovebox as it was damaged somehow. The roof rack is aftermarket from a shop in the seller's area and would be great for surfboards!  Hang Ten, dude!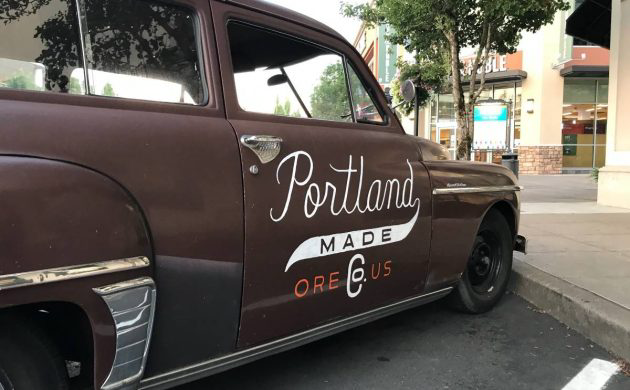 If the car itself isn't enough, the seller has some extra parts that can come along for the ride. I was shocked when I checked Hagerty and they said a 1949 Suburban 2-door wagon can go for upwards of $90,000 in concours condition. Good condition is said to be mid-$40,000s. So, the seller's asking price is looking more like a bargain at this point. However, I'm thinking Hagerty is optimistic given the current economy and that's there not a plethora of these wagons changing hands.