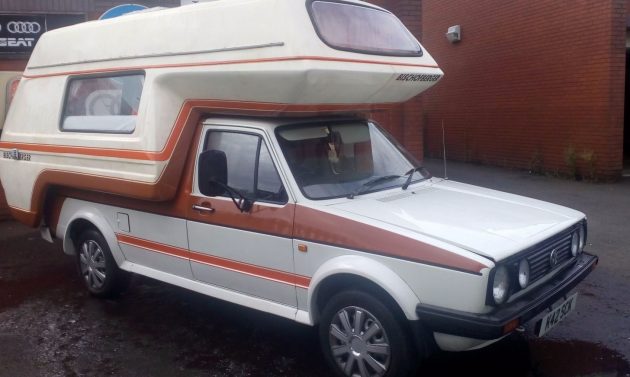 The range of mini camper conversions is somewhat hard to plot, as it seems there's always an oddball or two like this Volkswagen pickup-based R/V running around the English countryside. Here in the states, we're accustomed to seein the Dolphin-branded Toyota pickups lugging around a camper shell, but this VW "Bishofberger" here on eBay UK is a refreshing change of pace and looks like a manageable package for the truck's diesel engine.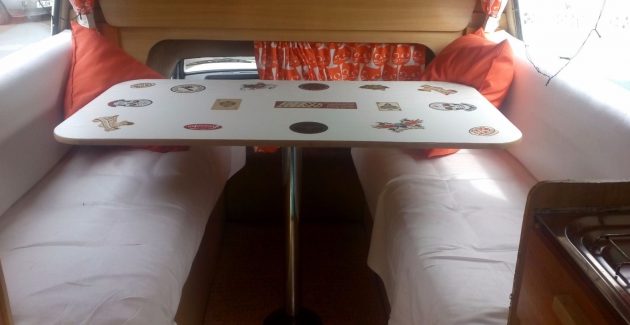 Inside, the clever packaging includes a sitting area, cook stove, and easily converts to beds once the table is stowed. The curtains offer plenty of privacy and the orange and white motif continues inside. It looks quite clean, which doesn't necessarily surprise me as camping in the UK is truly a lifestyle – to pack up the camper van for holiday is quite common, and accordingly, they do it well. As I look to convert my HiAce to a camper van, I'm amazed at how many UK enthusiast groups exist for how to live a good life on the road.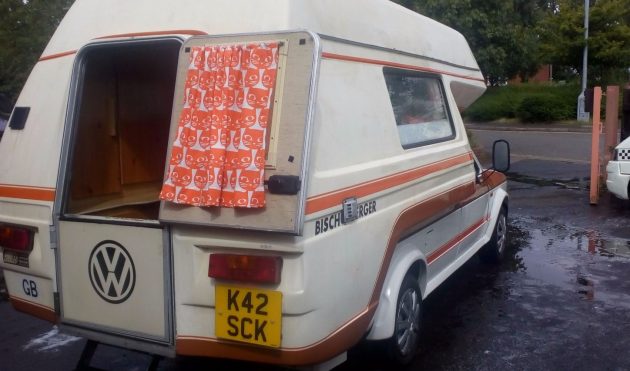 The seller is clearly a VW / Audi dealer and/or mechanic, so I'd feel comfortable lodging a bid from afar. The large VW sticker out back likely didn't come standard, but the stripe kit and "Bishcofberger" nomenclature certainly did. From this angle, you can appreciate the fact that this narrow VW pickup body didn't add on too much extra girth with the camper attachment, seemingly barely any wider than the plastic fender flares over the wheels. Not that it matters in the US, but the camper does have a valid 12 month MOT.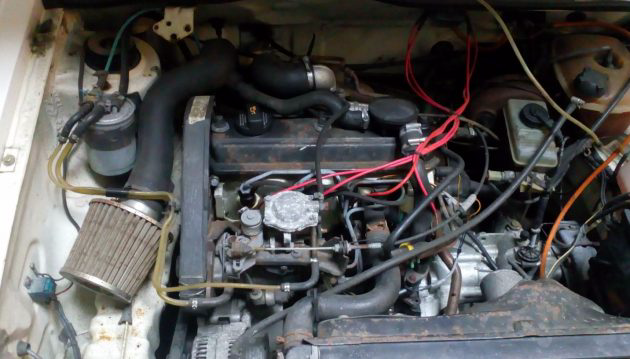 If I'm reading the listing correctly, the powerplant was sourced from a third-generation VW Golf equipped with a TDI diesel. The MK3 platform showed up stateside from roughly 1993 to 1999, so parts availability should be manageable if you were to import this camper convert. Plus, the third generation TDIs were generally considered long-lived and torquey, an ideal combination for camper life on the road. The seller will help coordinate delivery to the US, so if the Dolphin doesn't do it for you, this could be worth a look.