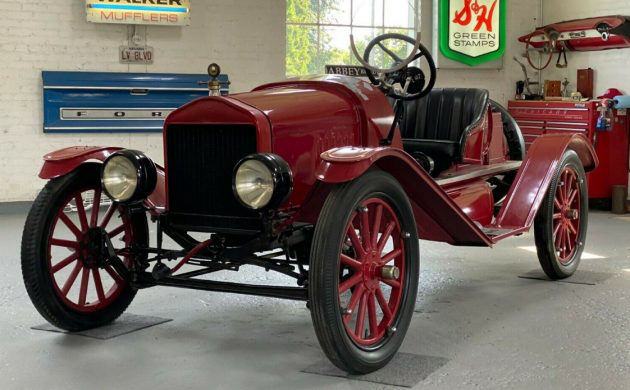 Yes, it's a Ford Model T and no, it's not black. It's a sharp-looking 1922 "Speedster". It just makes you want to grab your goggles, hang on to your hat and step on it! And think of it, it's almost a century old! Even 100 years ago, people were thinking about how to go faster than the other guy. Let's look this one over, this Ford is located in Clarklake, Michigan and is available here on eBay for a current bid of  $6,100, reserve not yet met.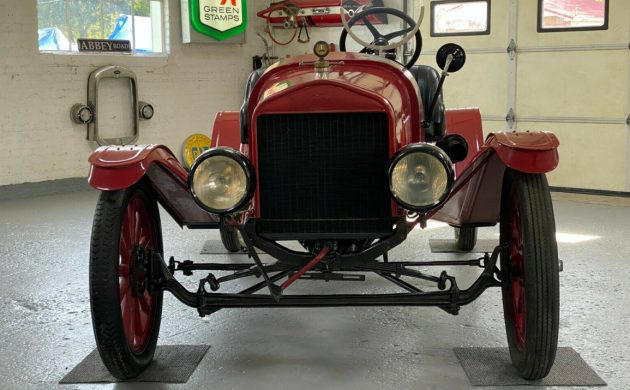 The model T pretty much started out looking like a horse-drawn buggy, without the horse. The Model T Speedster was an aftermarket concoction that first appeared in about 1913 and continued into the mid-'20s. According to Speedsters.com, the Model T was converted to a Speedster as follows: Usually, the chassis was lowered four inches, called "underslinging", the wheelbase slightly extended, and the basic 40 HP motor "hopped up" with a Roof or RAJO Overhead Valve Conversion (OHV), a hot cam, balanced crankshaft with pressure oiling, and side-draft or up-draft carburetors. And of course, the stock body was replaced with a sharp-looking "Speedster Body" complete with a monocle windshield, and the heavy wooden wheels were replaced with strong and lightweight wire wheels. Some cars retained standard Ford wings and some did away with them altogether. Oh, and the "only black color" thing is a little misleading as between the T's inception in 1908 and 1913, black was not a color option. Black did become the sole color in 1914, however.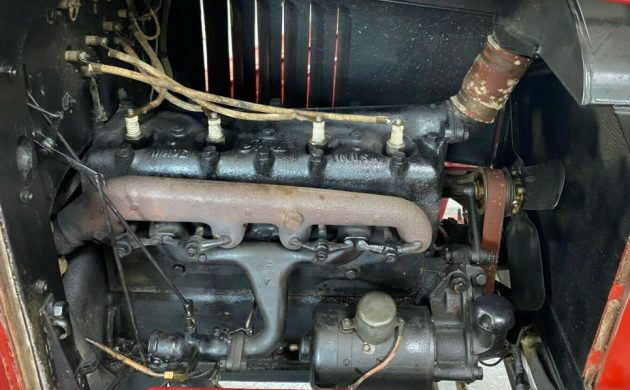 The seller tells us this early Ford muscle car has been sitting in a climate-controlled garage for twenty years, but it has had a recent maintenance check-up and it runs strong on all four cylinders of its 177 CI, in-line engine, good for about 22 HP. The seller does not elaborate if this Speedster has undergone any of the usual modifications as suggested in Speedsters.com. Nevertheless, the engine and its two-speed transmission apparently work as intended.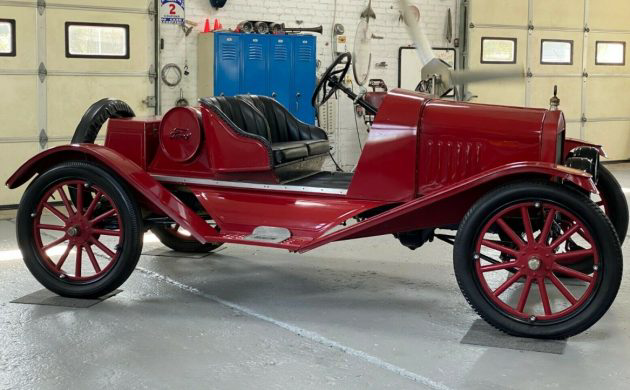 The exterior of this Model T throws off a pretty cool aura. It has been dechromed (or debrassed as may be the case) with contrasting black trim working perfectly with the deep medium red finish. The seller states that the paint is flaking off of the cowl and the gas tank, but the exterior is still highly presentable and the paint damage can be fixed using a color matching system. I'm by no means an antique car aficionado but I can usually spot a Model T when I see one. This Speedster, however, threw me a bit of a curve as it wasn't immediately recognizable. And where I would casually glance at a T, this Speedster has really caught my attention.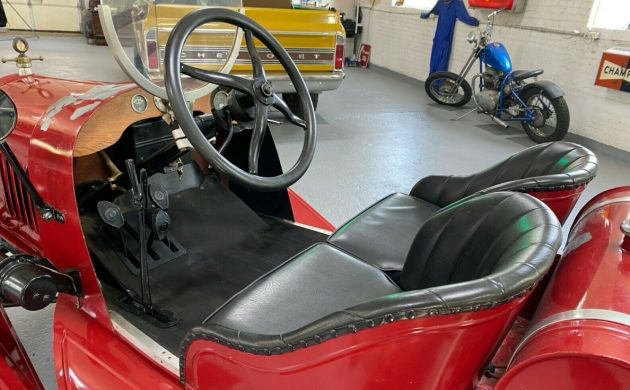 The interior's black-finished steel, wood, and vinyl or leather upholstery is a beautiful thing. More than likely, the interior was restored some time ago and the twenty-year hiatus, in proper storage, has preserved it perfectly. This interior environment, which is actually as much an exterior as it is an interior, is about as basic and spartan an affair as one will find. Any extensive motoring, seated on this perch, was probably quite a challenge and an adventure at the same time.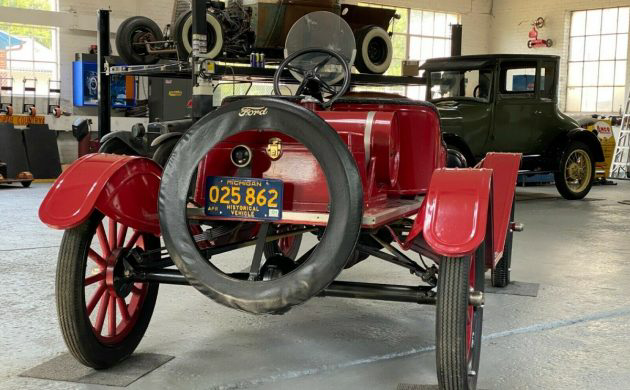 This Speedster has multiple uses, it could be a nice inclusion in a collection, a business prop, or a cruiser to be used occasionally when the road and weather conditions permit. While the bidding is still in reasonable territory, it's hard to speculate on the reserve. While I'd glance at a Model T, I think this Speedster would be actually fun to own, how about you?