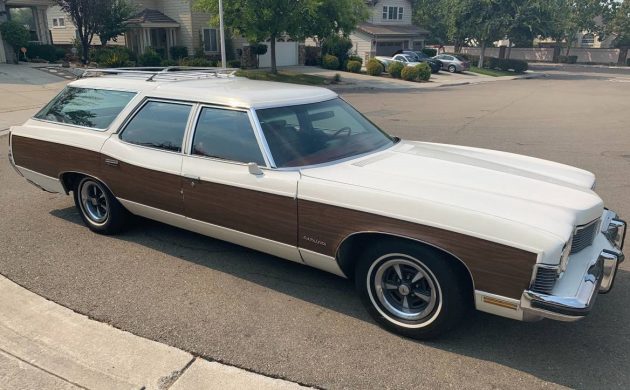 When Pontiac dealers were showing off their new models in the Fall of '72, little did they know that the demand for their full-size cars would drop by half in just another year. Then along came the OPEC oil embargo in 1973. Pontiac would sell about 15,000 Catalina Safari 3-seat wagons like this one for 1973. The next model year, they would sell less than 7,000. This is a one-owner vehicle that appears to have been well-maintained and only racked up 85,000 miles in 47 years. It's located in Antioch, California (east of San Francisco) and offered here on craigslist for $11,500. That's to Pat L. for finding this tip for us!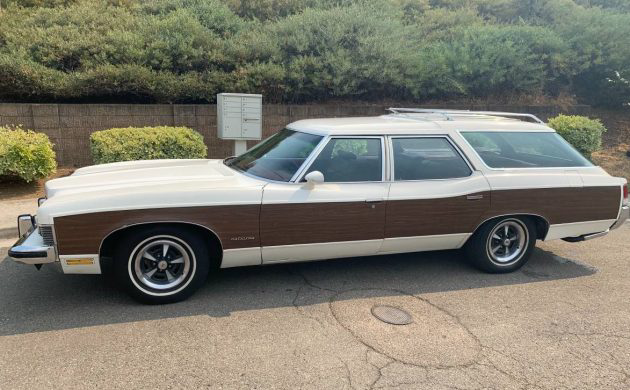 The Catalina was a full-size Pontiac product that was in the sales brochures for more than 30 years. It was usually the entry-level model and buyers could work their way up to the Bonneville, if they wished. The fifth-generation would run between 1971-76 and would be the last of the cars in the "gas-guzzling" era. Come 1977, General Motors' full-size cars would go on a diet and downsize. The seller's 1973 Safari Wagon hardly looks worse for the wear, including the ability to carry nine people with the third-seat option, like this one. Thanks, HowStuffWorks, for the consult.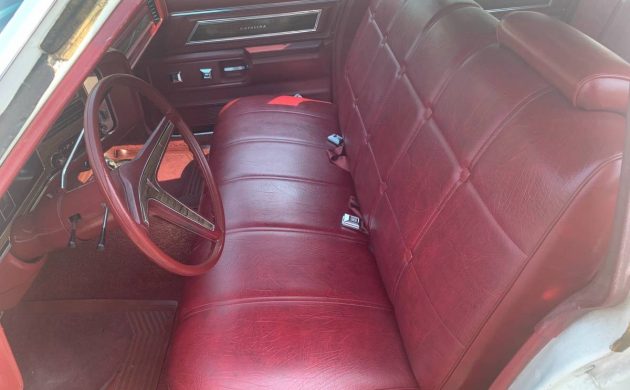 This spacious hauler has spent its entire life in California and inside a garage when not in use, which has no doubt contributed to the seller's claim that the wagon is rust-free. The white paint looks to have held up well, as has the "woodgrain" paneling on the side. It comes with the slide-away tailgate which is a huge improvement over those big doors that awkwardly swung out. The wagon is current on all its maintenance and the tires have meat left on them. There is no mention of any work done to the car, recent or in the past.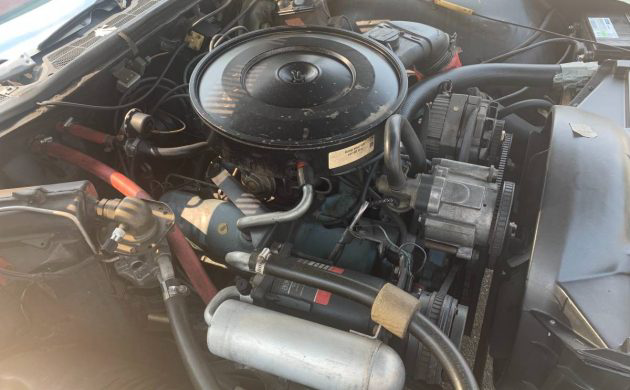 When you open the doors, you see a lot of red and all of it is in good nick. If this wagon was used to carry kids to soccer practice, they must be have been angels not to tear things up. It's a fully loaded car and everything is said to work as it should. Pontiac's 400 cubic inch V-8 can be found under the hood. This motor was optional on sedans and hardtops, but standard on the Safari. Since SAE net ratings were being used for horsepower, the 400 would have put out 170 with a two-barrel carb and 230 with a four-barrel. We don't which set up is on this wagon, but neither would have been miserly on gasoline, which would soon jump up in price and availability.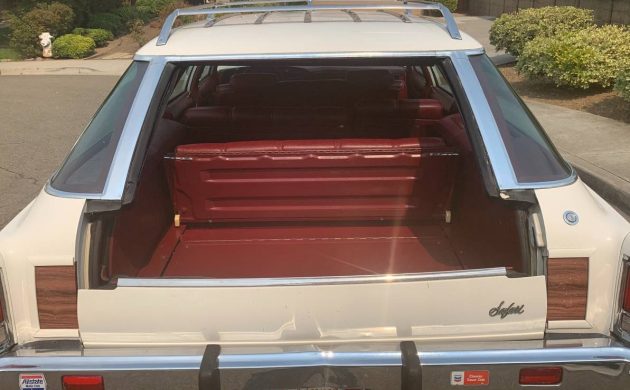 Online pricing sources seem to zero in on $10-12,000 as top dollar for one of these wagons. While the demand for these kinds of vehicles is on the uptick, they're still considered used cars by many – and ones that take up a lot of room to house. The seller appears to have done his homework in pricing this bodacious beast!